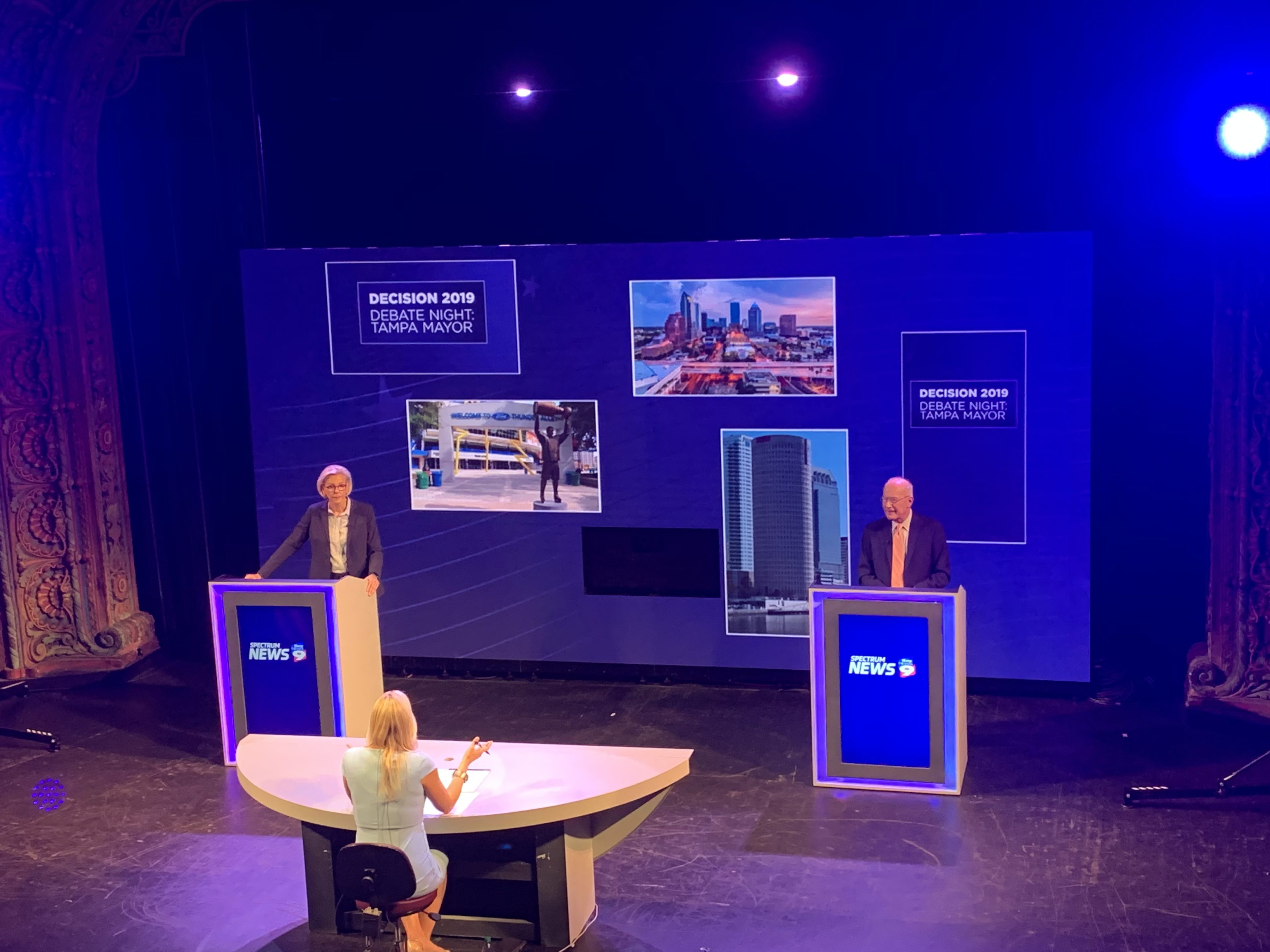 The evidence: the same report Castor's campaign used to defend itself against the accusations.
Tampa mayoral candidate David Straz opened the final televised debate at the Tampa Theater before the April 23 runoff between himself and former Tampa Police Chief Jane Castor by claiming he had evidence from the state of Florida to support his claims that Castor manipulated crime statistics to make crime rates look lower than they actually were.
The evidence: the same report Castor's campaign used to defend itself against the accusations.
That report does not provide solid evidence against Castor's crime reporting tactics. In fact, it appears to do the exact opposite.
Straz has, thus far, based his accusation on personal testimony from two retired Tampa Police officers who did not provide evidence for their claims. Further, those officers were both disciplined for severe infractions including domestic abuse and a paternity scandal.
Straz did not provide details during his opening remarks, but said the information was being sent to reporters during the debate.
The document provided just moments later included a doctored copy of a 2007 Office of Program Policy Analysis and Government Accountability report that contained just one paragraph of a 14-page report.
That one paragraph, appears to, at least in part, support Straz's claims.
The first paragraph states "the department has changed how it reports crimes." But it goes on to explain that prior to 2006, ten auto burglaries that occurred on the same block by the same perpetrator were reported as 10 separate crimes. After 2006, they were reported as one but that practice was "consistent with the UCR (Uniformed Crime Report) separation of time and place rule."
That rule, which is part of the nationwide FBI standard, allows crimes of a similar nature committed by the same perpetrator to be counted as one crime as long as it involves "continuing criminal activity."
That singular paragraph acknowledges the change led to a drop in certain crimes reported, which appears to support Straz's claims.
After Florida Politics pointed out that the document Straz's campaign provided was incomplete, the campaign provided the full report.
A further look at the rest of the content does not support Straz's accusations.
In one part, the report concludes "the department's reporting practices were significantly correct" and that there were no significant problems concerning the classification and scoring of offenses."
It further concluded there were "no intentional misclassifications or non-reporting of UCR offenses."
Back to the debate.
"He has no idea what he's talking about," Castor said.
And that's about how the debate went. Most of the hour-long televised event was marked by harsh digs, not-so-subtle quips and a significant amount of eye rolling.
The first half of the debate centered mostly on various campaign controversies.
Castor vehemently defended herself for the department's handling, when she was chief, of a SWAT drug raid in which officers shot and killed a man who was later found to be in possession of just $2 worth of marijuana. Officers shot the man after entering his home and saw he was armed with a gun.
"When someone points a gun at a police officer they have to take action," Castor said.
The slain man's mother later filed a lawsuit against the city claiming wrongful death and last month reached out to the Straz campaign saying no one from the police department reached out to the family. Castor said during the debate she would have like to, but couldn't due to litigation.
Straz got called out for breaking a campaign promise. He vowed not to accept any campaign contributions over $500. Florida Politics identified at least one $750 contribution, which Straz's campaign later refunded and a Tampa Bay Times analysis later found a dozen instances where donors had exceeded Straz's self-imposed threshold.
Asked whether it was campaign mismanagement, Straz didn't answer, but said the campaign was in the process of issuing refunds.
Castor pounced on the opportunity to ding Straz.
"12 instances and they're refunding the money now that they got caught," Castor said.
The rest of the debate echoed familiar themes most voters have probably already heard. Transportation, affordable housing, the budget, climate resiliency and red light cameras (Castor supports them, Straz doesn't.) On those topics Castor pointed to various policy proposals she's either announced or included on her campaign website.
Straz stuck to his talking points about auditing the city's budget and forming a "quality of life cabinet" consisting of department leaders who would meet once a week to develop policy strategies. Castor had a zinger for that one, too.
"[That's] what we call staff meetings," Castor said.
One of the most notable take-aways from the Bay News 9 debate was the ferocity of the audience.
Castor had a horde of cheering fans while Straz had a smaller, but equally vocal group of his own.
Every time Castor delivered a zinger, the auditorium erupted.
The candidates' entrances to the stage took on a sort of boxing match feel, but Castor's support dwarfed Straz's. When he entered the room a few people clapped and cheered. When Castor entered the room, it broke into a deafening howl.
That's particularly notable because each candidate was given the same amount of tickets to the debate to dole out to supporters. Castor's base showed up. Straz's, it seems, did not.