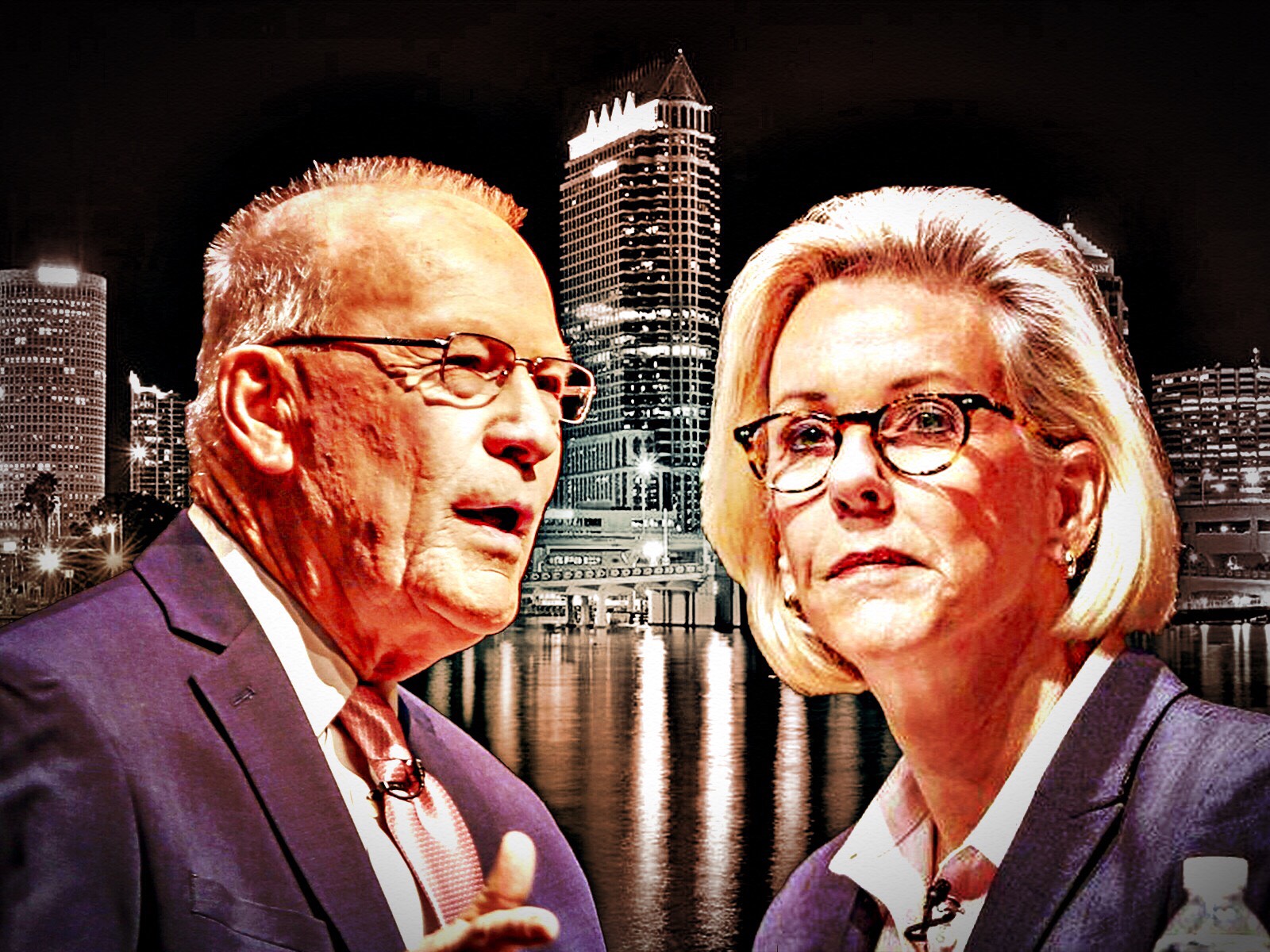 Will Straz's strident attacks on Jane Castor leave Tampa divided after the mayoral election April 23?
The polls close next Tuesday at 7 p.m. in Tampa's mayoral election. How long do you think it will take Jane Castor to declare victory over David Straz and his campaign of fear and loathing?
Would 7:01 p.m. be too showy?
I jest, of course. Castor would never do something that gauche. But her victory seems inevitable, given the two most recent polls that show she has basically turned the race into a rout.
A University of North Florida poll, released late Monday, put her 36 points ahead of Straz with only 9 percent undecided. A St. Pete Polls survey gave her a 23-point lead.
No one should be surprised.
Straz has run a dark and demonizing campaign that people appear to have soundly rejected. Rather than articulate his vision for the city, Straz has chosen repeatedly to attack a respected and well-known public figure in Castor.
Going negative is certainly acceptable in politics, but for a while now Straz has just been throwing stuff against the wall and hoping it sticks.
Those tactics won't win him the election, but it could make moving forward difficult as Castor assumes her new duties. That's especially true if he proves less than gracious in defeat.
Straz has been hammering Castor's position that crime dropped 70 percent in Tampa while she was the Police Chief.
He has called it a flat-out lie and said Castor manipulated the numbers to make herself look good, which she has strongly disputed. Straz has kept up that line of attack anyway, and it might be gaining traction in the African-American community he has targeted from the start.
While Castor has received support from many recognized black leaders, the St. Pete Polls survey showed Straz winning the black vote 55-32 percent. It seems like Tampa is always on the edge of a racial precipice and Straz's attacks have fanned that issue. It could present a challenge for Castor when she takes over.
Early in her campaign, Castor tried to meet those issues head-on. She accepted responsibility and criticism for the ill-advised policy of ticketing black bicyclists at a highly elevated rate compared to whites.  The Tampa Bay Times exposed that in 2015 with a story headlined Biking While Black.
Castor, who was Police Chief during that period, originally defended the policy. She said it was a pre-emptive push in high-crime areas.
The black community was infuriated, and rightly so. The Straz campaign has picked at that wound during the campaign, which is fair game. Many of his other talking points, though, are at best half-truths and misrepresentations.
That is having an impact anyway. It won't carry the day for Straz, but it could keep the city divided.
It's unlikely Straz will change his tactics after these latest poll numbers. If anything, he may double-down on his unrelenting negativity, which would be unfortunate. It isn't working and can only damage his standing in the community going forward.
A 2007 state audit debunked Straz's claim about Castor manipulating crime stats. It found the police department complied with national standards. His response was to spend more of his considerable fortune on TV ads and direct mailers to keep pounding his misleading point.
If that's because he still believes he can win, well, reality can be a tough thing to accept. Come Tuesday night, he may no longer have a choice.
And what he leaves behind when the campaign ends could make improving Tampa's race relations tougher than ever. He said he got into the race to make a positive change in the community. This is a strange way to accomplish that.