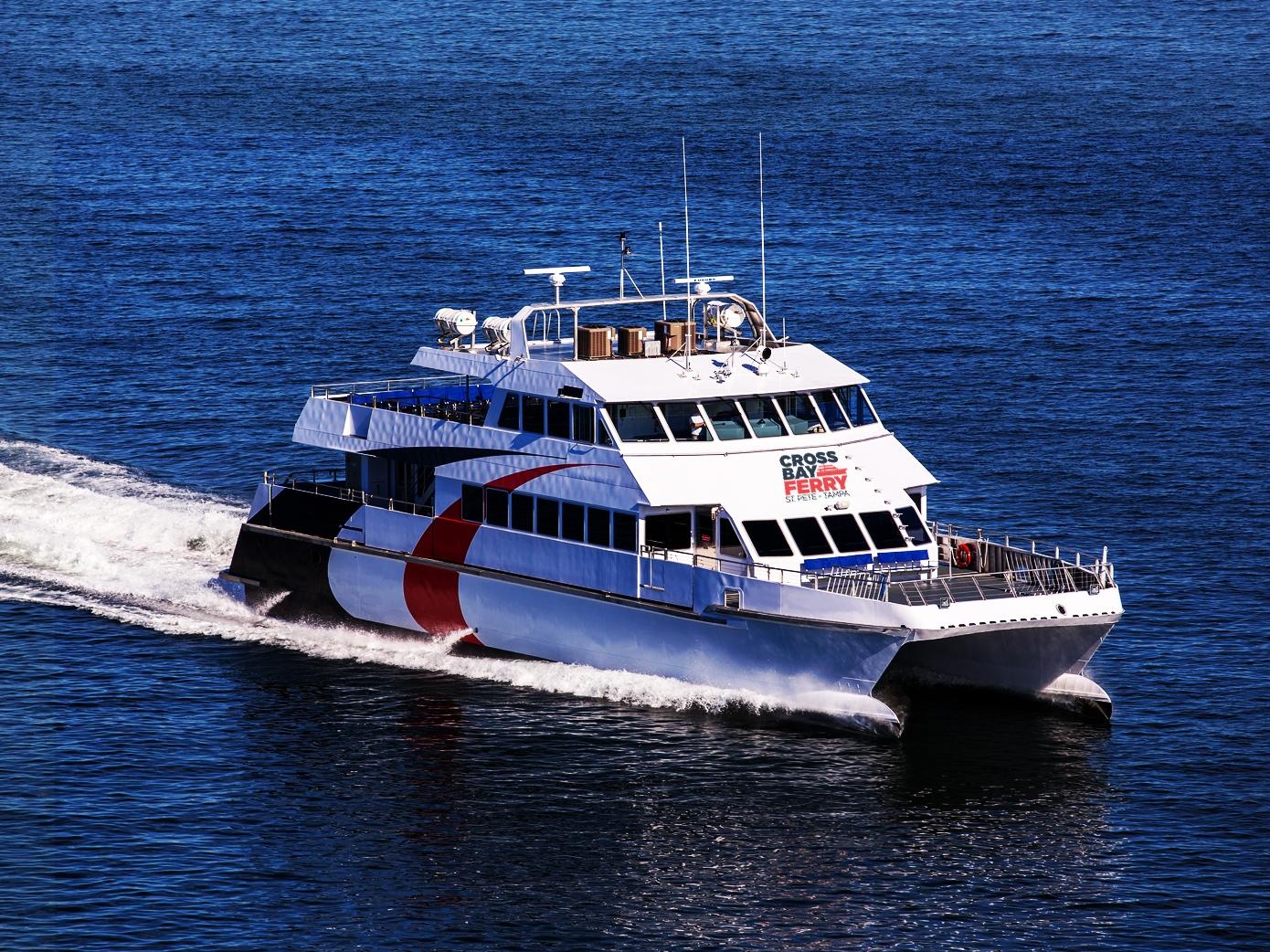 Local governments would be responsible for capital costs totaling about $36 million.
The Cross Bay Ferry could provide permanent regional service between downtown Tampa and St. Petersburg and South Hillsborough County and MacDill Air Force Base as soon as 2022, according to a new business proposal from project developers.
Representatives from HMS Ferries and South Swell Development Group released a comprehensive business plan for expanded and permanent service during a press conference Tuesday at the existing ferry's dock near the Florida Aquarium.
Under that proposal, HMS Ferries would assume all financial risk for the project, and no public subsidies would be required to operate under a 20-year agreement.
"The public sector doesn't have to worry about it," said Ed Turanchik, an attorney with Akerman who represents HMS Ferries. "HMS is confident in this market. That's the strong thing about this public private partnership."
Local governments would be responsible for capital costs totaling about $36 million.
HMS Ferries and South Swell recommend seeking matching grants from the Florida Department of Transportation or through the federal Moving Ahead for Progress in the 21st Century Act that provides $30 million annually for ferry projects.
The proposed service would be similar to current Cross Bay Ferry service that runs mostly on evenings and weekends between downtown St. Pete and Tampa.
That service would continue with expanded hours and additional trips to South Hillsborough County.
The proposal would also launch commuter service between South Hillsborough and MacDill Air Force Base. Those trips would run every 10-15 minutes using four boats. Trips would run continuously from 5:40 until 8:10 a.m. and from 4-6 p.m.
Docks for that service would be located at MacDill on a floating dock and at Williams Park in South Hillsborough County.
The proposal also includes parking for 750 vehicles and an area for so-called "kiss and ride" drop-offs.
The four boats would look similar to the existing Cross Bay Ferry boat, with a maximum passenger capacity of 149. The new boats would be front-loading, which allows passengers to board quickly. It would also provide better access for people with strollers or bicycles.
The service would not utilize all four boats at all times. For example, weekend service would likely only use two of the boats. HMS Ferries would use additional boats to service special events like Tampa Bay Lightning or Rays games.
Fares would be $8 for adults, $5 for seniors, members of the military or college students and $3 for children 4-18. Children three and under would be free. Those fares would be for passenger service between Tampa and St. Pete or South Hillsborough and Tampa.
The MacDill Air Force Base route would be funded through a federal transit voucher.
Under that, passengers could purchase monthly passes for $260 that would provide all ferry trips to the base, tram service to get from the boat to a work center and either parking or transit to get to the ferry boarding stop at Williams Park.
If the county took up the proposal immediately, the engineering and environmental permitting process would take about a year with construction not starting until after that. Under that scenario, service could start as early as 2022.