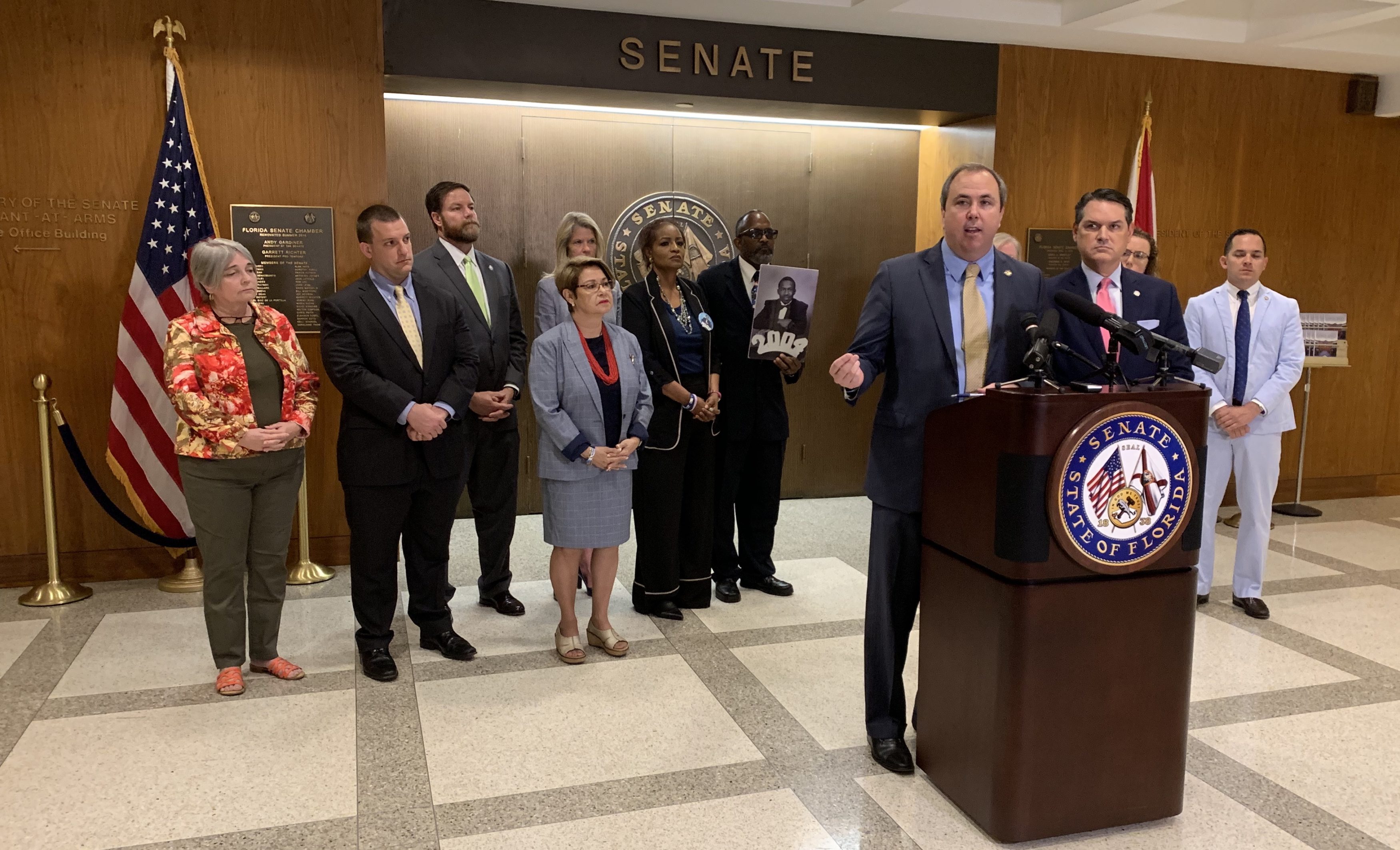 "This is not anti-immigrant."
Amid a national and state debate on immigration, Kiyan Michael wants people to know the real meaning of "permanent separation."
Michael, of Jacksonville, and her husband, Bobby, appeared at a Wednesday press conference with Sarasota Sen. Joe Gruters and Neptune Beach Rep. Cord Byrd, both Republicans. They're carrying similar legislation this year (SB 168/HB 527).
"We are 'permanently separated' from our child," said Michael, whose son Brandon was struck and killed in 2007 by a driver who was an undocumented immigrant.
"This is what permanent separation is, not because we chose to try and take (our child) to another country and we knew that that was breaking the law. This was something that we would have never chosen."
The Republicans' bills, however, have exposed partisan divides in the Legislature and stoked opposition by pro-immigrant groups. The Senate bill faces the last of its three committees of reference later Wednesday; the House bill is ready for floor debate and a final vote.
Broadly, the legislation "seeks to ensure that state and local entities and law enforcement agencies cooperate with federal government officials to enforce, and not obstruct, immigration laws," a staff analysis explained.
"In its most general terms, the bill also prohibits 'sanctuary jurisdictions' and requires state and local entities to comply with federal immigration detainers when they are supported by proper documentation."
The issue also is high on Gov. Ron DeSantis' Session list: He invited the Michaels to be his guest at his first State of the State speech.
"Brandon was a young man engaged to be married, but instead of planning a wedding Bobby and Kiyan had to plan a funeral," DeSantis said. "Had our laws simply been enforced, Bobby and Kiyan might not have had to bury their son … Let's do right by the Michael family: Let's prohibit sanctuary cities in Florida."
On Wednesday, Gruters said that "at the end of the day, this bill is about respecting the rule of law. It's about cooperating with the federal government and it's about public safety. This bill only deals with criminals that are going through the process or in the judicial system right now. This is about keeping all Floridians safe."
Byrd added: "This is not anti-immigrant. This is about not putting either legal or illegal immigrants over American citizens. We are applying the same rules that we apply to U.S. citizens … to anyone else. It is about public safety."
Michael said after her son's death she had to "beg and plead for information" on her son's killer: "Who is he, why is he not arrested, where did he come from?"
According to First Coast News, Brandon's killer had been twice deported before and was driving without a license or vehicle registration. The driver eventually was sentenced to two years in prison, ordered to pay restitution, and later deported again.
Brandon's mother said she doesn't want others to become "angel parents," the name for those whose children were killed by undocumented people in the U.S.
"We care about innocent victims like our son was," Michael said. "We should not have to be the ones begging for information … So what this legislation does is allow parents to not have to become victims, to not have to be another voice that is grieving, to not have to experience a horrific loss like we have."