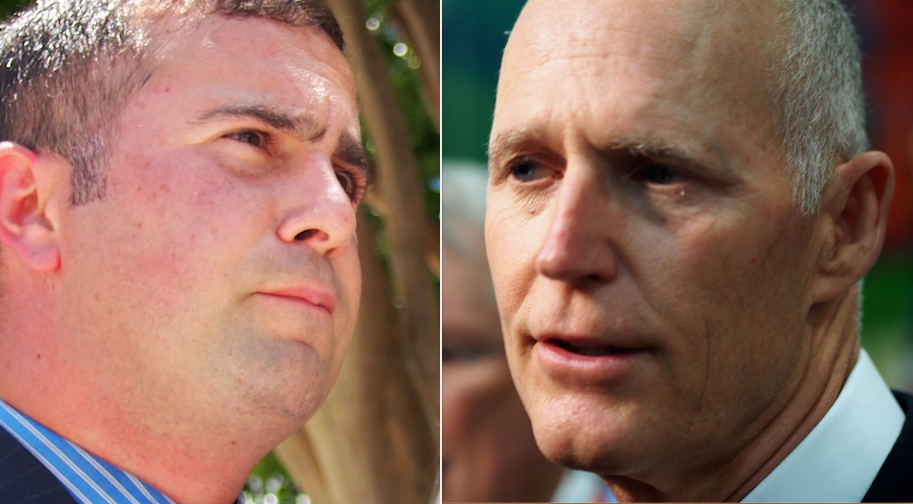 The Democrats response comes after Scott criticized them.
U.S. Rep. Darren Soto and other Democratic members of the Florida House of Representatives are returning the partisan challenges to Republican U.S. Sen. Rick Scott with a letter urging him to support the Democrats' relief package for Florida, Puerto Rico, and other disaster-ravaged areas.
Soto and all 12 other Florida Democrats in the House sent a letter Friday to Republican Senate leaders and Scott urging them to pass their relief package in one form or another.
The packages are variously included in two House bills House Resolution 268, approved by the House in January, and House Resolution 2157, and in a budget amendment offered in the U.S. Senate by Democrats Patrick Leahy of Vermont and Chuck Schumer of New York, the Senate Majority Leader.
Soto's letter went to Scott, Senate President Mitch McConnell, and U.S. Sen. Richard Shelby, the Republican from Alabama who is chair of the Senate Appropriations Committee.
It's in part a tit-for-tat message after Scott accused Democrats of blocking disaster relief aid, particularly the $600 million in nutrition assistance for Puerto Rico he offered as a budget amendment in the Republicans package. Scott in particular criticized Schumer, which led to a war of words in the past few days over who is to blame: Democrats who have passed bills in the House but opposed the Republicans' efforts; or Republicans and President Donald Trump, as only $11 billion of the $41 billion federal money already approved has actually reached Puerto Rico.
Scott also is being targeted because  Trump has said he wants no more money going to Puerto Rico and has threatened to veto the House package if it is approved with some. While Florida's senior U.S. Sen. Marco Rubio has said he would oppose that veto if it came back to the Senate. Scott has not said so.
Soto's signature topped the letter, which also was signed by U.S. Reps. Charlie Crist, Stephanie Murphy, Val Demings, Al Lawson, Ted Deutch, Frederica Wilson, Donna Shalala, Kathy Castor, Lois Frankel, Debbie Wasserman Schultz, and Debbie Mucarsel-Powell.
The Leahy-Schumer Amendment in the Senate includes $103 million in new funds for Florida and $457 million in new funds for Puerto Rico and $64 million in new funds for the U.S. Virgin Islands, and urges the U.S. Department of Housing and Urban Development to speed up delivery of funds already approved by Congress including $8.2 billion for Puerto Rico, $774 million for the U.S. Virgin Islands, and $633 million for Florida.
"It is time for the Senate to prioritize Americans struggling to recover and provide disaster assistance that meets the needs of all disaster survivors," the letter declares.
"Without these federal funds, Florida and other areas throughout the country will not have the resources needed to recover from catastrophic hurricanes, flooding, tornadoes and other natural disasters," it continues. "It is further troubling that 1.4 million American citizens in Puerto Rico enrolled in the Nutrition Assistance Program have seen their food aid cut or removed entirely. While we believe it is crucial to provide additional Nutrition Assistance Program funds to the island, Puerto Rico has other recovery needs that must also be addressed in a disaster supplemental package. HR 268, H. 2157, and the Senate proposal with the Leahy-Schumer Amendment would provide Puerto Rico with the resources that they need to recover from devastating, back-to-back hurricanes."