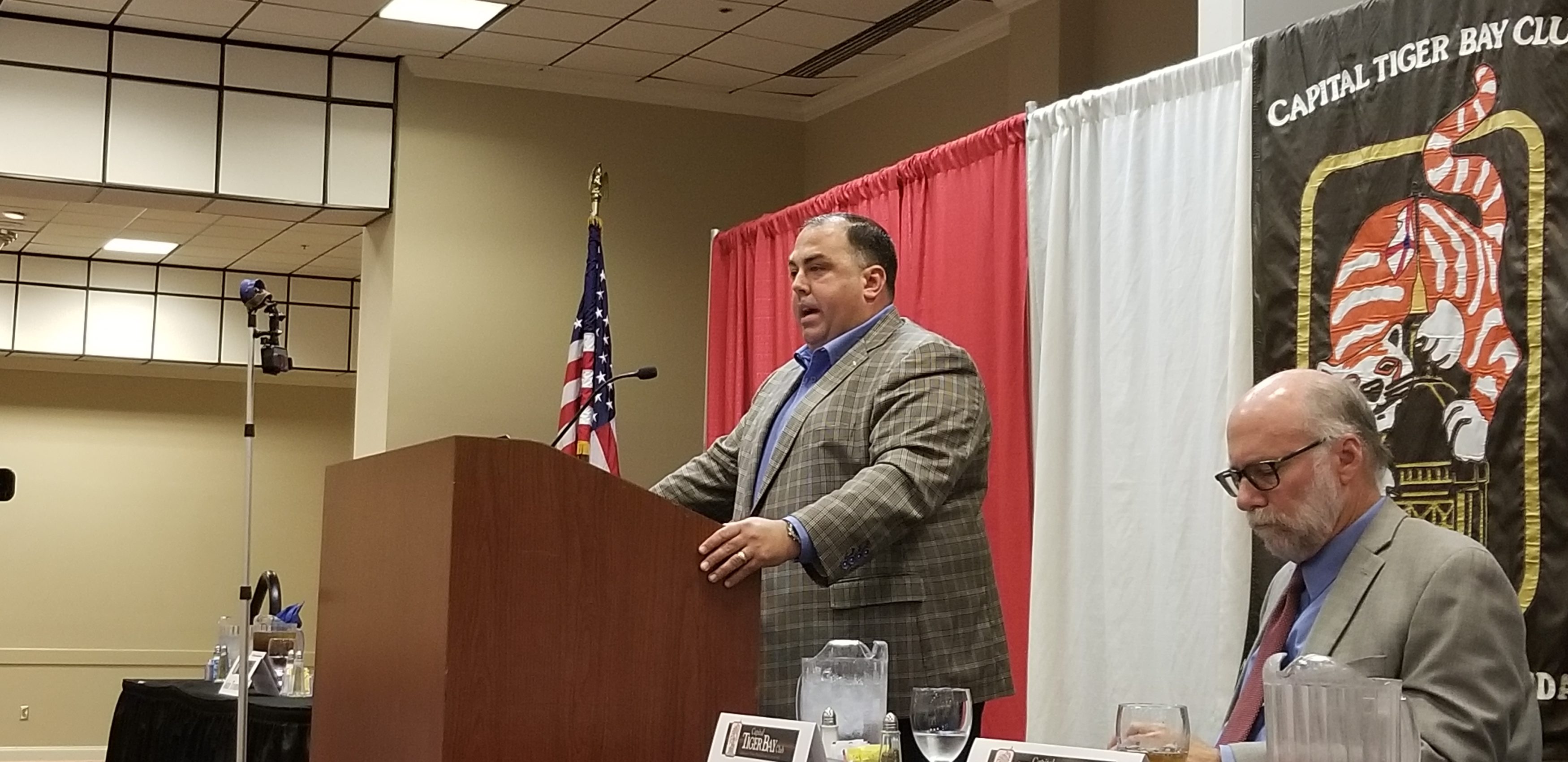 Among other tidbits: "Republicans (are) at the end of their majority, and they can feel it."
Democrats run like the Washington Generals. Rick Scott broke the Republican Party. And local newspapers won't cover state government with the same rigor anymore.
Yet for all of these observations, Florida Politics publisher Peter Schorsch spoke in an upbeat tone about the future of statewide media in Florida.
Schorsch, featured speaker at the Capital Tiger Bay Club on Tuesday, promised to insult everybody in the roomful of political aficionados.
But as the force behind the most-read news source for Florida lawmakers, he started with jabs at the news media.
"The journalism you are reading and watching is completely different (from) what it was a decade ago," he said.
Schorsch noted that in 2000, more than 100 reporters covered the Florida Legislature during session. In 2010, there were 40.
Today, about the same number cover session, but a majority write for subscription-based services catering primarily to political professionals.
"The journalism is for those who can pay for it," he said. "To keep track of the Capitol Press Corps, you don't need a guide from the House Clerk's office. You need a missing persons report."
Schorsch listed off political reporters who were once fixtures of the press corps but who didn't cover (at least, as a reporter) the Legislature full-time through the entire Session: Steve Bousquet. Marc Caputo. Rick Flagg. Mary Ellen Klas. Adam Smith.
"That's 165 years of journalism experience taken out of the equation," he said.
And so new media outlets like Florida Politics fill the void.
He suggested newspapers today remain solid when it comes to deep-dive investigative reporting.
But the day-to-day minutia of Tallahassee needs daily attention.
That's evident by how few newspaper websites feature legislative 'food fights.' He pointed to the Tallahassee Democrat home page, which shortly before Schorsch's speech had no legislative-related articles with nine days left in Session.
Beyond media, Schorsch does sees a change in Tallahassee.
Some of it comes with new Gov. Ron DeSantis, who has (surprisingly) been a center-right governor in a center-right state, he said.
He called Republican attempts to make the citizen petition process more difficult "shortsighted." He noted the Legislature already made it so, thanks to a 60-percent threshold.
Yet lawmakers want it to be harder.
That seems especially comical, Schorsch said, after the Governor, U.S. Senate and Agriculture Commissioner races were so close that they went to recount.
But he knows Florida voters sometimes read situations differently.
"You've got to remember, in 2016, not one single House Republican incumbent, of which I think there were over 70, not one of them lost," Schorsch noted.
That was after the House suffered withering media criticism for budget battles that year.
A Republican majority won't last forever, though. Democrats don't have their act together or change might come sooner, he suggested.
Letting the far left take over policy by lionizing Democratic socialist Bernie Sanders and nominating Andrew Gillum allowed Republicans like Scott to win over Hispanic voters with roots in countries hurt by socialism.
But it still feels to Schorsch like the clock is running down on 24 years of Republican rule in Tallahassee.
"It doesn't feel like it, but these are the Republicans at the end of their majority, and they can feel it," Schorsch said. "They are looking at the demographics and they are seeing a lot of people with last names that have s's and z's in them."