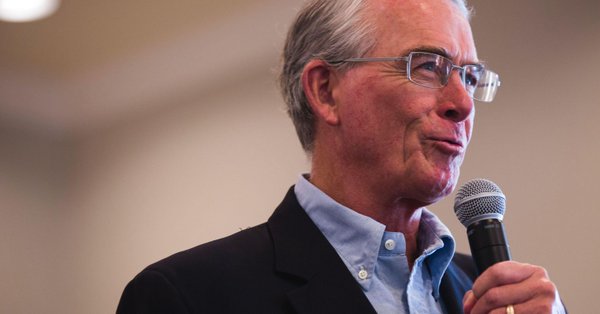 He filed legislation with Debbie Mucarsel-Powell prohibiting oxybenzone in coral sanctuaries.
U.S. Rep. Francis Rooney issued a fresh call for a sunscreen ban Monday.
The move came the same day Florida lawmakers voted to prohibit local bans.
The Naples Republican last month co-sponsored a bill prohibiting use of certain sunblock in national marine sanctuaries with coral present. He co-sponsored the legislation (HR 1834) with U.S. Rep. Debbie Mucarsel-Powell, a Miami Democrat.
Rooney sent a letter to Rep. Raul Grijalva, chair for the House Natural Resources Committee, calling for a hearing. He also sent the letter to Rep. Rob Bishop, the committee's ranking Republican member.
"This straightforward bill would safeguard our federally protected coral reefs by prohibiting the human use of oxybenzone and octinoxate within National Marine Sanctuaries where coral is present," he said.
"These reefs are vital to the marine ecosystems across the United States and around the world and we need to understand the long-term effects that these chemicals could have on our waters and marine systems."
He sent the letter the same day the Florida House approved a pre-emption bill (HB 1299) prohibiting local governments from similarly banning sunscreens.
Notably, the bill sponsor, state Rep. Spencer Roach, represents a district that largely overlaps with Rooney's.
There's been continuing struggles at all levels of government around the appropriateness of banning oxybenzone. The chemical is the essential ingredient for high-SPF protection lotions.
Numerous industry scientists, academics and dermatologists argue banning the chemical raises public health concerns about skin cancer.
Some early studies indicated the chemical could contribute to coral bleaching, but growing scientific consensus suggest little risk.
Key West earlier this year took first steps toward prohibiting sunblocks with oxybenzone from being sold there. But Miami Beach later rejected a call for a similar ban.
The federal legislation from Rooney and Mucarsel-Powell would prohibit the use and application of oxybenzone sunblocks, but  again, only while in a national marine sanctuary with coral present.
That would include the Florida Keys National Marine Sanctuary, which encompasses 3,800 square miles of water. The coral reefs serve as a visitor attraction and a major habitat for 6,000 species.