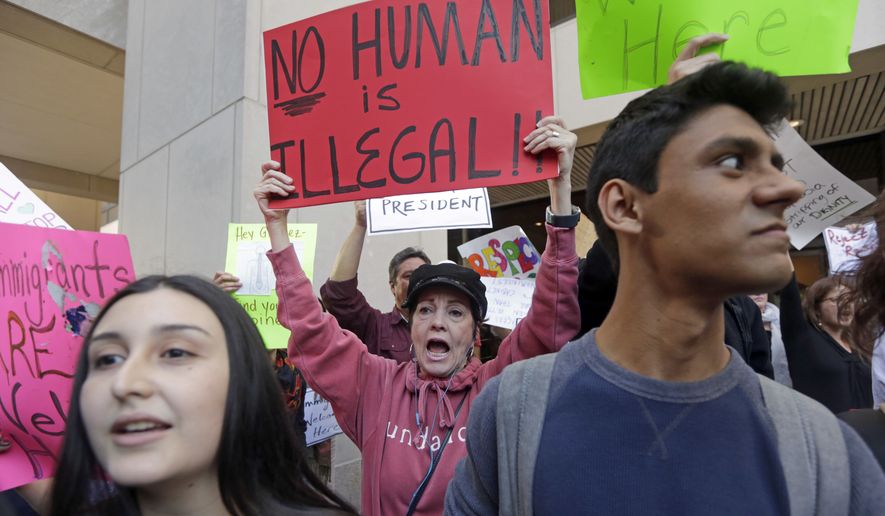 Now it's back in the House.
With one day left in the Legislative Session, the House and Senate continue to struggle to align on a bill targeting so-called "sanctuary cities."
The Senate again on Thursday passed by a 22-18 margin SB 168, its version of the "Rule of Law Adherence Act," but there is still considerable daylight between the two pieces of legislation, with the House preparing to consider the latest Senate version.
If a unified plan doesn't pass, Florida Republicans (including Gov. Ron DeSantis) will have fallen short on a campaign priority: to officially eliminate sanctuary jurisdictions, even though there aren't any currently in the state.
Senate sponsor Joe Gruters, a Sarasota Republican, suggested that the chamber "[has] the votes to pass a much stronger version of this bill," meaning the House version passed on Wednesday.
However, Gruters restored the Senate language, rather than voting on the House version as transmitted.
One change from the last Senate vote: The unfriendly amendment exempting Florida Department of Children and Families from the sanctuary ban that was described as creating a sanctuary agency; Gruters was fine with that House dealbreaker being exempted.
"It's the optics … that we're making a sanctuary agency," Gruters said.
Before the last Senate passage of the legislation, Miami Democratic Sen. Jose Javier Rodriguez successfully got an exemption for reporting requirements lifted from DCF workers.
Though Rodriguez and other Democrats fought to keep the condition in the bill, it fell short.
Democrats pushed a series of similarly ill-fated amendments, irking Sen. Rob Bradley.
"Bills are dying," Bradley said. "If you like the bill, you can vote yes. If not, you can vote no."
Democratic Leader Audrey Gibson pushed back against Bradley's assertion that the amendment process was silly and pointless. And Senate President Bill Galvano backed her up, ensuring that the Senate would continue fine-tuning a bill that the House won't consider as it is written.
Other Senators wondered why Democrats didn't just combine everything into one amendment.
Galvano again backed the process over his party, noting that Democrats have the right to present amendments as they see fit.
And Republicans had the right, and exercised the right, to turf them unceremoniously.
Sen. Darryl Rouson wondered, during debate, why a single amendment from the minority party "wasn't good enough."
Democrats, including Gary Farmer and Jason Pizzo, pointed out that immigrants often perform jobs the native-born won't.
"Without immigration," Farmer said, "the United States workforce would be shrinking right now."
Sen. Tom Lee noted the difficulties of finding language to conform with the House.
"Nobody can point out sanctuary cities … policies in the state," the Thonotosassa Republican said.
Noting that Senators are not "legislative sociopaths," Lee suggested that immigration violations should not be the primary offense for which people are arrested, which would constitute a version of a "show your papers law."
"What's wrong with putting things on paper that do people no harm," Lee asked rhetorically. "We create these infirmities in our own message."
Gruters, in close, said the bill was only about a 48-hour detainer.
"That's how long we're requesting [locals] to hold people," Gruters said.
"This is not about politics," Gruters added, but the "rule of law."
The House plan contemplates removal of non-compliant local-government employees and elected officials to be suspended or removed from office, and $5,000 daily fines for non-compliant jurisdictions.
The sanctuary ban already was approved by the House once before the Senate sent back a version that removed penalties for non-compliant jurisdictions (a deal breaker for the House).
However, all indications are that the two chambers may be able to find common ground, at the last possible moment.