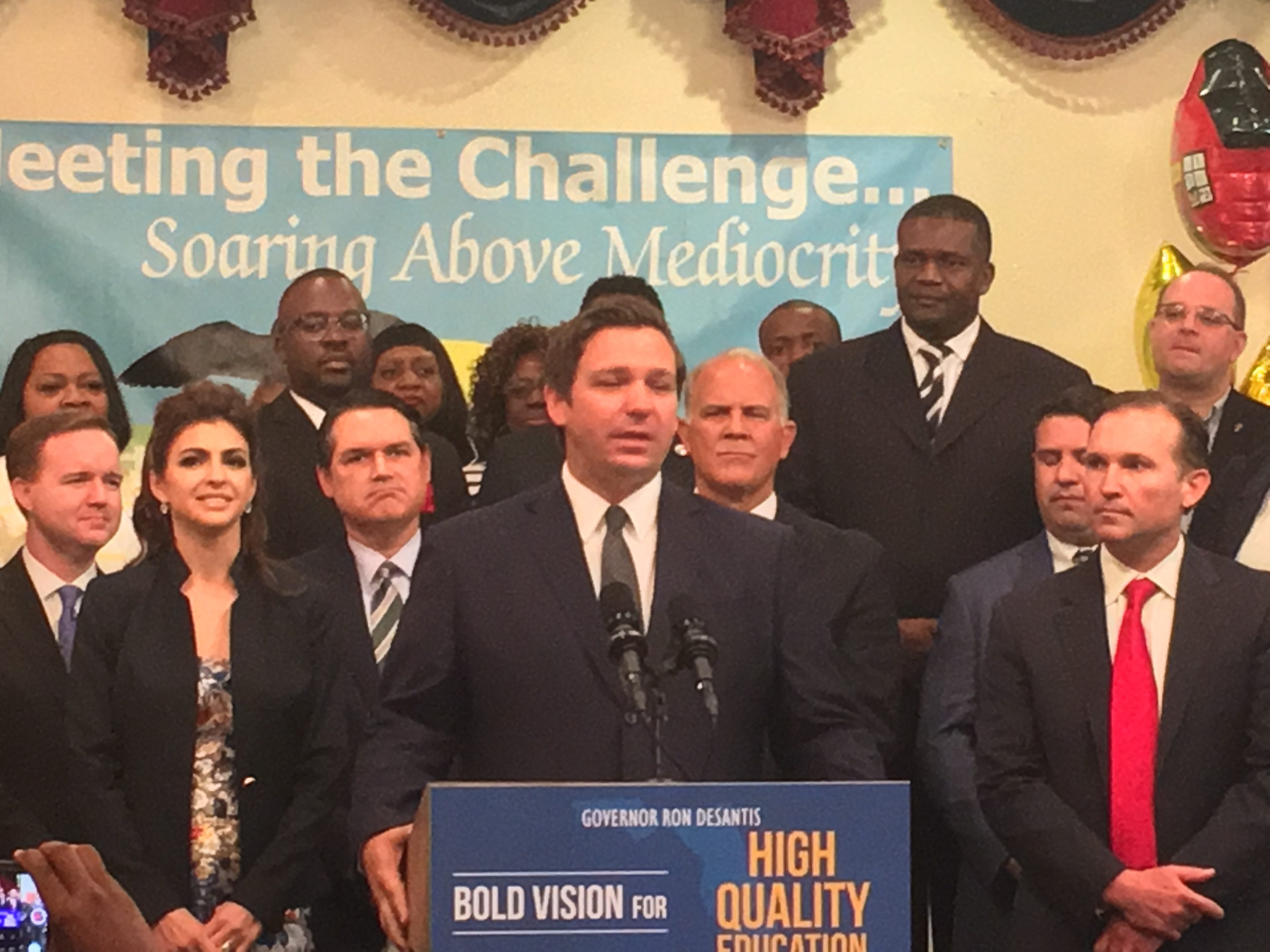 DeSantis prioritized this scholarship.
Gov. Ron DeSantis took a victory lap for his Bold Vision for High Quality Education Thursday morning in Jacksonville.
DeSantis, speaking at a private Christian school on the Westside, touted increases in per-student funding and Florida Education Finance Program allocations.
As well, the Governor touted $300 million for the Best and Brightest Program, as well as more emphasis on vocational and workforce training, funding for Schools of Hope, and passage of the Family Empowerment Scholarship Program.
The strategy blends rewards for high-performing public school teachers with avenues designed to let students escape subpar educational environments, with the local Potters House Christian Academy (which hosted the event) boasting an over 99 percent graduation rate.
A phalanx of state Representatives were on hand, as well as Jacksonville Mayor Lenny Curry: an interesting appearance at an education highlight event at a charter school given the school tax referendum the local school board wants.
DeSantis said there was "more funding for education than anytime in memory," spotlighting investments in teacher bonuses and computer science.
"The establishment of the Family Empowerment Scholarship," said DeSantis, was based in data showing a correlation between a tax credit scholarship and getting a four-year degree.
SB 7070 called for creating the Family Empowerment Scholarship Program, which will help 18,000 students get to private schools.
"I talked to a lot of people in the campaign. There's 100,000 students and there's a wait list," DeSantis said.
"This will really empower parents," DeSantis said.
DeSantis told the students he would stand by them.
"Your success shouldn't be limited by income … which zip code you grew up in," DeSantis added.
DeSantis noted, in gaggle comments, that educating children through charter schools is actually less expensive per capita than the public school system, "sometimes by many thousands of dollars."
"With schools like this, they're doing a lot with less," DeSantis added. "If the parent wants to use a scholarship at a place like [this], the state doesn't have to pay any overhead at all."
"We have more money for school districts than we've ever done in Florida," DeSantis said, an "unprecedented" feat.
"Even though I believe in choice, I've never tried to denigrate public education," DeSantis said. "We want to make sure we're clicking on all cylinders."
"I don't think any of this stuff is mutually exclusive," DeSantis said, but for "unique needs," these scholarships can play a role
DeSantis credited Sen. Manny Diaz Jr. and Rep. Jennifer Mae Sullivan for carrying the bills, and Rep. Kim Daniels for breaking with her party and supporting the bill.
Diaz called the bill a "team effort," noting that he'd wanted this legislation since 2012, but it didn't happen before the current Governor.
The team extends beyond the Legislature. Americans for Prosperity had its say also.
"Florida's kids are our most important investment. By signing SB7070, Gov. DeSantis is cementing his commitment for ensuring that Florida kids can access the educational resources they need to fulfil their potential," said AFP-FL State Director, Skylar Zander.
"We look forward to ensuring Floridians across the state are aware of the impact and opportunity this policy will offer students, and we will shine a light on lawmakers that championed this landmark reform."
Critics of the bill, however, have warned that the Family Empowerment Scholarship Program likely will face a legal challenge. The Florida Supreme Court in 2006 ruled that a similar program, spearheaded by then-Gov. Jeb Bush, was unconstitutional. That ruling, in a case known as Bush v. Holmes, said sending tax dollars to private schools violated part of the Florida Constitution requiring a "uniform system of free public schools."
The Florida Education Association teachers' union contends the Legislature is harming neighborhood public schools and plans to host a "summit" May 18 in Orlando to discuss issues such as vouchers.
"Along with the majority of people in Florida, we believe that public education is a fundamental good for this state and for the nation as a whole," Fedrick Ingram, the union's president, said in a statement Wednesday announcing the summit. "But our neighborhood public schools are under attack — there's no other way to describe it. If public education is going to have a future in Florida, it's time for the people who care about our public schools to step forward and take control of the conversation."
___
The News Service of Florida contributed to this post.