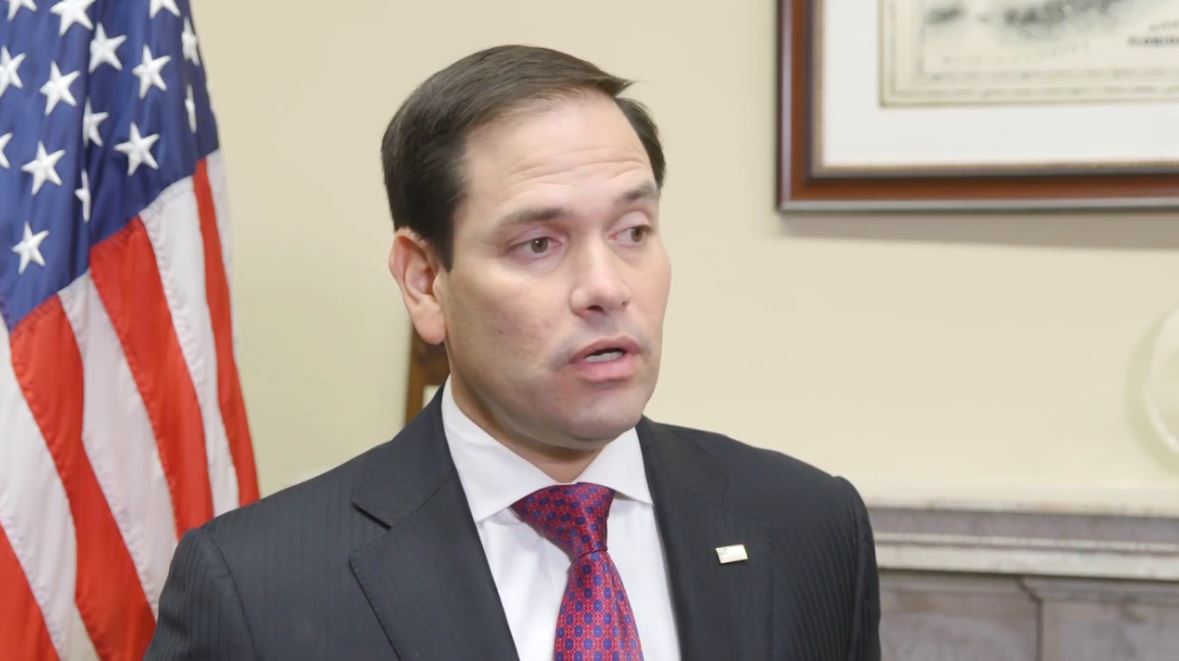 "The American people deserve to know that U.S. laws are enforced."
Echoing a recent suggestion by President Donald Trump, U.S. Sen. Marco Rubio is again urging an investigation of former Secretary of State John Kerry to determine whether Kerry violated the Logan Act or the Foreign Agents Registration Act (FARA).
On Thursday, Trump argued Kerry should be prosecuted, alleging Kerry was holding unsanctioned discussions with the Iranian government.
"What I would like to see with Iran, I would like to see them call me," Trump said.
"John Kerry, he speaks to them a lot. John Kerry tells them not to call. That's a violation of the Logan Act. And frankly, he should be prosecuted on that.
"But my people don't want to do anything. Only the Democrats do that kind of stuff, you know? If it were the opposite way, they would prosecute him under the Logan Act. But John Kerry violated the Logan Act."
The Logan Act was approved in 1799 and, in a nutshell, blocks Americans from attempting to stifle the current government's foreign policy goals.
An individual violates the act when he or she "directly or indirectly commences or carries on any correspondence or intercourse with any foreign government or any officer or agent thereof, with intent to influence the measures or conduct of any foreign government or of any officer or agent thereof, in relation to any disputes or controversies with the United States, or to defeat the measures of the United States."
Trump's allegations that Kerry is telling Iran "not to call" would presumably form the basis for his statement that Kerry should face charges.
However, a Kerry spokesperson quickly pushed back hard against Trump's calls.
"He's wrong about the facts, wrong about the law and sadly he's been wrong about how to use diplomacy to keep America safe," the spokesperson said of Trump.
"Secretary Kerry helped negotiate a nuclear agreement that helped to solve an intractable problem. The world supported it then, supports it now. We'd hope the president would focus on solving foreign policy problems for America rather than attacking his predecessors for theater."
Rubio originally questioned whether Kerry violated the law in September of 2018. He urged officials at the Department of Justice (DOJ) to look into Kerry's discussions with Iranian officials regarding the Iran nuclear deal.
Now, he's following up that request with a letter to Attorney General William Barr, who took over that post from Jeff Sessions.
"As you know, former Secretary Kerry's actions since leaving office have come under scrutiny as they related to the Iran nuclear deal, known formally as the Joint Comprehensive Plan of Action (JCPOA)," Rubio wrote.
"The American people deserve to know that U.S. laws are enforced regardless of any individual's past position. The Department of Justice should therefore make a determination on whether or not former Secretary of State John F. Kerry's recent actions related to the Joint Comprehensive Plan of Action with Iran potentially violate the Logan Act or the Foreign Agents Registration Act."
FARA may sound familiar to those who followed Robert Mueller's investigation into Russian interference in the 2016 election.
Paul Manafort and Richard Gates, who were both alumni of Trump's 2016 campaign, pleaded guilty to FARA violations over the course of Mueller's investigation. Mueller found that they had lobbied in the past on behalf of foreign governments, though neither charge was related to Russia's interference in the election.
Those charges were a signal the DOJ intended to ramp-up FARA prosecutions, following a 2016 analysis by the Office of Inspector General. The 1938 law had been rarely used previously.
As for the Logan Act? According to a 2015 Congressional Research Service study, only one person has ever been charged with a violation. That prosecution occurred in 1803.
Trump has accused Kerry of violating the law before. In a May 2018 tweet, Trump accused Kerry of holding "possibly illegal" discussions with Iran.
https://twitter.com/realDonaldTrump/status/993492804985872385