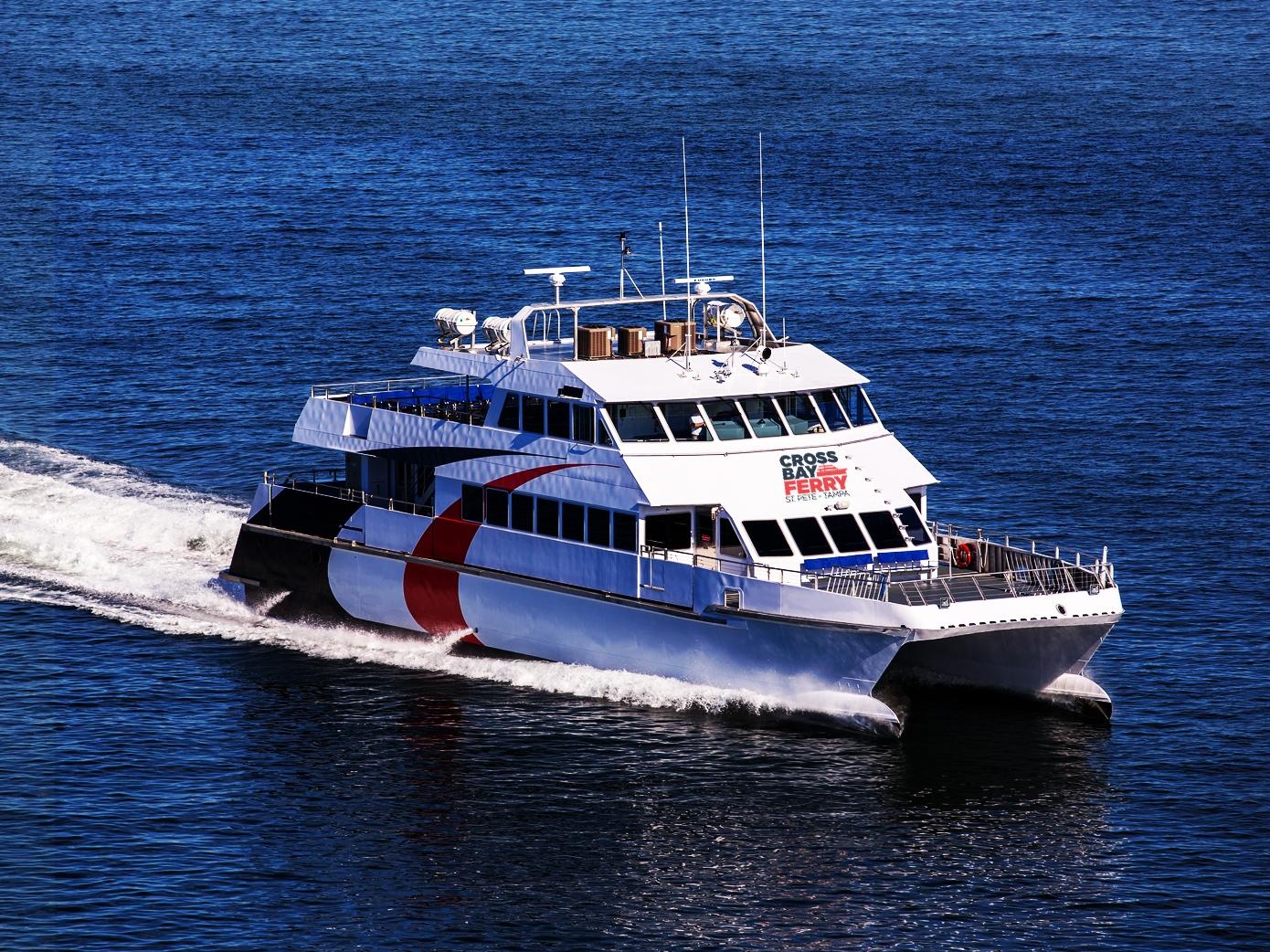 "Every single time it has been no and hell no."
Hillsborough County will extend its agreement with HMS Ferries and South Swell Development to move forward with plans for ferry service connecting South Hillsborough County to MacDill Air Force Base and downtown Tampa and create year-round service between downtown St. Petersburg and Tampa.
The new agreement will run through August 15.
The board also unanimously approved directing staff to include recurring funds in its upcoming budget to bring the Cross Bay Ferry connecting downtown St. Pete and downtown Tampa back for seasonal service.
The board didn't include a dollar amount, but HMS Ferries estimates Hillsborough County's portion of the funding would total about $147,000.
The decision came after more than two hours of debate on the subject.
The project partners created a business plan for the service that doesn't require any operating subsidies, but would require about $36 million in upfront capital costs to create ferry docks, purchase four ferries, trams for the Air Force Base and other infrastructure needs.
The main problem commissioners faced was where to dock the South County service. The HMS Ferries and South Swell proposal recommended Williams Park. It had the lowest development cost and offered the best ridership projections – up to 1,900 daily riders.
But to build the 750 recommended parking spaces, the county would have to purchase three acres of land from the Williams Park neighbor, phosphate company Mosaic.
"Every single time it has been no and hell no," said Hillsborough County Commissioner Sandra Murman referring to her several conversations with Mosaic executive management.
Murman and Commissioners Les Miller and Ken Hagan all supported moving continued ferry planning under the Hillsborough Area Regional Transit Authority's purview.
Hagan referenced a letter he received from Mosaic that claimed the project partners had failed to enter into any "meaningful" dialogue with them over the project. They listed safety concerns about incorporating hundreds of new cars a day into an area where large trucks transport goods for the company.
Supporters, particularly Pat Kemp and Mariella Smith, argued those details would all be worked out as the first phase of the project continues.
Smith suggested that if the county can't reach a deal with Mosaic to acquire the land needed for parking, the county could instead build a parking garage.
Commissioner Kimberly Overman expressed concern about using waterfront land for paved parking and instead suggested working with HART to establish a shuttle to take commuters from off-site parking to the ferry terminal at Williams Park.
To subdue concerns about reaching a deal with Mosaic, White moved to directly engage company leaders in discussions. That motion passed with Murman, Miller and Hagan voting against it.
White also successfully added language to the new agreement directing "appropriate staff" to create a parking management plan for cars and boat trailers at the park to accommodate weekend and holiday boaters.
The HMS and South Swell plan includes 25 spaces for those vehicles, but White worried that wouldn't be enough space during busy boating times.
Board members also expressed concerns about funding. As of right now, the county does not have any funding partners to help absorb the $36 million ask for ferry infrastructure. The board could tap funding from the cities of Tampa and St. Petersburg and Pinellas County to help cover costs.
The board's action Wednesday included language requiring county staff to partner with HART including on potential funding strategies. HART does have limitations though. It can only fund projects that directly benefit Hillsborough County so it's not clear how or whether they could offer funding for a project that also includes Pinellas County.
"We need to keep progress going on how we get these ferries here expeditiously," Kemp said of her reasoning to move forward with the HMS and South Swell business proposal.
Murman agreed. The county has been working to establish ferry service for MacDill Air Force Base for six-years.
But Murman described keeping the plan under the purview of the county "kicking the can down the road." HART, she argued, has the expertise to ensure the project is managed effectively. If the county facilitated the project it would have to hire additional staff.
"You want affordable housing. You want conservation. It's not going to happen. We can't have it all. There's no more money," Murman said.