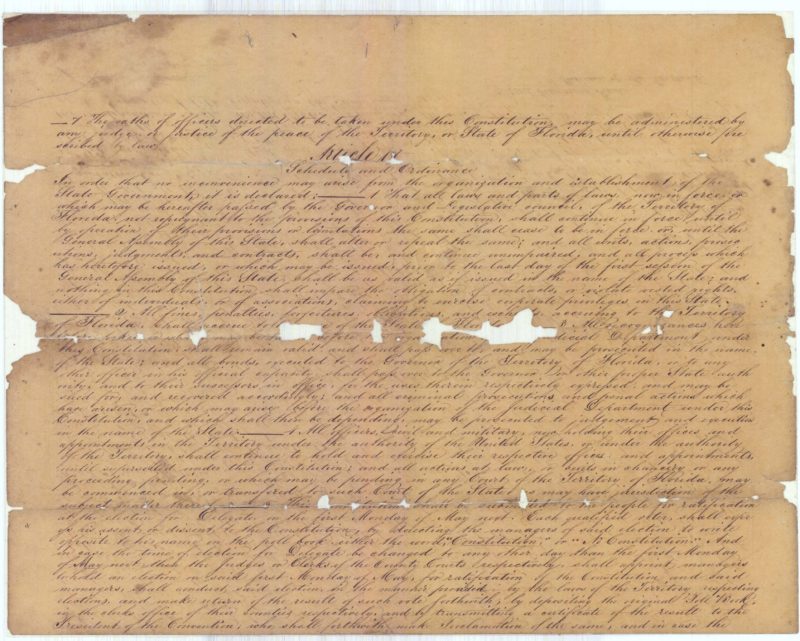 "HB 5 is nothing more than a power grab designed to completely neuter the citizen initiative process."
"Congress shall make no law respecting an establishment of religion, or prohibiting the free exercise thereof; or abridging the freedom of speech, or of the press; or the right of the people peaceably to assemble, and to petition the Government for a redress of grievances."
That's the First Amendment of the U.S. Constitution. No other constitutional provision is more revered, more protected, more central to the American ideal. Any reporter I know would spend his or her dying breath defending freedom of speech. The religiously devout and those who don't want to be compelled to worship in a certain way, or at all, rush to defend freedom of religion. Advocacy groups, protesters and reformers of all stripes gain their franchise through freedom of assembly. And the masses who are all of the above or none of the above have an equally precious right — the right to petition their government.
These freedoms are so precious, so central to who we are as a people that the first thing our founders thought of when drafting the bill of rights was that government should never, ever, ever abridge them. Without these freedoms, we simply aren't free.
Republicans in the Florida Legislature must have been asleep during that part of history class. Those who are lawyers must have been too hung over from a frat party the night before to attend Constitutional Law class the day this important subject, and what it means — not only in law but in the spirit of a nation — was discussed. Because every one of them voted for a bill that would make those who wrote the First Amendment puke. In an equally bile-churning move, they created this Frankenstein known as House Bill 5 at the literal eleventh hour on the last day of the Legislative Session, by tacking an amendment onto an unrelated bill.
Given our founders' suspicion of power in the hands of government, do you believe, in their wildest dreams, that they ever intended that in order for citizens to petition their government, they would have to first secure petition forms from that government?

That's what HB 5 requires. I get it that the citizen initiative is created by the Florida Constitution, but shouldn't those who place a hand on the Bible and swear to uphold that document have just a little bit of reverence for the rights it gives to Florida citizens?
HB 5 requires a government-run, regulated and taxpayer-funded accounting system to track unsigned petitions, as well as a Byzantine schedule of fines if petitioning groups don't return forms immediately after they are signed.
These provisions are based on the system that regulates how voter registration forms are handled when they're issued to partisan groups for voter registration drives. There's a good argument for these rules when it comes to voter registration forms. After all, unless there's tracking of forms and fines for those that aren't returned, College Republicans or College Democrats running voter registration drives might forget to turn in the forms for those who chose to join the other party. That concern is nonexistent when it comes to constitutional amendment petition forms.
Supervisors of Elections say it's completely unworkable, because while every group that wants to conduct voter registration drives uses the same form, Supervisors would have to print, number and account for different forms for each petitioning group. There are currently 26 circulating, and with history as a guide, only two or three of these have any serious chance of making the ballot. This makes turning Supervisors of Elections offices into print shops even more ridiculous.
For a citizen initiative to get to the ballot, local supervisors of elections must individually verify every signature until a drive reaches 766,200 valid signatures. Those who run these campaigns usually aim to gather around 1.1 million signatures to reach this threshold. And they usually print 10 petitions for every one that they get back. If they're doing direct mail, they'll print 30 petitions for every one they get back.
That means for every serious amendment drive, taxpayers would have to fund the printing and numbering of around 11 million petition forms. Florida's Constitution would call this an unfunded mandate, something that is prohibited unless the bill containing that mandate passes with a two-thirds vote, which HB 5 did not achieve in either the House or Senate.
HB 5 is nothing more than a power grab designed to completely neuter the citizen initiative process, which already requires a 60 percent margin of victory.
Last year that meant these amendments had to win by 1.6 million votes in order to have actually won. This in a state so closely divided that it that elected a President by 537 votes. What that means is that in order for any amendment to pass, it must have some level of bipartisan support in an America where bipartisan support is harder to find than a unicorn.
Article I, Section 1 of the Florida Constitution says, "All political power is inherent in the people."
Those who wrote these words also provided citizens, by petition drive, a coequal path to legislators, Constitution Revision Commissioners, and Tax and Budget Reform Commissioners, to propose amendments.
Voters have exercised restraint in doing so, putting merely 20 percent of the issues on our ballots via citizen initiative, with the remaining 80 percent coming from the politicians and their appointees. And the only people complaining about this process are Tallahassee elites and the corporate overlords who fund their campaigns, committees and parties. In fact, during the last election, 97 percent of those casting ballots voted on both of the amendments that made it via the petition process. When you include the 10 put there by legislators and the CRC, the average went down to a still-impressive 95 percent. So, voters are enthusiastically participating in these ballot issues.
Legislators who spend so much time trying to convince us that they want to "protect the sanctity of our Constitution" should start by upholding their oath of office to protect the Constitution of the United States and the Constitution of Florida by respecting the rights ordinary citizens are given in these two documents.
Meanwhile, Gov. Ron DeSantis, who has expressed concerns about the initiative process and is undoubtedly facing enormous pressure to sign HB 5 from those who support it, should hearken to his Tea Party roots, be mindful of his reverence for the Constitution — both federal and state — and get out his veto pen to strike down this reckless and irresponsible legislation.