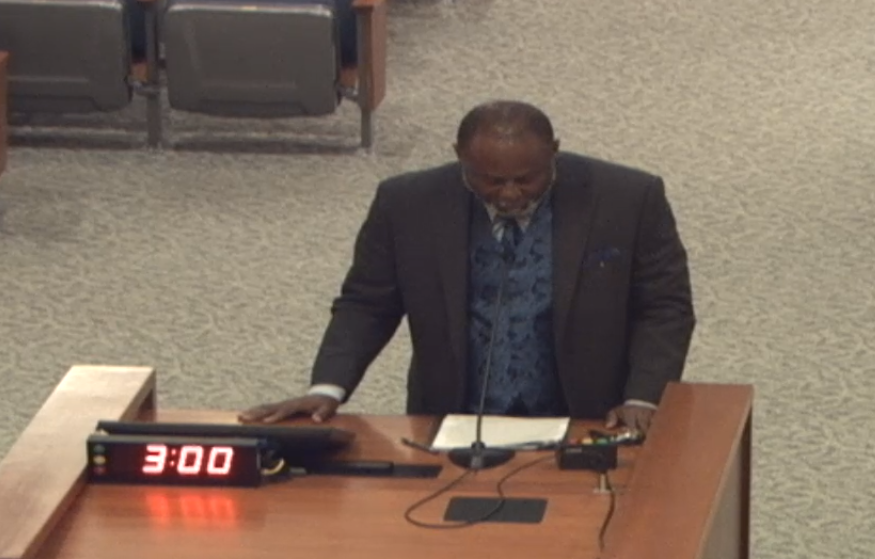 What is an invocation for?
The separation of church and state, however important it might be in the country's foundational documents, hasn't already held sway in Jacksonville.
To find evidence along these lines, one need not go back too far. Late February, for example.
In response to a spike in the murder rate (and perhaps, perhaps an impending election as well), incumbent Democrat called for a day of healing in the Council chambers.
Said "day of healing" looked more like a revival meeting.
The hour-long event was full of prayers and hymns, with roughly 150 in the crowd singing, praying, and raising their hands rapturously as appropriate.
Councilman Reggie Gaffney, the Democrat who convened the event, was not worried about the potential conflation of church and state.
A document produced as the so-called "city prayer," read in unison, posited that Jacksonville is "gripped by sin," with "lives polluted by sexual sin."
A speaker noted that the event was targeting "every sinner and backslider in the city," adding that "Jacksonville is on the rise in Jesus' name."
Jacksonville on the Rise is the name of Mayor Lenny Curry's political committee. Curry and Gaffney generally align on issues; the Councilman's brother works in the Mayor's Office and was at the event.
Gaffney won his March election going away. Did this event help? Did Gaffney benefit from using city resources for a religious event timed to boost his re-election chances?
It wasn't just Curry-crats who have blurred the lines between church and state, however.
Days before the election in March, Rev. R.L. Gundy (a supporter of one of Curry's opponents) issued a prayer that ultimately was shut down by Council President Aaron Bowman.
https://twitter.com/AaronAbowman/status/1128847113285242882
Pastor Gundy talked about the "polluted river," about water problems comparable to Flint, before castigating the "legislative body [that] refuses to seek forgiveness for slavery."
Gundy moved on to address the "political climate dividing the community," one characterized by "pride and selfish[ness]" and a critical mass of players "intimidated by the executive branch."
Around the time Gundy got to discussing "domestic terrorism," his microphone was cut.
Bowman introduced legislation last week to codify changes he'd put forth in a memo "on the advice of counsel."
"[L]egislative invocations are not a forum for the free exercise of personal, religious, or political beliefs, but rather a vehicle through which the Council itself, through selected speakers, seeks blessings and guidance in accomplishing its governmental work," Bowman wrote.
Bowman noted that the Gundy experience illustrated the need for "guidance," adding that as Council President, he sought to "accommodate all requests" to use the Chamber.
The Gaffney event, he added, was not "sanctioned."
"I view the chamber as belonging to the people," the President said.
Gundy's remarks, though overtly political, arguably were not substantially different than prayers issued from the same platform over years and years.
White Protestants, specifically those from the Baptist and evangelical traditions, have made a practice of walking the line between prayer and political oratory.
On hot button social issues, that has especially been the case.
The most recent iteration of such: the expansion of Jacksonville's Human Rights Ordinance to include LGBT protections in housing, employment, and public accommodations.
During that process, church members flooded the chamber. One of them made a shocking confession that got national publicity.
Roy Bay's comments in front of Jacksonville's City Council shocked the city Tuesday. On Thursday, though, he said he's moved downstate, as the Jacksonville Sheriff's Office says it's looking into his statements.
Bay, at that point a member of the Evangel Temple, described a lurid past for himself.  The story received national traction.
Bay told of his rape at "10 or 12 years old." Bay was "sexually assaulted by the homosexual community," he said. Then he described how he "entered into a life of homosexuality" and "going into bathrooms … and sexually assaulting kids, because I thought that's what life was all about."
"This (child molestation) happens in the homosexual lifestyle, over and over again," Bay said Tuesday.
That brought enthusiastic applause from some anti-HRO members of the crowd, many of whom were bused in, along with Bay, on church shuttle buses.
The Evangel Temple's Garry Wiggins was, along with former preacher Ken Adkins (currently on an extended sabbatical from the ministry), among the major players in the anti-HRO media campaigns that ultimately failed to stop the bill.
Some lauded Bay for establishing the anecdotal link between pedophilia and homosexuality that is central to the argument against what opponents frame as a "bathroom bill."
These are just a few examples of how Jacksonville has conflated religious and political expression over the years.
Expect that discussions of this legislation could extend beyond the opening invocation, to a full analysis of how this city has routinely conflated the provinces of church and state.