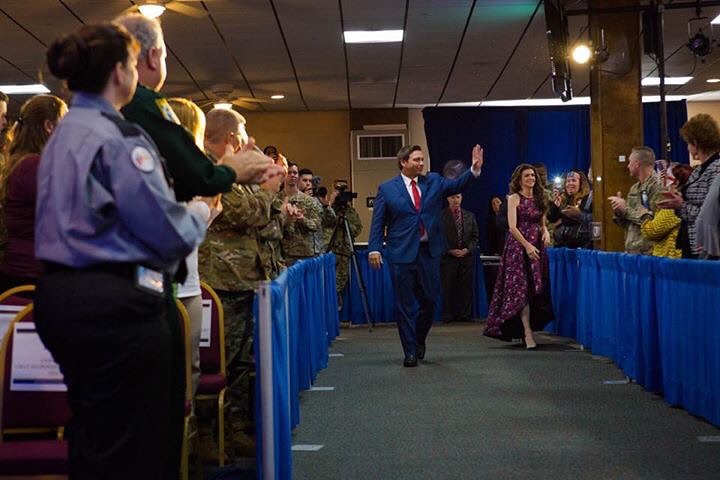 Police union played significant role in Governor's election last year.
Support from law enforcement played a significant role in Gov. Ron DeSantis' narrow election victory last year.
On Saturday evening, the new Republican Governor traveled to South Florida for an evening with officers.
The 26th Annual Dade County Police Benevolent Association Law Enforcement Awards Gala took place in Trump National Doral Miami.
"To our men and women in uniform, thank you for everything you do to keep Miami-Dade County and our state safe," DeSantis said.
In advance of the Saturday dinner, the PBA announced on Facebook the Governor would headline the annual fundraiser.
"We are so honored to have Ron DeSantis speak at our sold-out gala," reads a message on the Dade County PBA's Facebook page.
The choice of venue certainly earned some attention.
The Doral was at one point the most profitable hotel property in the Trump portfolio. But since President Donald Trump's election, the property has seen operating revenue sharply decline, according to The Washington Post.
But whatever other impacts divisive domestic politics may deliver on the bottom line, the venue remained a draw for the PBA.
The connection between DeSantis and the police union has been politically significant for the governor.
When DeSantis was down in the polls to Democratic nominee Andrew Gillum last year, a push by police officers helped in turning the race around.
The state PBA, which originally backed Adam Putnam in the GOP primary, came out in favor of DeSantis in the general election.
Robocalls from PBA leadership on DeSantis' behalf declared the GOP nominee had officers back.
Other calls from the group hit at Gillum's record as Mayor of Tallahassee, and turned his support from the Dream Defenders into a dominant issue in the closing stretch of the campaign.
Ultimately, DeSantis narrowly beat Gillum following a statewide machine recount. He won the Governor's mansion by 33,683 votes, about 0.41 percent of some 8.2 million votes cast.