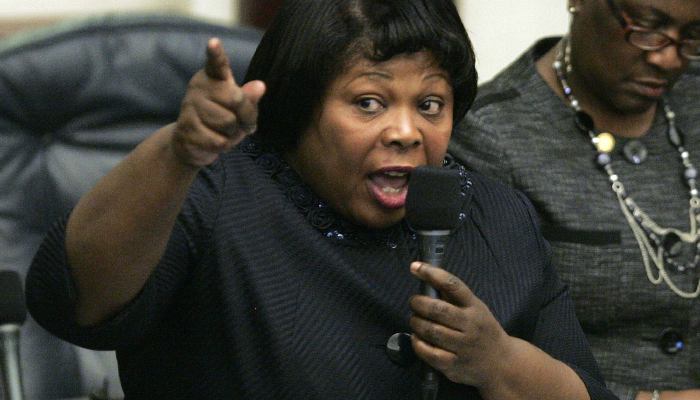 That event is now listed as "cancelled" on Farm Share's website.
The non-profit organization Farm Share has axed a planned food distribution in Miami Gardens Thursday after concerns were raised regarding a post from Senate candidate Daphne Campbell linking the event to her campaign.
Farm Share is a 501(c)(3) organization. According to the IRS, such organizations "are absolutely prohibited from directly or indirectly participating in, or intervening in, any political campaign on behalf of (or in opposition to) any candidate for elective public office."
Campbell, a former state Senator now seeking a return to the body, was set to be featured as a guest at Thursday's event. In promotional materials on Farm Share's website, Campbell was identified as a "Former Florida Senator."
That is, there was no link between the group and Campbell's current campaign for Senate District 35.
But on Campbell's Facebook page, a different poster surfaced. That one identified Campbell as a "candidate" for "Senate District 35." It also read, "Approved By Daphne Campbell For Florida State Senate District 35."
Both posters are viewable at the end of this post.
The version uploaded by Campbell did not explicitly state that Farm Share had endorsed her campaign. But when contacted by Florida Politics, a Farm Share representative made clear they did not condone any association, explicit or implied, between the group and her Senate bid.
That representative said the organization required Campbell to sign a form acknowledging the group could not allow any type of political promotion at Thursday's event.
That event is now listed as "cancelled" on Farm Share's website. Stephen Shelley, the group's Chief Operating Officer, says the event was "scheduled with Family in Distress," another nonprofit, but confirmed the distribution is now called off completely.
"At the time of our agreement with the nonprofit, there was not an additional host confirmed or scheduled to be secured for the event. Farm Share has cancelled this event, as it is now in violation of our rules that prohibit candidates from using our events for political gain.
"To uphold the integrity of the organization, we decided to cancel the event scheduled for May 23 in Miami Gardens."
Family in Distress is also 501(c)(3) organization. Florida Politics has reached out to the group for comment on the event but has not received a reply.
The Florida Department of Children and Families was also listed on the promotional materials. When contacted about Campbell's post on Facebook, DCF issued the following reply:
"The department did not create this flyer. The department does not participate in political campaigns or activities nor endorse candidates. Any attempt to construe this announcement as such is inaccurate.
"DCF routinely participates in Farm Share food distribution events throughout the state. In general, Farm Share events bring together organizations serving a specific community to help residents learn more about health, family support, and elderly services available. The resource fair and food distribution events typically feature health and nutrition information, low-cost health insurance options for Florida children ages 0-18, and information about temporary benefits programs like food assistance and Medicaid."
The poster listing Campbell as a Senate candidates has now been removed from Campbell's page and replaced with the version identifying her as a "Former Florida Senator." Campbell did not reply to a phone call requesting comment.
You can see both versions of the poster below: