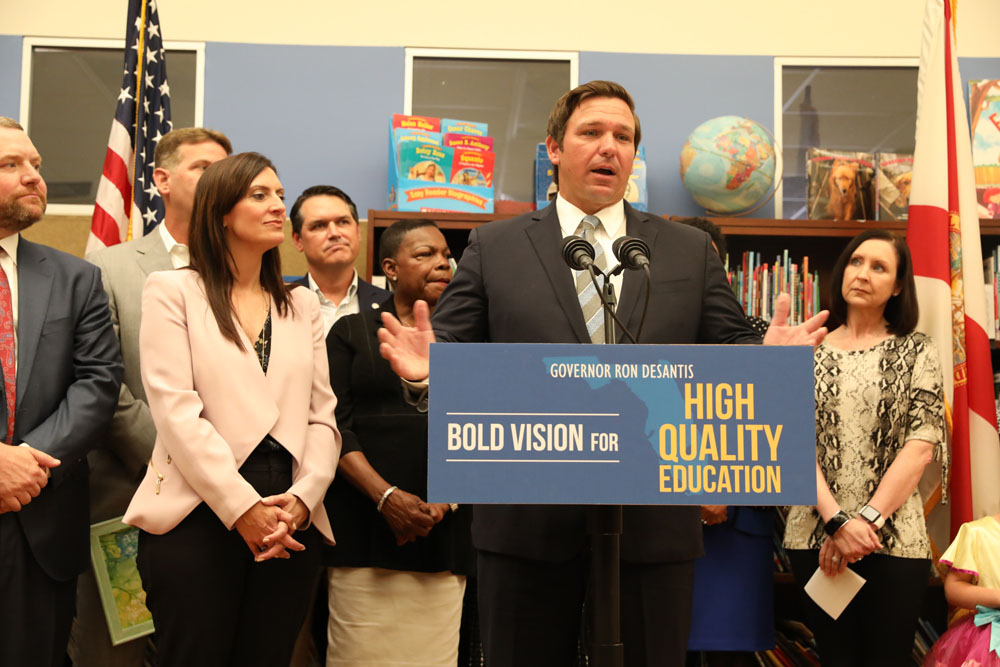 A victory lap for the Governor.
On Wednesday, Gov. Ron DeSantis came to Jacksonville for the second time this month, visiting a local private school for special needs children to highlight increased scholarship spending.
DeSantis had appeared at that school (The North Florida School for Special Education) ahead of the Legislative Session, vowing to fight to end the waitlist for Gardiner Scholarships.
Currently, almost 12,000 students participate in the program that has spent $124 million. Qualifying conditions include autism, Down's Syndrome, cerebral palsy, and intellectual disabilities, in addition to being a "high-risk child."
Funding the additional scholarship will cost an extra $18.8 million next fiscal year. Total funding will increase to $147.1 million during the coming year.
On Wednesday, DeSantis took a victory lap, and with him was former Senate President Andy Gardiner.
The two received paintings called "the Butterfly Effect," intended to illustrate interconnectedness.
Gardiner, whose son with disabilities is now 15 years old and driving, credited his wife for pushing him to be involved in establishing these scholarships.
"We made a commitment on the day he was born … to help him and help other families," Gardiner said, calling DeSantis a "champion" for these children.
"We had this idea of a scholarship that would help a parent with money for therapies for children," Gardiner said about the first push.
It's gone so much farther since.
DeSantis had pushed for increased student funding and increased choice this Session, and his remarks to a receptive crowd reflected a successful push for "historic victories," including teacher bonuses, promoting career education, and computer science and technology.
"One of the things we really thought was important … the Gardiner Scholarship, which benefits a lot of people in this state," DeSantis said.
"I liked what it was … but the fact of the matter is we had thousands of people on a waiting list" for "great schools like this," DeSantis said.
"We've been successful," DeSantis said. "The Gardiner waiting list is no more."
Last updated on May 22, 2019