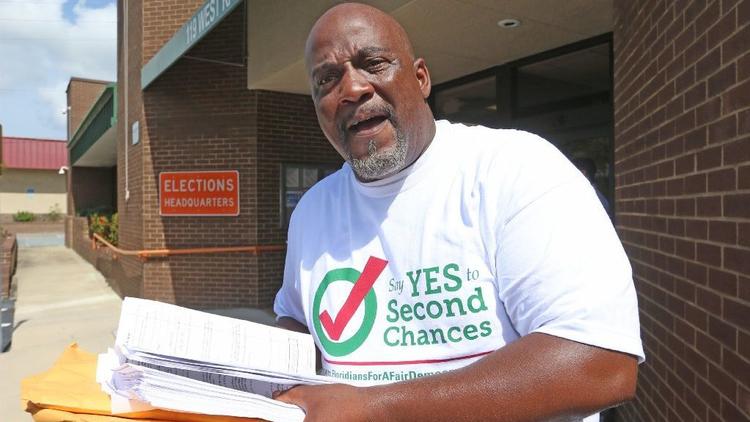 Greatest support found among Republicans and Millennials.
Almost half of all voters support requiring felons to pay all restitution before having their voting rights restored, a new poll shows.
Republicans showed the most enthusiasm for that plan, however, while the bulk of Democrats remains opposed.
Survey results released by the Florida Atlantic University Business and Economics Polling Initiative show a divide on implementing Amendment 4.
About 48 percent of voters back the approach approved by the Florida Legislature. That requires felons to prove they paid all financial obligations — including fees, fines and restitution — before they can vote.
About 34 percent of voters remain firmly opposed to that plan. Another 19 percent remain undecided.
Amendment 4, which calls for the automatic restoration of voting rights for felons, passed in November with a 65 percent 'yes' vote.
Experts say the measure could bring as many as 1.5 million individuals onto voter rolls. But critics of the Legislature say they have put an impediment in place — one they say is akin to a poll tax.
Opinions varied significantly based on the party on how the amendment should be implemented.
Almost 68 percent of Republican voters support a requirement to repay restitution while 19 percent oppose the plan.
Meanwhile, 46 percent of Democrats oppose that approach and less than 39 percent support it.
Among independent and third-party voters, there was near equal division on the question. About 36 percent oppose requiring all restitution be paid; about 35 percent support doing so.
Among white respondents, 51 percent support the Legislature's plan and 32 percent oppose it. That's the only racial demographic where a true majority voiced support for requiring all restitution be paid.
But plurality support for the plan transcends racial lines. Among blacks, 46 percent support the approach and 39 percent voiced opposition. Similarly, among Hispanics, 46 percent support and 31 percent oppose. Among Asians, the split was 47 percent in support but just 17 percent opposed.
Curiously, only those who listed other or mixed race showed a significantly different breakdown. In that group, more than 63 percent of respondents oppose the restitution requirements and just 24 percent support them.
Another surprising result? The greatest support — as far as age groups — came from Millennial voters. More than 59 percent of respondents in the 18- to 29-year-old demographic support the plan to require restitution while 30 percent oppose it.
The weakest support was found among those ages 50 to 64, where about 44 percent support the plan but 37 percent oppose it.