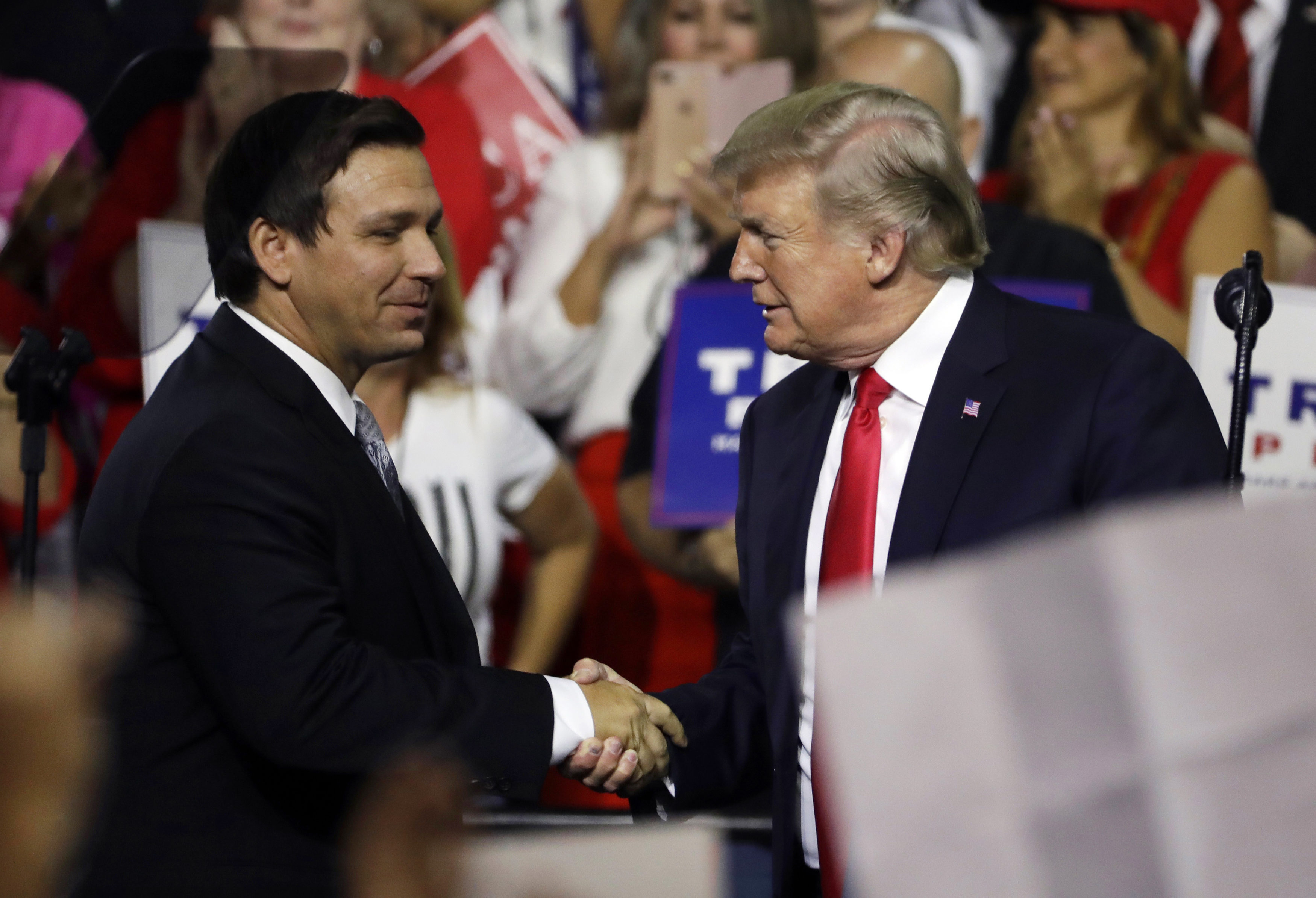 Florida could be the tip of the sword for president's re-election.
In today's Game of Trump episode, a new Florida poll should give Democrats pause about, well, a lot of things. And the President erupts at Chuck and Nancy.
First things first.
That poll from Florida Atlantic University shows Donald Trump has pulled ahead of every Democrat presidential candidate except Joe Biden in our state. The two of them essentially are even.
Couple that with some composite numbers on FiveThirtyEight.com. They show the President's approval ticking up — still underwater, but nationally 3 points higher than in February.
This is after Trump changing his mind (shocking!) about releasing the unredacted version of the Robert Mueller report. It's also after Democrats have been ramping up impeachment talk. Even some Republicans began publicly questioning the president's behavior.
These things traditionally sink a President. But we've never had a President like this guy.
Trump's supporters know he is a boor, and don't care. They might wish he wouldn't throw Twitter tantrums, but they don't care about that, either.
He tells them they're winning, and they believe him.
In a reversal of fortunes, Trump could be benefiting in Florida by the popularity of Gov. Ron DeSantis. We remember how this time last year DeSantis was campaigning as a Trump Mini-Me. Since being elected though, he has impressed even some Democrats and has strong approval numbers.
Democrats don't have anything — or at this point, anyone — to counter that.
When DeSantis hits the campaign trail for the president, Democrats may find the oxygen sucked out of the room. Andrew Gillum, who narrowly lost to DeSantis, is working to register more Democratic voters. Who can predict how effective that will be?
After all, nothing Trump does seems to hurt him with his base. When he does things like he did Wednesday, it probably makes his most loyal supporters love him more.
He was supposed to meet with House Speaker Nancy Pelosi and Senate Minority Leader Chuck Schumer about a $2 trillion infrastructure initiative. Instead, the President threw a hissy and said Pelosi was accusing him of a cover-up.
"I don't do cover-ups," he later told reporters in what a news report described as "a meandering 10-minute address."
You could almost hear the base cheering.
And Democrats, at this point, look like Yosemite Sam, frothing, screaming, jumping, while not focusing on the actual target. People care, as always, about stuff that affects their daily lives. Impeachment doesn't register.
Health care. Clean air and water. Education. Wage inequality. Safety.
Add your concern to the list.
They don't care about the things cable talking heads obsess about 24/7.
While Democrats scream about impeachment, people are too busy making a living to listen. The new poll is really saying that for Trump, Florida could be the tip of the sword.