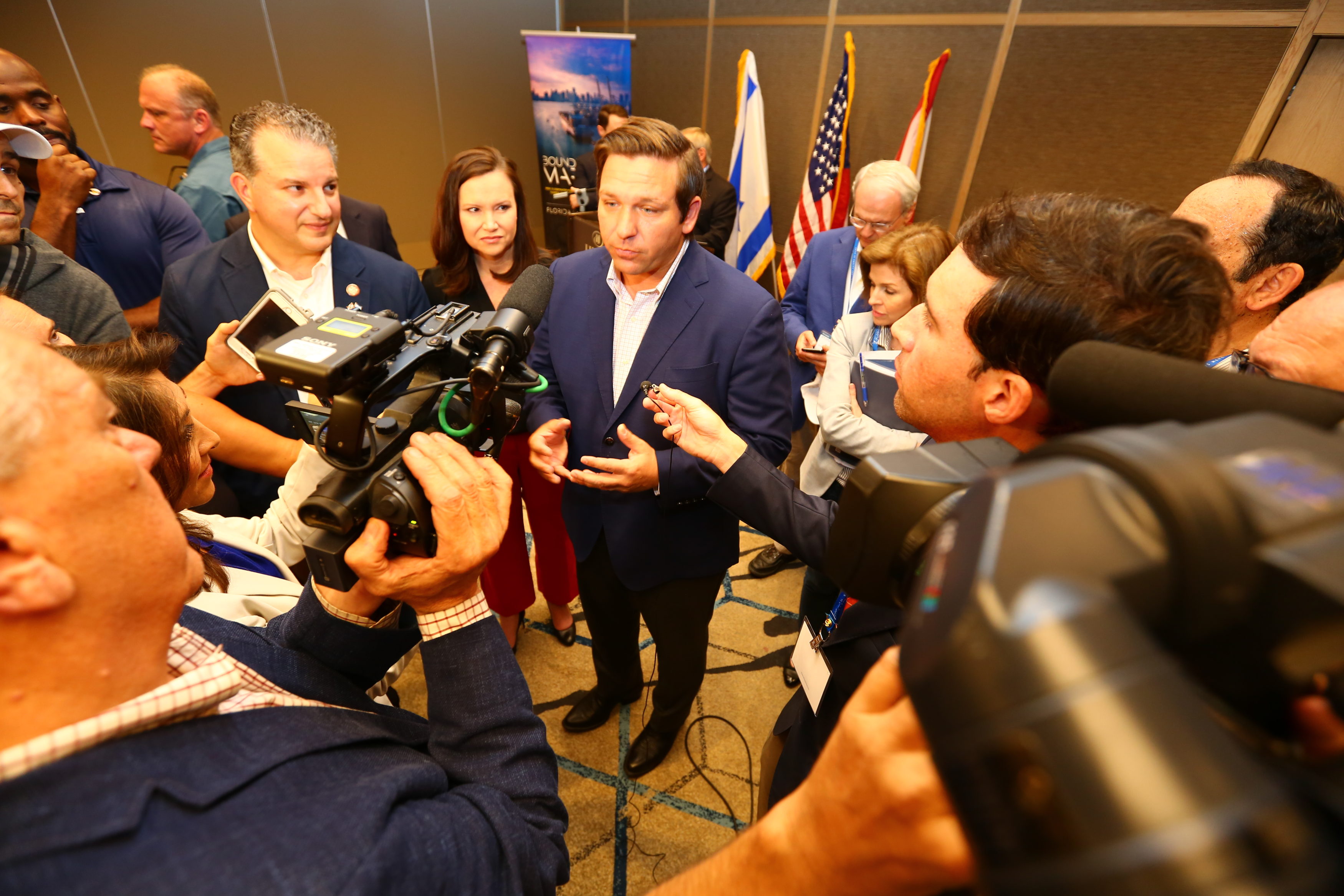 DeSantis and Moody stood their ground in Tel Aviv Sunday night.
TEL AVIV, ISRAEL — One of the highlights of the Florida Delegation's trip to Israel: the "ceremonial" Cabinet meeting at the U.S. Embassy in Jerusalem.
Unfortunately, many reporters covering it will be at a disadvantage.
As the USA Today was first to report Saturday, security concerns restrict attendees from getting laptops and phones in.
The Florida Channel will stream the meeting, and despite complaints that an overseas meeting with pen and pad coverage contravenes government in the Sunshine, the Governor and Attorney General Ashley Moody defended the move Sunday evening in Tel Aviv.
DeSantis said: "This is a historic meeting."
"I'm excited about doing it. For me to have been here two years ago banging the drum to move the embassy, and everyone told me it's not going to happen. The next year the embassy will open. And the next year, I never thought I'd be here with the Florida Cabinet."
"It will be public. You guys will be invited. It will be no different than if it was in Tallahassee," DeSantis added.
Moody backed the Governor, noting that her "office has been diligent about reviewing Florida Sunshine Law statutes," and that "one of [her] experts will be on the ground to make sure that takes place on Thursday."
"For the most part," Moody said, "the meeting is mostly ceremonial."
The Cabinet meeting includes a resolution affirming ties between Israel and Florida. DeSantis also will be signing legislation opposing anti-Semitism in Florida public schools, he said.

HB 741 aims to prohibit anti-Semitic speech and behavior in Florida's public schools, colleges, and universities. It was approved 114-0 in the Florida House and 40-0 in the Florida Senate,
"We'll do that in Jerusalem at the embassy, and it's going to be a special moment," DeSantis said Wednesday in Jacksonville.
The changes were last-minute, with the Governor's Office describing the Embassy as having "substantially" restricted equipment.
The Embassy will provide a photographer, Ferre added.
Reaction to the blackout was sharp from some observers, who already were concerned with a remote Cabinet meeting possibly conflicting with open government laws.
In the days ahead of the proclamation from the Embassy, representatives of the Governor's Office were hopeful that more equipment, and potential livestreaming, would be possible.
The embassy meeting security guidelines will not be the rule for most of the trip, which will primarily see reporters able to function as normal.