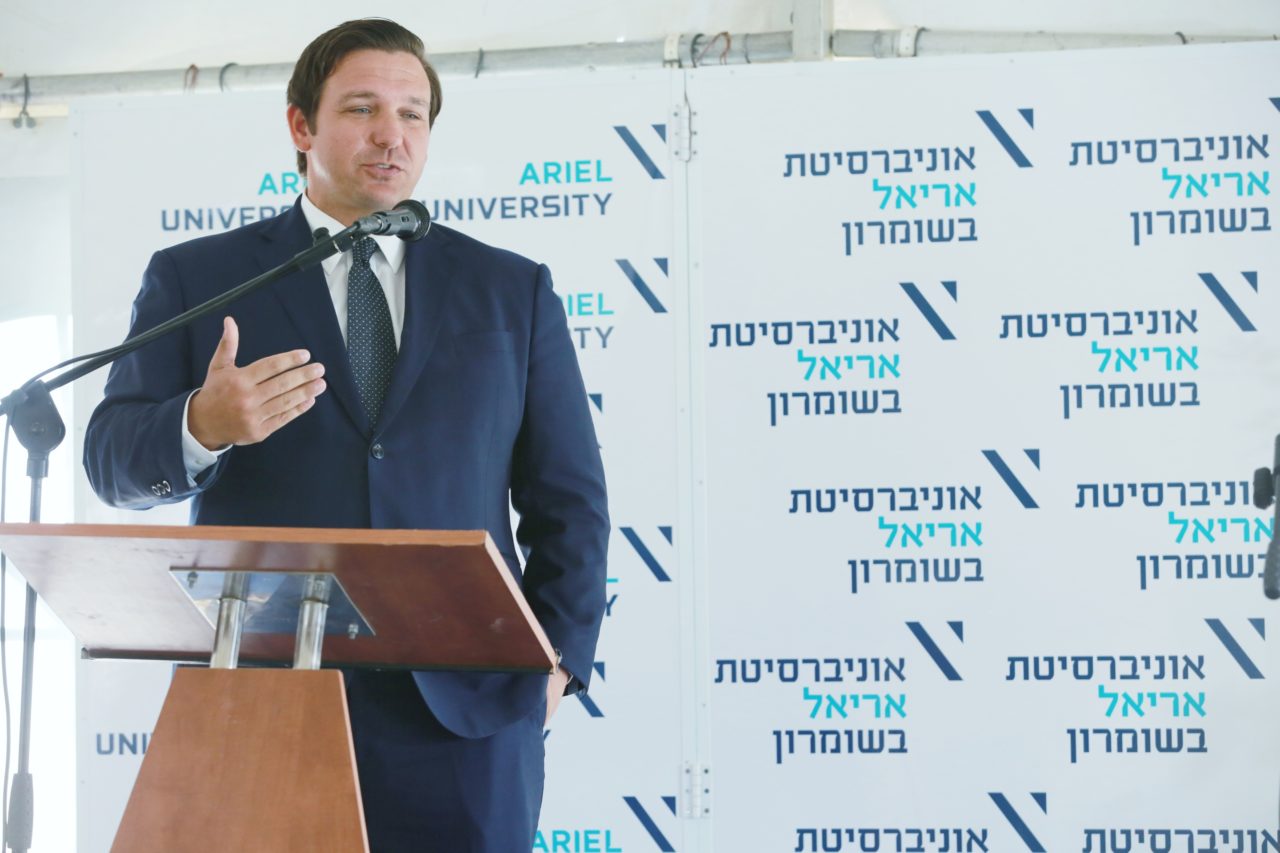 Gov. DeSantis emphasized his unimpeachable pro-Israel bona fides.
TEL AVIV — Monday afternoon saw Gov. Ron DeSantis on hand for memoranda of understanding between Florida and Israeli universities.
The first stop was in disputed territory: a meeting between Florida Atlantic University and Ari'el University.
As he has his entire career, and certainly on this trip, DeSantis emphasized his pro-Israel bona fides.
This was the first visit by an American governor to the university, which President Yehuda Danon noted was an exception to a "silent boycott" by American leaders.
"It's cutting off your nose to spite your face," said Danon, regarding this spurning by Israel's closest ally.
The schools have a two-year accord for academic and research projects. There will be quarterly check-ins to ensure progress is happening as is hoped.
Ari'el is located in a West Bank settlement and is a research university. A spokesperson for the school noted the diverse population of Jews, Arabs, and Muslims.
Miriam and Sheldon Adelson were on hand, and they will fund a medical school on campus.
"Ron is a warrior," said Dr. Miriam Adelson in introducing DeSantis.
The Governor told his story of how baptismal water from the Sea of Galilee water was accidentally thrown out by cleaning staff on his Inauguration Day.
Now, however, the water has been replaced.
DeSantis recounted recent changes in U.S. foreign policy, such as "the Iran deal being relegated to the dustbin of history," as "progress."
Regarding the FAU-Ar'iel agreement, he said it was good for both parties.
"When I came here in '14, I never thought I'd be back under these circumstances," DeSantis said.
DeSantis returned to Tel Aviv Monday afternoon for another MOU, between Haifa University and three Florida universities, including FAU.
Haifa has 400 such agreements with countries around the world, a key part of the strategy for the university.
Aquaculture will be a focus of the collaboration, and FAU believes it to be a "huge opportunity" for the university.
Also of interest: protection of the coast, including with technology that Israel is on the forefront of already.
The University of North Florida also has an MOU with Haifa, and a representative pointed out the obvious "synergy."
The initial focus: faculty and student exchanges, study abroad relationships, and the like, in coastal engineering and port logistics, as well as coastal and marine biology.
Miami-Dade College also inked an MOU with Haifa, as did Florida A&M.
While these are not the headline grabbers that some aspects of the trip are, they nonetheless signal increased cooperation between Florida and Israel, a key goal of this trip.