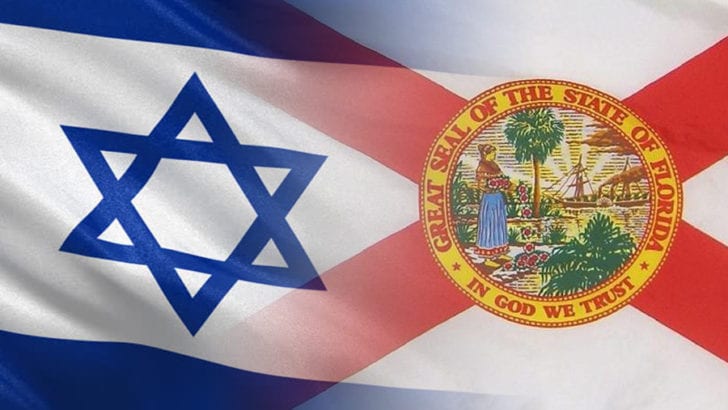 A complaint says the Cabinet meeting violates the Sunshine Law.
The First Amendment Foundation is trying to block Gov. Ron DeSantis and the Florida Cabinet from holding an official meeting in Israel.
DeSantis, Agriculture Commissioner Nikki Fried, Attorney General Ashley Moody and CFO Jimmy Patronis are in Israel this week as part of a trade mission.
The officials have planned to hold a Cabinet meeting at the U.S. Embassy in Jerusalem, and the event was included on the schedule the Governor's office released last week.
But the Foundation says the Cabinet meeting violates the Florida Sunshine Law and that it will ask a court to stop the meeting.
The Cabinet meeting is set for Wednesday; a docket reviewed Tuesday afternoon did not yet show an emergency hearing set. The case was assigned to Circuit Judge Angela Dempsey.
The law states government officials "must provide reasonable notice" of all meetings.
Additionally, the statute says any activity that "occurs outside the state which would constitute a knowing violation of this section is a misdemeanor of the second degree."
The term "reasonable notice" is not defined in the law, though it has been an expected part of the trip since the Governor's office released the travel dates in early April.
The First Amendment Foundation, however, believes releasing the exact date, time and location of the meeting less than a week before it would take place isn't "reasonable notice."
First Amendment Foundation president Barbara Petersen said the notice was "absurd."
"How can anyone who may want to attend the Cabinet meeting make plans to do so? The Governor and Cabinet are pushing the line, edging closer to a Sunshine violation," she said.
Update: A copy of the complaint, filed Tuesday afternoon, is below. Several news organizations have joined as plaintiffs.
In a statement, Petersen said: "The decision to challenge tomorrow's meeting was not lightly made — it came after long deliberation and many discussions of both public policy and legal issues. Florida's constitution requires that meetings of the Cabinet at which public business is to be transacted or discussed be open to the public.
"We wish the Governor and his Cabinet success on their trade mission. But as our complaint makes clear, there are legitimate concerns regarding the constitutionality of holding a Cabinet meeting that Floridians cannot attend."
Update 2: Dempsey denied the request to block the meeting. Counsel for the plaintiffs filed an emergency motion for reconsideration. Those filings are added below.