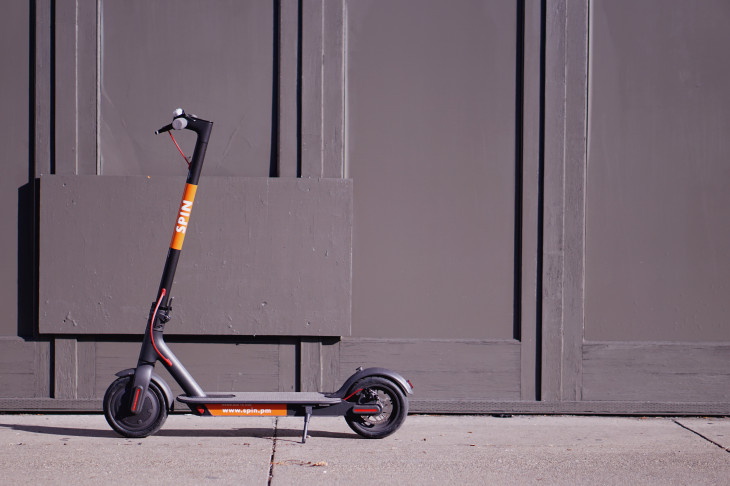 The city could cancel its pilot project it problems persist.
Electric scooters just became available for rent in downtown Tampa this weekend and already riders are breaking the rules.
Former Tampa mayoral candidate Topher Morrison spotted two scooters left parked in the middle of the sidewalk in front of the Vale restaurant in downtown on East Madison Street. Morrison, a fan of the scooters, worried the abandoned scooters could pose a challenge for people in wheelchairs.
"We have this wonderful new mode of transport in Tampa," Morrison wrote on Facebook. "Please remember when parking, that a scooter placed somewhere easy to walk around is still an obstacle course for our disabled friends."
He encouraged riders to park them off to the side on sidewalks "so everyone can navigate around them easily."
But riders shouldn't be parking them on sidewalks at all.
Under the user operating agreement four companies signed with the city of Tampa, operators are supposed to provide corrals for scooters in the downtown area and in the expansion area just north of downtown and in Ybor City.
Riders don't have to return the scooters to the corrals, but the operators include instructions for riders on how to park them that includes keeping them upright and placing them out of the way of pedestrians and others using sidewalks.
If someone complains they're in the way, the companies are supposed to respond to those complaints within three hours.
Morrison said he wasn't sure how long the scooters he saw had been blocking the sidewalk.
One of the two scooters he documented belonged to the Spin company. Bird also launched scooters this weekend.
The city's contract requires operators, including Uber's Jump, to ensure scooters are not blocking sidewalks and to meet Americans with Disability Act requirements for wheelchair access.
The city is also contractually allowed to impound scooters that are not promptly removed from sidewalks in situations where they are impeding travel.
The city of Tampa launched its approximately one-year pilot project providing scooters in downtown and Ybor City this weekend after months of planning.
If problems persist, the city could choose not to renew contracts or not approve future contracts to continue the program. They could also cancel the pilot project.
"But we're hopeful this won't be the norm," said Tampa Director of Transportation and Stormwater Services, Jean Duncan.
Duncan said her department has already been in touch with both Spin and Bird and both companies expressed "positive" reactions to complaints and are working to ensure scooters are kept out of places they don't belong.
In addition to scooters on sidewalks, the city has also received complaints about people using them in prohibited areas like on the Tampa Riverwalk and on Seventh Avenue in Ybor City.
However, Duncan said the number of complaints her department has received was small by comparison to the number of rides users have already taken on the scooters.
"Usually it's the negative problems that are brought to our attention," Duncan said. "There have been hundreds of rides that have been taken since Saturday.
She also said Spin and Bird are working on their geofencing technology that automatically slows scooters if GPS data shows they are operating in prohibited zones.
Duncan hopes that in addition to operator efforts to follow the city's rules, users also heed warnings about where to ride and how to park their scooters when they're done.
"It would be a shame if people are really liking the option and we have to take it away because some people don't follow the rules," Duncan said.