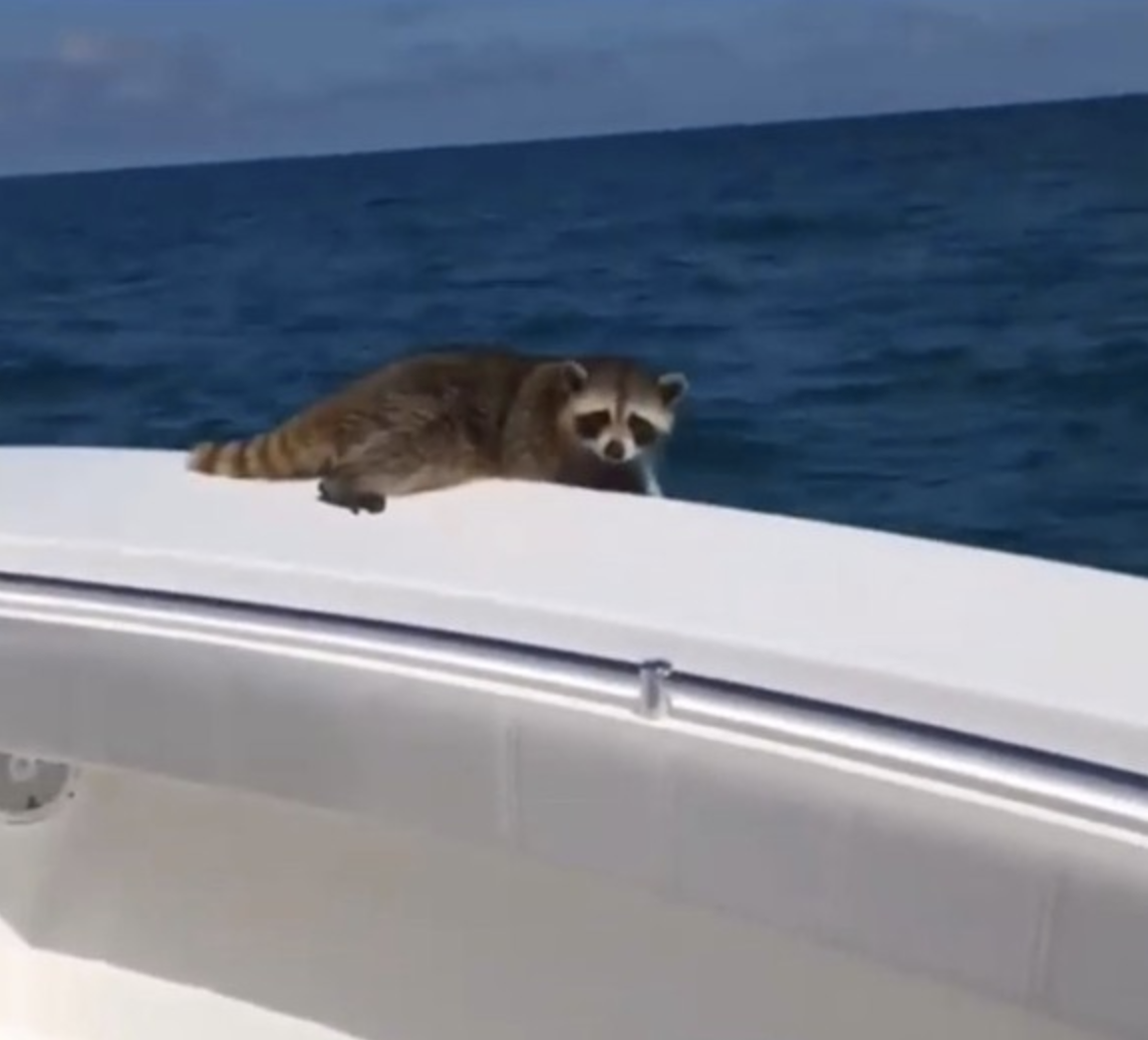 What, exactly, was the guy supposed to do?
Thomas Cope has had a bad couple of weeks.
The Clearwater lawyer is under investigation by The Florida Bar and the state's Fish and Wildlife Conservation Commission, and there's even a public petition gaining traction to strip him of his law license.
Like most runs through the mud, Cope's started because he decided to post a video of himself ranting at a raccoon stowed away on his boat.
The raccoon eventually fell off the side of the boat with no intervention from Cope, and presumably drowned.
Cope's decision to post the act on social media went over about as well as that shark-dragging video that made headlines a couple of years ago.
The courts threw the book at the shark draggers. And for good reason. They abused an animal in its natural habitat, laughing all the way.
And for as much as trash pandas could help with the massive garbage patches plaguing our oceans, raccoons aren't seafaring creatures. They aren't really supposed to be seen during the day either.
There's also no reason to believe Cope forced the raccoon onto the boat for the purpose of making him walk the plank.
So what, exactly, was Cope supposed to do?
Write a nautical sequel to "Travels with Charlie"? Toss him a life preserver?
According Cope's critics, including Animals 24-7 editor Merritt Clifton, he had an abundance of choices.
"Cope and whoever was in the boat with him had a world of options, including radioing to the Florida Wildlife Commission for advice if he needed it — or going on Facebook, sending out text messages, etc., to find other potential advisors," Clifton told Craig Pittman of the Tampa Bay Times.
Really? Getting on Facebook and sending text messages from the middle of the Gulf?
Assuming Cope was able to get ahold of an FWC official, they likely would have read off a paragraph from their handbook.
According to the commission's own guidance on nuisance animals — which, as cute as they are from afar, includes raccoons — doing nothing was the right move.
The FWC tells Floridians that they should "never try to handle or corner a raccoon." It also says that raccoons should be considered a high risk for rabies.
Despite his language in the video, Cope's description of the raccoon's behavior falls in line with that of a dangerous animal.
"The animal was running around the boat hissing and growling, making it impossible for me or my friend to drive the boat," Cope wrote in an apology he posted. "Knowing raccoons can be rabid and unpredictable, the only realistic option we could think of in the moment was to get the raccoon off the boat."
Additionally, FWC says any trapped raccoon "must be euthanized, released on-site, or released on a property within the same county of capture that is 40 acres or larger with written permission from the landowner."
No, drowning doesn't exactly fall under euthanization. And releasing the furball onto 40 acres of ocean doesn't exactly fit with the spirit of Florida law.
But Cope did neither.
Expletive-filled taunting aside, he didn't "try to handle" the raccoon.
If he intervened and saved the raccoon from drowning it would have been, for all intents and purposes, "trapped." Then Cope, per FWC, would have had to euthanize it or release it on-site.
Were Cope's actions tasteful? Absolutely not.
But expecting Cope to hand the raccoon a miniature captain's hat and go fishing alongside the animal is bonkers.
After the video was posted, FWC said officials were taking the incident "very seriously."
"It is still too early to speculate as to what violations took place in this incident," the agency said in a statement. "However, the FWC would like to state that we believe these vile acts of animal cruelty have no place in our state or anywhere else."
Talk about prejudicial.
Putting aside the fact that Cope did neither, the agency's own recommendations state raccoons "must be euthanized" or "released on-site." And nowhere in the FWC guidance does it mention a "good Samaritan law" for raccoons.
There was no violation. Case closed.