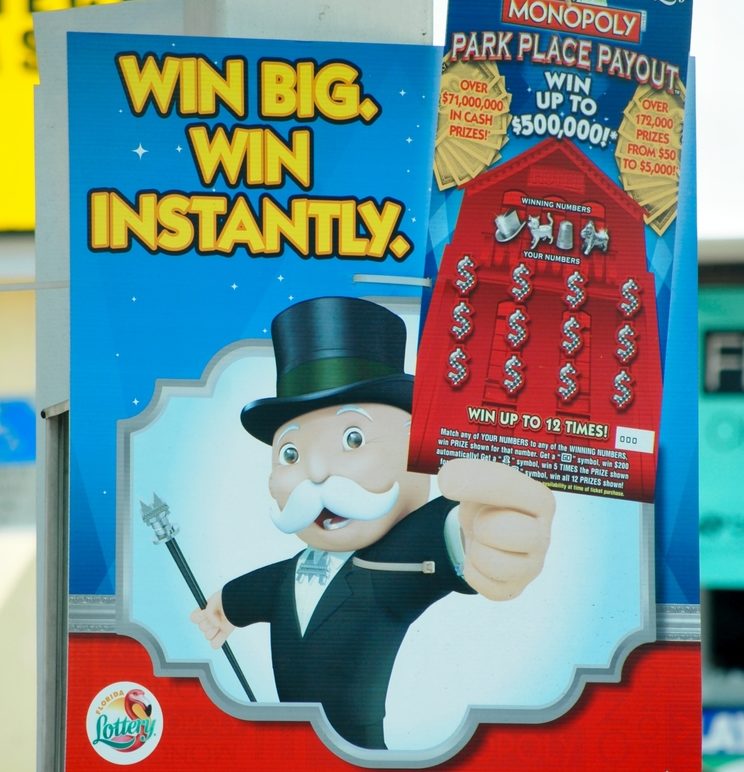 Replacing tickets alone could cost billions, group warns.
Add the North American Association of State and Provincial Lotteries to those betting against a lottery bill in Florida.
NASPL Executive Director David Gale called on Gov. Ron DeSantis to veto legislation requiring warning messages on Florida lottery tickets.
"Since 1988, the Florida Lottery has generated more than $35 billion for education, with over 800,000 students receiving a Bright Futures scholarship," Gale writes. "It is almost certain that the funding generated for education each year will be substantially hurt."
The bill (HB 629) would require labels taking up 10 percent of the face of the ticket.
That's granting more space to a warning message than can be found on any ticket in North America, according to Gale.
"I am concerned that devoting 10 percent of ticket and advertising real estate to this warning message would have a substantial negative impact on lottery game retail sales and a corresponding negative impact on profits and funding for the education programs these sales support," he writes.
The criticism comes on top of similar veto calls from the World Lottery Association.
Former Gov. Rick Scott vetoed similar legislation in 2017.
Lawmakers who passed the bill in Session say Florida education funding shouldn't rely on the unhealthy appetites of gambling addicts.
State Sen. Rob Bradley, a Fleming Island Republican, said it's important to inform consumers the lottery isn't "gambling lite."
The legislation as written would requires ticket labels read either "WARNING: LOTTERY GAMES MAY BE ADDICTIVE" or simply "PLAY RESPONSIBLY."
But Gale said the placement of the messaging hinders marketing. He pointed to state revenue estimates predicting a $235 million reduction in top-line sales over the first few year. That could translate to a $61 million direct loss to Florida education.
State estimates predict a $64 million loss in the first full year of implementation, though notably the bill was scored based on a lengthier label.
State Rep. Will Robinson, a Bradenton Republican, said a shortened warning from original bill language should assuage revenue concerns.
The legislation originally called for tickets to read "WARNING: PLAYING A LOTTERY GAME CONSTITUTES GAMBLING AND MAY LEAD TO ADDICTION AND/OR COMPULSIVE BEHAVIOR. THE CHANCES OF WINNING A BIG PRIZE ARE VERY LOW."
Gale stressed the lottery in the immediate future would also suffer logistical costs from printing new tickets. If signed by DeSantis, the law takes effect on Jan. 1.
"In order to comply, the Florida Lottery would need to remove every instant scratch-off ticket and game without the warning message from the market by that date and replace billions of dollars of inventory," Gale writes.
"It would be a monumental task and likely have a significant negative impact on the lottery's business."
That transition alone could deliver a huge economic blow to the lottery in the coming months, he wrote.
"Based on the 2019 projected value of printed instant scratch-off ticket game retail sales and inventory, the impact on the lottery of implementing HB 629 and removing inventory without the warning message prior to January 1, 2021 is $7.1 billion," Gale figures.
"In addition, another $7.1 billion in retail value of inventory would have to be produced to replace the inventory pulled out of the market to support this ill-conceived legislation."
He also argues, as the World Lottery Association does, that officials already ask consumers to play responsibly through outside marketing efforts.
The major lottery groups also expressed trepidation about what precedent Florida may set.
"It would likely have a national impact on the lottery industry," Gale writes.
"NASPL does not want the state of Florida to set in motion a trend in legislatures that ultimately leads to a reduction in dollars for lottery beneficiaries, including college scholarships, pre-K funding, state budgets, healthcare funding, programs that support senior citizens and more."