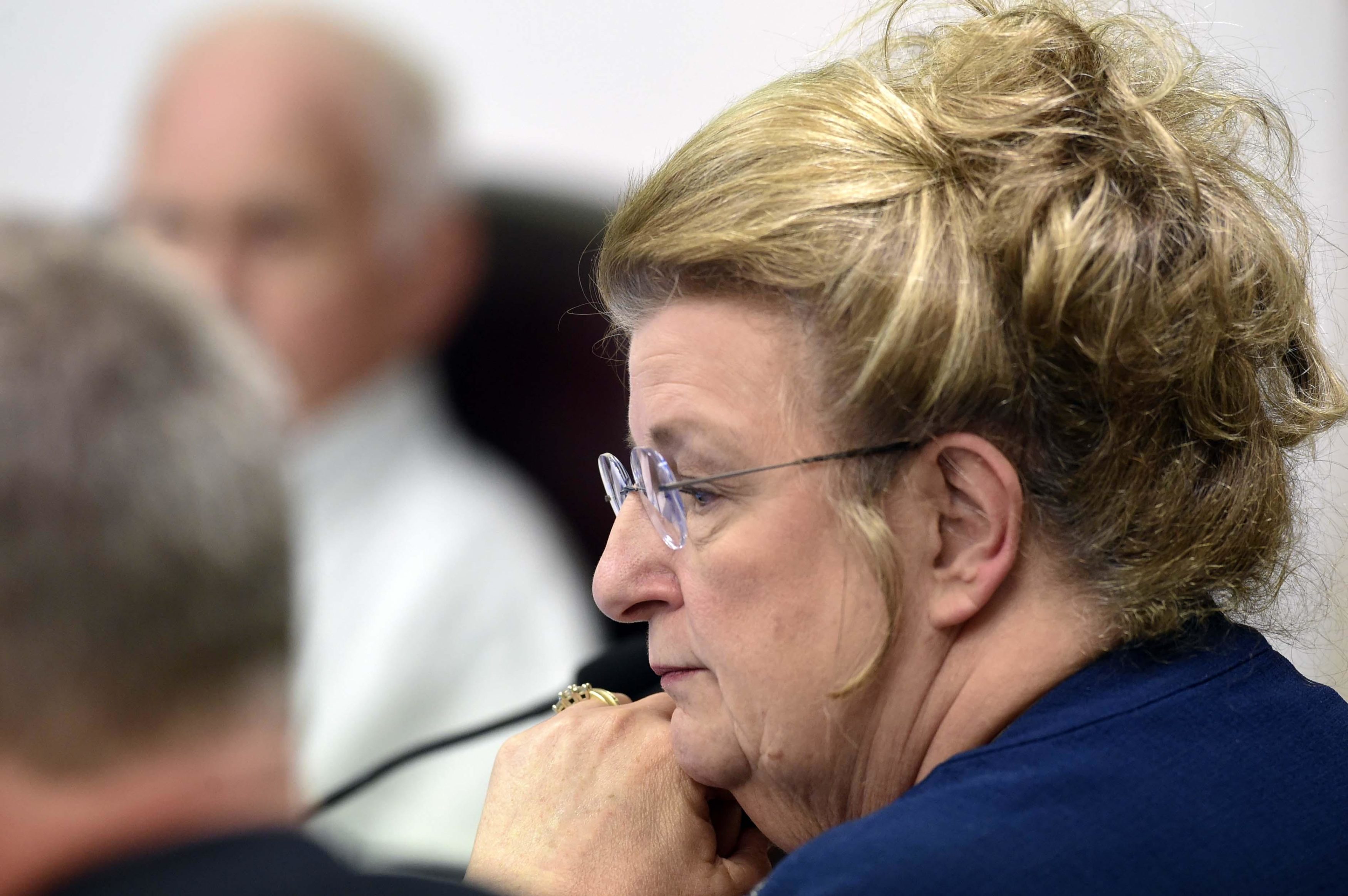 "Never will you find in Farley's report any mention of abuse."
Ousted Okaloosa County Superintendent of Schools Mary Beth Jackson defended her leadership role on Wednesday, in a last-ditch effort to challenge Gov. Ron DeSantis' decision to remove her over allegations that she failed to properly handle alleged teacher misconduct.
The former school chief's testimony marked the end of a two-day hearing to appeal her January suspension by DeSantis, which the governor said was based on child-abuse allegations against a former teacher in Jackson's school district detailed in grand jury reports. The reports focused on alleged abuse of developmentally disabled students — including pre-kindergartners — by former teacher Marlynn Stillions during the 2015-2016 school year.
"If someone ever said the word child abuse to me, it's like your blood pressure goes up, the red flag goes up, and you know you have to do something. But that was never said to me," Jackson testified before Senate Special Master Dudley Goodlette, a former Republican state representative from Naples.
The Senate has the power to remove or reinstate elected officials. Senate President Bill Galvano appointed Goodlette as special master in the case following Jackson's suspension.
Jackson on Wednesday said that, as soon as she was made aware of the allegations against former teacher Stillons, she immediately acted and ordered someone to "pull her out" of the classroom.
Jackson said she was aware in May 2016 of some type of trouble with Stillions, which included her using "outdated" methods of dealing with disabled students, such as withholding food from students or pouring vinegar in their hands. But those reports never raised any red flags because they were not allegations of children being harmed, or their safety being jeopardized, Jackson said.
"I would have been on that immediately. This sounded to me more like something I was so used to doing for that population of students," Jackson said.
She added those accusations were not "red flags" to her because sometimes disabled students "have meltdowns frequently and you have to do something to control them," and she did not find the need for further investigation of Stillions' actions.
Nearly a year later after a school district investigation was completed, the Okaloosa County Sheriff's Office conducted a criminal investigation into Stillions' treatment of students, which resulted in her conviction on three counts of felony child abuse. The former teacher is appealing, according to Jackson's lawyers.
Nicholas Primrose, DeSantis' deputy general counsel, argued that, in her role as superintendent, Jackson was solely responsible for reporting teacher misconduct. Primrose accused Jackson of failing to report the alleged misconduct because she was focused on being re-elected in 2016. Primrose said the Senate should remove her because she failed parents, students and the school district.
Jeff McInnes, the Okaloosa County school board's attorney, testified on Wednesday that the school district's reporting policy that was in place when Stillions' alleged conduct occurred did not have any "legal deficiencies."
"The policy was a basic policy," McInnes said. "It certainly needed the improvement and it is much more effective now."
But Jackson's lawyer George Levesque argued the governor's case stems from a "Utopian ideal that perfect policies and perfect laws will make people behave perfectly."
"The reality is there are no perfect people, there are no perfect policies and there are no perfect laws," said Levesque, adding that, under Jackson's leadership, the school district was ranked No. 2 in the state.
Until late Wednesday evening, Primrose grilled Jackson on why she did not read the report issued by Arden Farley, a school district investigator, until a year after the investigation was conducted.
 "I did not read the report, I did not read the recommendation," Jackson said.
"That's the point," Primrose responded.
Levesque, however, pointed out that Farley's report "certainly" did not conclude that any abuse occurred.
Stillions' criminal prosecution, he said, is not final, and "sometimes a court, even with the highest standard of proof in the nation, can get it wrong."
"I am not here to defend Ms. Stillions's actions. She is not my client," Levesque said. "But her actions are at the center of the matter."
"Never will you find in Farley's report any mention of abuse," he added. "He called and spoke to (Department of Children and Families) staff … and what he was told by DCF staff was that the actions did not rise to the level of child abuse and he did not need to report."
Following the conclusion of Jackson's testimony Wednesday, Primrose and Levesque agreed to appear before Goodlette for a final recommendation during the first week of August. Goodlette will make his recommendation regarding Jackson's fate to the Senate Rules Committee, which will then make a recommendation to the full Senate. If the Senate does not act by the end of the 2020 legislative session, Jackson will automatically be reinstated.
___
Republished with permission of the News Service of Florida.