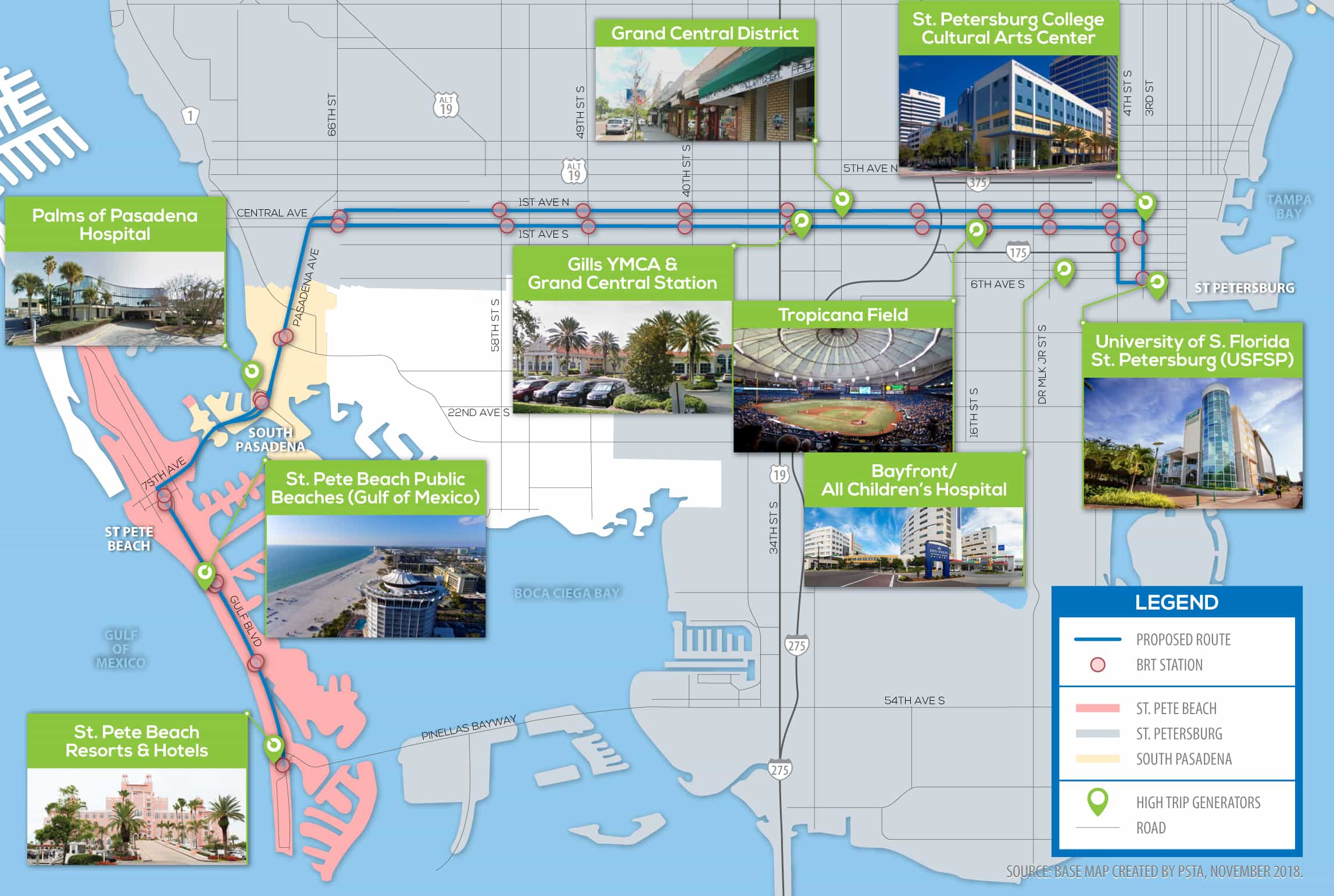 The city has "another affirmation" the feds are seriously considering the project.
St. Petersburg City Council will vote next week on an interlocal agreement allocating the $4 million previously pledged for the Central Avenue Bus Rapid Transit (CABRT) project.
The money will come mostly from the In-Town Community Redevelopment Area, which covers most of downtown. The interlocal agreement includes a provision that funds must be used within that area.
Local funding is required in order for the Pinellas Suncoast Transit Authority to obtain a federal grant funding about half of the $41 million CABRT project.
The Federal Transit Administration last year gave the project a "medium-high" rating under its Small Starts grant program. That's the agency's second highest rating and positions the project well for federal funding.
The FTA earlier this year rated the project again with the same score. The FTA also recently assigned a Project Management Oversight Contractor "to begin formal oversight of the CABRT project."
The city notes that assignment is "another affirmation that the CABRT project is considered viable for funding."
The interlocal agreement vote comes as opposition to the project continues to surface. A group called Citizens Against Lane Loss and Parking Loss has popped up to challenge plans. Dozens of yard signs declaring "Save Our Streets" line homes and some business along First Avenues North and South where the new route would operate.
The CABRT project would convert much of First Avenues North and South between downtown St. Pete and South Pasadena from three lanes to two and would eliminate some on-street parking east of 34th Street. Opponents worry losing a lane would increase traffic congestion and create traffic safety hazards.
The group's website incorrectly claims the project would result in "total" parking loss. On-street parking west of 34th Street would remain. The plan currently would eliminate bike lanes in order to preserve on-street parking and make spaces wider. Bike lanes would move to Central Avenue.
Supporters of the project, including St. Petersburg Mayor Rick Kriseman and his administration, argue public transportation access will mitigate traffic congestion and increase safety.
Under the proposed interlocal agreement and current project plans, PSTA has responded to some criticism of the project. The original plan called for 60-foot long articulated buses, but an updated version of the plan would instead use 40-foot buses.
If the smaller buses create level of service issues, PSTA could offer more frequent service to spread passenger demand among more vehicles. PSTA could also operate the larger buses only during peak travel times when ridership is higher or during other times "demonstrating excess demand."
The interlocal agreement includes some protections for St. Pete. If the project were to be cancelled, the city would receive a full refund for its portion of funding. The agreement also calls for refunds for any under-spending on the project in any cases where actual costs were less than the projected totals.