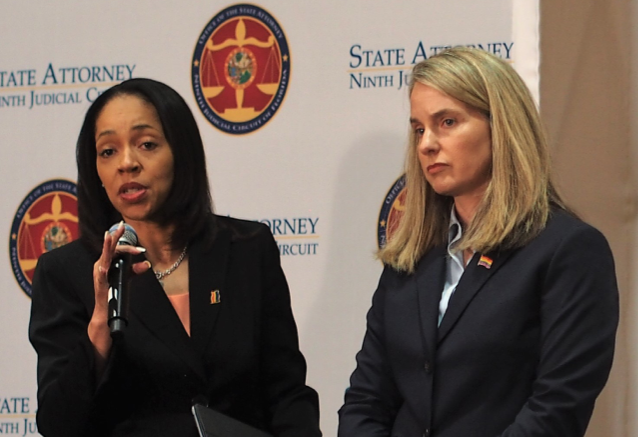 Barra previously led the office's trials unit and sex crimes unit.
Deborah Barra, chief assistant state attorney under Orlando's State Attorney Aramis Ayala, filed Monday to run to succeed her boss, now that Ayala has announced she will not seek a second term.
Barra, 43, of Orlando, has more than 14 years in the State Attorney's Office for Florida's 9th Judicial Ciruit. As chief assistant state attorney, she supervises 180 assistant state attorneys, oversees the day-to-day operations of the office, and continues to prosecute cases. She previously has overseen the office's trial unit and sex crimes unit, and has been the lead prosecutor in more than 150 trials.
Ayala announced last week she would not seek re-election in the 2020 election.
Barra joins a race that also includes fellow Democrat Ryan Williams and Republican Kevin Morenski. In addition, former Chief Judge Belvin Perry, has said he intends to run, and expects to file in January. The circuit covers Orange and Osceola counties.
Barra's in-house biography highlights her roles in the prosecutions of  Juan Rosario [death penalty case], serial rapist Darryl Patterson [Windermere rapist], serial rapist Joel Pappas [deemed by media as the Eastside Rapist], Scott Bush [Windermere resident who molested his children and led to a perjury charge and conviction against former Windermere Police Chief Daniel Saylor], Scott Batterson [Orlando-Orange County Expressway Authority board member who was convicted of bribery], and Aaron George [which resulted in the first life sentence for sex trafficking in Florida].
While it is not known if Ayala intends to endorse her top lieutenant, Ayala said in an interview last week that, "My support and focus would be on a person who is interested in maintaining the policies, the perspective; and someone who is not interested in perpetuating the status quo that I've had the opportunity to call to the attention of this community."
Barra is a graduate of the University of Florida School of Law, Flagler College, and Dr. Phillips High School.