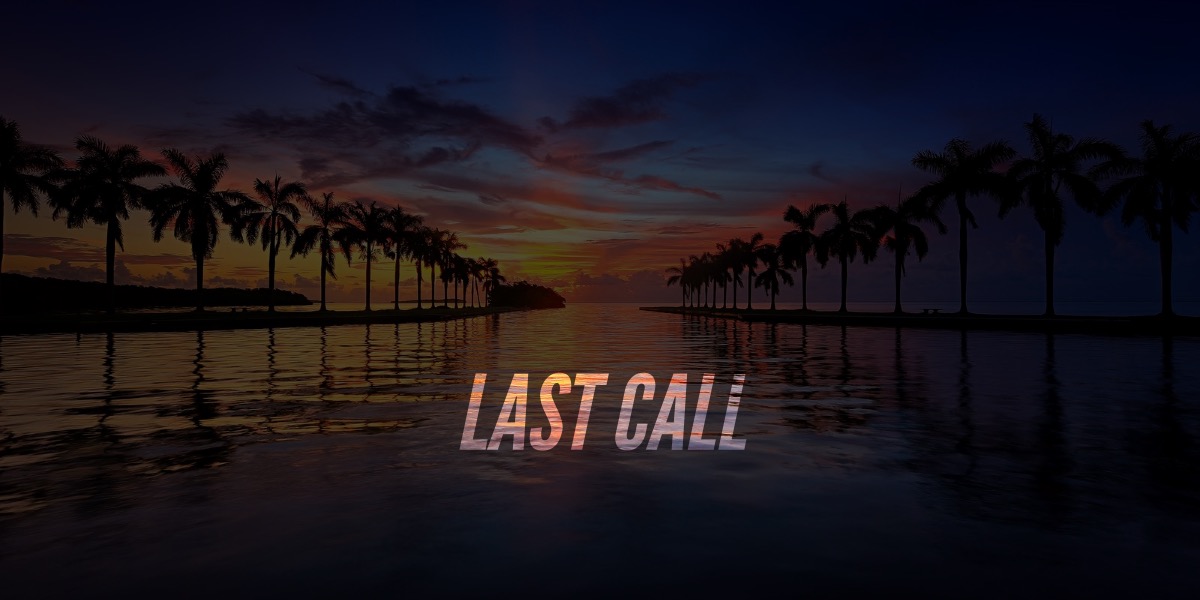 A digest of the day's politics and policy while the bartender refreshes your drink.
Last Call — A prime-time read of what's going down in Florida politics.
First Shot
Pensacolans are taking to the streets tonight to protest GOP Rep. Mike Hill for laughing about executing gay people.
The protest will be held at 6 p.m. in Martin Luther King Plaza at the intersection of Chase and Palafox streets. It is being organized by Gay Grassroots of Northwest Florida, one of many organizations calling on Hill to resign.
"We are way past the point where anyone, especially an elected official, can get away making such hateful, inflammatory, and downright dangerous statements," the group's event page says.
"His actions show his true colors, and in essence, give permission and encouragement to deny LGBT people equality, even if that leads to legislation legalizing the killing of LGBT persons."
A full story on the protest and preceding controversy is here.
Evening Reads
"Twitter apologizes after Marco Rubio calls company 'censor' for China" via Stephen Dennis of Bloomberg
"Does mandating Daylight Saving Time year-round have a chance in Congress?" via Steve Lemongello of the Orlando Sentinel
"Florida trips to Israel get buzz, but do they actually help?" via Skyler Swisher for the Tampa Bay Times
"The Israel moment: A look back at Florida's latest trade expedition" via A.G. Gancarski of Florida Politics
"House seeks to defend medical marijuana law" via Jim Saunders of the News Service of Florida
"Mike Hill draws more fire for laughing at suggestion that gays be killed" via Gray Rohrer of the Orlando Sentinel
"Hill's joking around about killing gay people is symptom of GOP decline" via Orlando Sentinel editorial board
"Inweekly asks for legal opinion on Hill blocking his Twitter account" via Rick Outzen of Rick's Blog
"Carnival will pay $20m over pollution from its cruise ships" via Curt Anderson of The Associated Press
"Sandy D'Alemberte: A legal giant who fought for the little guys" via Lucy Morgan of the Florida Phoenix
Quote of the Day
"I'm definitely not nuts but the psychologist in me says: 'Well, if I were, I wouldn't know it anyway.' " — J.J. Walcutt, a Florida psychologist and long-shot candidate for president in 2020.
Bill Day's Latest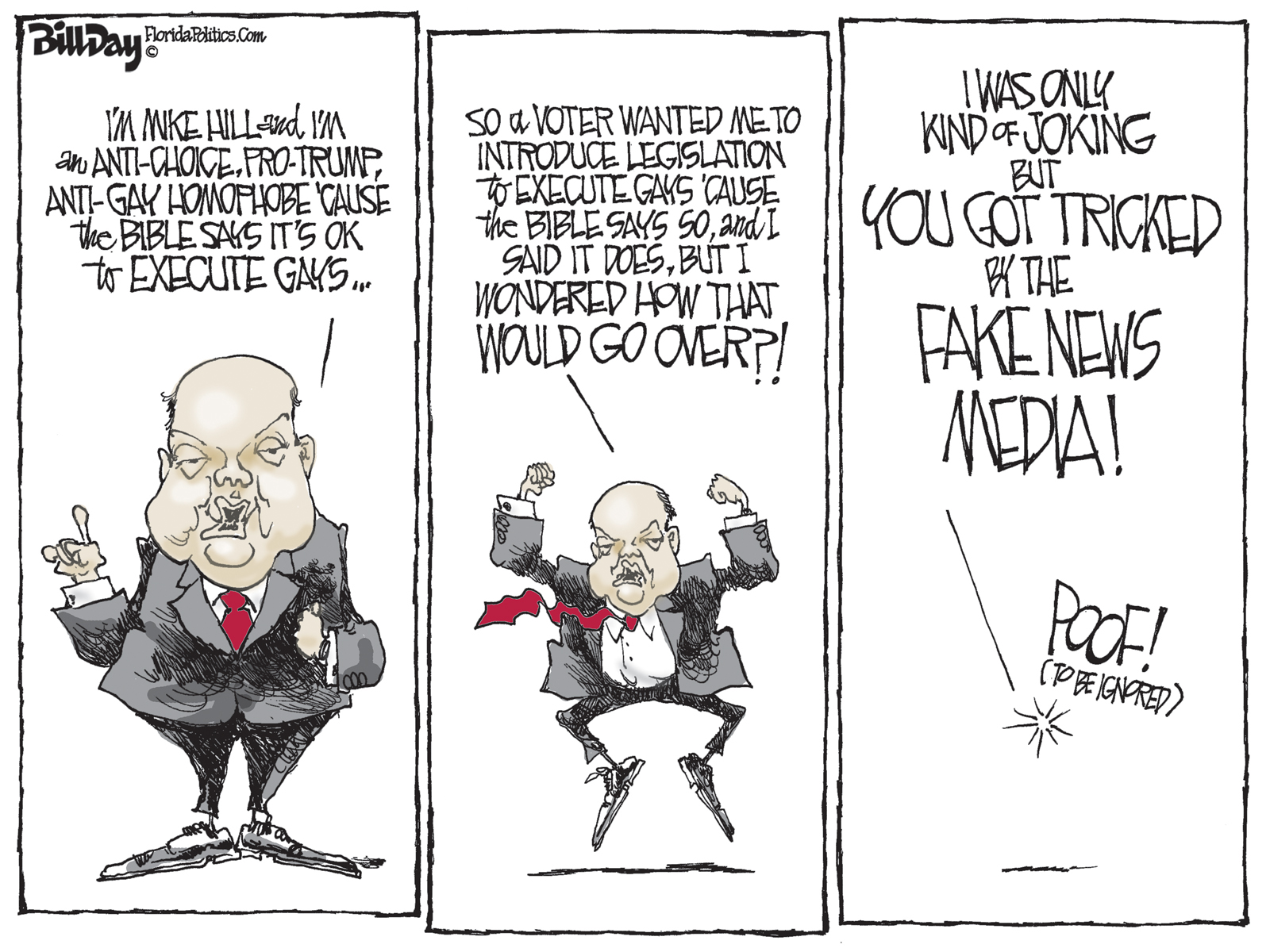 Breakthrough Insights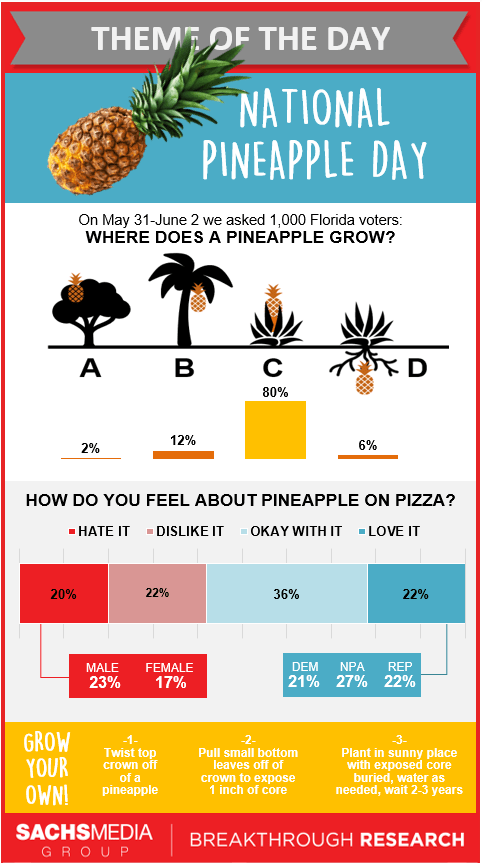 Wake Up Early?
The Marjory Stoneman Douglas High School Public Safety Commission will meet in Broward County and take up a series of issues, including discussion of a major school-safety bill (SB 7030) passed during this year's legislative session. That's at 8:30 a.m., BB&T Center, Chairman's Club, 1 Panther Parkway, Sunrise.
Gov. Ron DeSantis and the Florida Cabinet will meet and take up a series of issues, including a recap their trip to Israel and interviewing a candidate for clemency coordinator. That's at 9 a.m., Cabinet meeting room.
The Agricultural Feed, Seed and Fertilizer Advisory Council, which works on regulatory and enforcement issues, will meet at 10 a.m., Florida Department of Citrus, Bob Crawford Agricultural Center, 605 East Main St., Bartow.
The Division of Recreation and Parks will hold a meeting about a 10-year management plan update for Hillsborough River State Park at 5:30 p.m., Hillsborough River State Park Recreation Hall, 15402 U.S. 301 North, Thonotosassa.