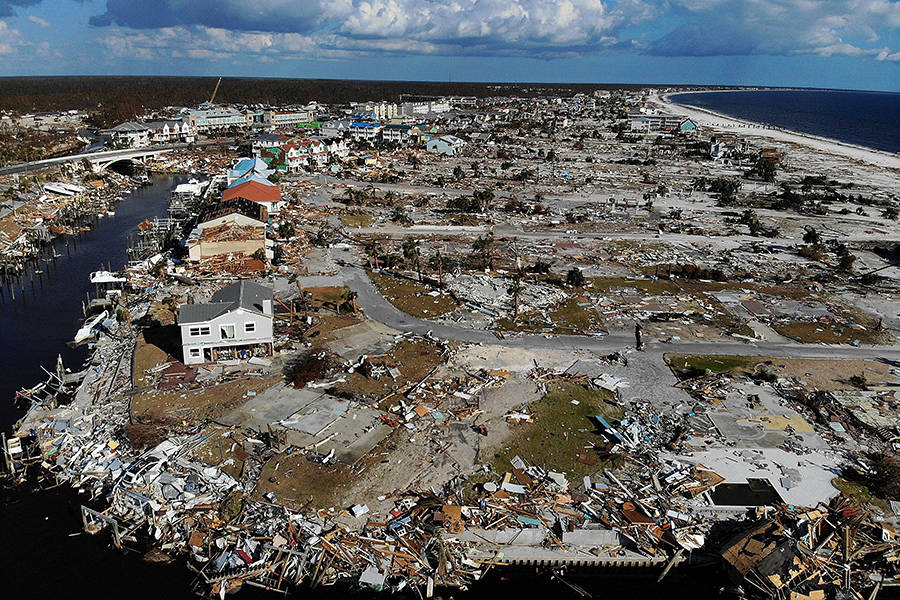 Funding will assist Hurricane Michael victims and recovery in Puerto Rico.
After months of delay, the U.S. House finally passed a disaster aid package.
The $19.1 billion bill now heads to President Donald Trump's desk.
Funding ultimately passed the House on a 354-58 vote, with all 'no' votes coming from Republicans, NPR reports.
Florida lawmakers responded with relief — and aggravation — at the lengthy negotiations.
U.S. Rep. Neal Dunn, a Panhandle Republican, in particular noted the importance of the bill's package to his district.
"After almost eight months, Congress has finally done its job and passed a disaster aid bill for the people of North Florida," he said.
"Never in our nation's history has it taken so long to do the right thing following a devastating natural disaster. This is a shameful example of putting politics before people and Democratic leadership's willingness to hold funding hostage over their hatred for President Trump.
"I'm thankful for President Trump's unwavering support. With his help I successfully secured $1.7 billion in military funding that will be instrumental in jumpstarting Tyndall Air Force Base's rebuild and restoring military readiness and training operations. We were also able to secure funding for the many farmers, ranchers and timber producers who suffered terrible losses in the storm."
And while much of the delay came over debate about funding for a border wall, with Trump at times saying he wold not support a deal unless that funding came as well, Dunn said the President held up a commitment to North Florida.
"Over the last seven months I have stood on the House floor, the Capitol steps, in countless hearing rooms, and even on Air Force One demanding that the victims of Hurricane Michael not be forgotten," he said.
"While many in Washington forgot about the Florida Panhandle, President Trump did not. He made a commitment to North Florida – he promised to help us rebuild. With his ongoing support and this much-needed disaster relief funding, we will continue to rebuild the Panhandle."
U.S. Sen. Rick Scott said the lengthy debate was arduous but he was glad it finally reached a close.
"I'm glad the House finally passed the disaster relief bill Florida's Panhandle and Puerto Rico so desperately need to recover following Hurricane Michael and Maria," said Scott, a Naples Republican.
"It's long overdue. Unfortunately, if there's one thing I've learned in the past five months up here, it's that Washington is broken. Our communities are hurting, and this process took way too long. Political games were more important than helping Americans, and that's wrong. But I'm glad it's finally done."
The legislation already passed in the Senate 85-8.
Scott has been critical for months of Senate Democratic Leader Chuck Schumer for obstructing the process for four months.
As it came to the Democrat-controlled House, though, Republicans in the minority delayed the measure in that chamber. That includes Texas Rep. Chip Roy, Kentucky Rep. Thomas Massie and Tennessee Rep. John Rose attempting last-minute delays on the floor.
"Proud Congress put politics aside and finally passed much-needed disaster relief for Florida, Puerto Rico and other areas," tweeted Rep. Darren Soto, an Orlando Democrat.
"It's shameful it took this long after Hurricanes Michael/Florence, and natural disasters devastating Midwest, to bring relief to millions of American families. House already passed bill in Jan approving funds. It took 'Do Nothing Senate' 4 months to pass theirs, followed by sabotage of three heartless House GOP delaying vote for this bill to pass. We urge immediate delivery of these funds to support our Florida Panhandle communities and PR!"
Generally, lawmakers from across the state just celebrated the lengthy fight coming to a close. Trump has signaled he will sign the bill.
"I'm relieved to know communities in Florida and across the country will receive life-saving aid," tweeted Rep. Debbie Mucarsel-Powell, a Miami Democrat.
"As climate change causes more devastating storms, we MUST be ready to recover."
Rep. Michael Waltz, a St. Augustine Republican, tweeted his relief.
"This disaster package is long overdue," he wrote. "Now the people of Florida can finally get help to recover from Hurricane Michael. Proud to support this bill!"
State officials also thanked lawmakers for finally reaching a deal.
"After waiting 236 days since Hurricane Michael made landfall, Panhandle residents will finally see necessary Congressional relief to help with rebuilding and recovery from this devastating storm," said Chief Financial Officer Jimmy Patronis, who grew up in hard-hit Panama City. "Over $1.2 billion will go to rebuilding Tyndall Air Force Base, which not only serves as an economic driver for the area, but also one of our country's most important military bases.
"I am proud that our nation's leaders in Congress have stepped up and answered the call to provide the families struggling in Northwest Florida the aid that they all deserve. We've had tireless advocates in President Donald Trump, Senator Marco Rubio, Senator Rick Scott, and Congressman Neal Dunn, who have each consistently supported this long-overdue funding."
Agriculture Commissioner Nikki Fried, the only Democrat holding statewide office, welcomed the funding but decried the delays.
"As hurricane season starts and an unprecedented wildfire threat looms in the Florida Panhandle, this disaster recovery is long-overdue — but, better late than never," she said.
"I'm thankful that the Panhandle communities will finally be on the path to recovery. The well-being of communities who lost everything in disasters like Hurricane Michael should have never been held up in partisan battles.
"I appreciate the Florida Congressional Delegation's efforts to get this done, and look forward to working with Secretary (Sonny) Purdue to ensure all of Florida's agriculture stakeholders get the help they need to replant, recover and get back on their feet."