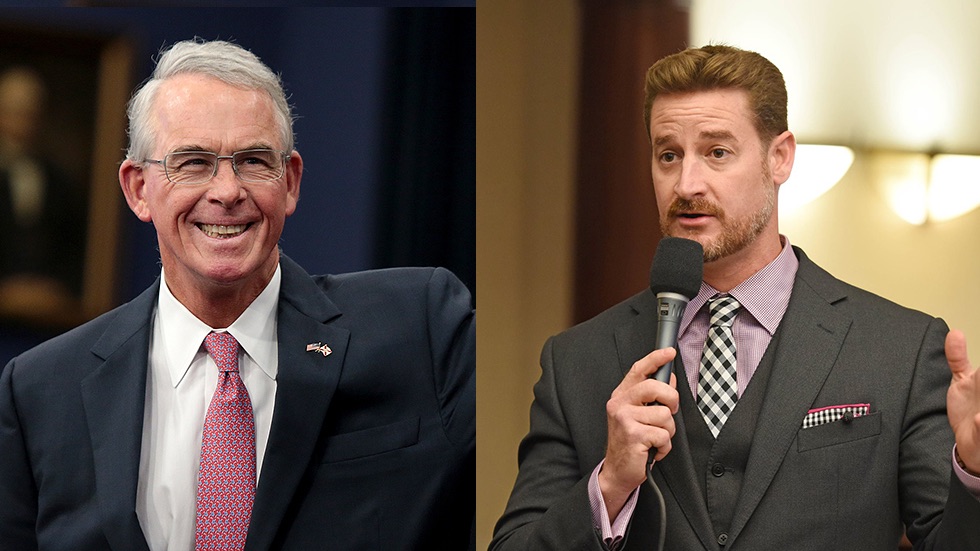 'I ran for Congress refusing to add to the national debt.'
When a disaster-relief bill was finally approved by the U.S. House, two Florida congressmen voted against it.
Both "no" votes came from Southwest Florida Republicans, Francis Rooney and Greg Steube.
So why did they nix a package most members of the Delegation vocally supported?
"It has become all too common for Congress to use disaster funding to break through spending caps that are in place," explained Rooney, a Naples Republican.
"There are legitimate needs for funding to assist with recovery from horrific natural disasters that affected Florida and other states around the country, however I could not support a bill that is completely fiscally irresponsible."
Steube, a Sarasota Republican, said he's happy Hurricane Michael victims will see federal funding, but he remains displeased with the bill overall.
"While I'm glad the Panhandle received the funding it desperately needed, I could not in good conscience vote for the Supplemental Appropriation which was filled with outrageous spending and no plan to pay for it," he said.
"I ran for Congress refusing to add to the national debt, and this bill had a high price tag with no offset."
So what ran the bill so high?
Rooney's office said the $19.1 billion disaster relief package came with financial obligations that were excessive. He noted that as of May 1, the Disaster Relief Fund already contained $29 billion.
That means the new funding allows for spending on disasters dating back as far as 2015.
But that opens the possibility funding could be available for Hurricane Irma, a 2017 storm that went through Florida's 17th and 19th Congressional districts. Those are, of course, represented respectively by Steube and Rooney.
The state recently gave $41 million to Collier County, in Rooney's district, to cover still outstanding costs from that storm.
Meanwhile, less than 30 percent of the new money will be spent in the 2019 fiscal year.
He also questions the bill including $55 million for Head Start programs.
Rooney said Congress ultimately overstepped by budgeting 86 percent more than President Donald Trump requested.
Notably, Trump signaled his support for this package after the Senate approved the legislation.
None of the comments from Steube or Rooney satisfied Chief Financial Officer Jimmy Patronis, a Panama City Republican. His home community took the brunt of Hurricane Michael, and he said any Congressman voting against the bill deserves scorn.
"If I was in their district, I would vote them out," he told reporters after a Cabinet meeting Tuesday.
"Those individuals that do not realize the harm and suffering that's happened in Northwest Florida and the recovery that we are trying to endure right now, for them to put themselves over the better good of the recovery of other citizens in the United States is shameful."
He suggested karma would catch up.
"They will get what's coming to them somewhere, somehow," Patronis said.
Steube and Rooney were among 58 Republicans who voted against the package; 354 Republicans and Democrats supported the measure, which now awaits approval by  Trump.
Of the rest of Florida's congressional delegation, 23 lawmakers voted for the bill, and two — Democrats Alcee Hastings and Frederica Wilson — did not vote.
Monday's vote came after a Republican congressmen three times blocked passage of the bill during a holiday recess. House leaders sought to pass the bill through a procedure known as "unanimous consent," which does not require most members to be present.
Speaking on the House floor on Monday, U.S. Rep. Neal Dunn, a Republican from Panama City, expressed frustration with his GOP colleagues who blocked the measure, which includes $1.2 billion to rebuild Tyndall Air Force Base.
"Some of you will say your principles require a recorded vote, even though the contents of this bill have been known for months and debated for months," Dunn said. "In fact, we had a chance to vote on the amendments to it just two weeks ago.
"For those upset at the cost, OK, spending in Washington is a problem, but are you actually willing to make an empty gesture about balancing the federal budget on the backs of Americans who have lost everything? Are you willing to force the airmen of Tyndall, the Marines at Camp Lejeune to halt the work to repair their bases because they ran out of money over a month ago?"
___
The News Service of Florida contributed to this post.