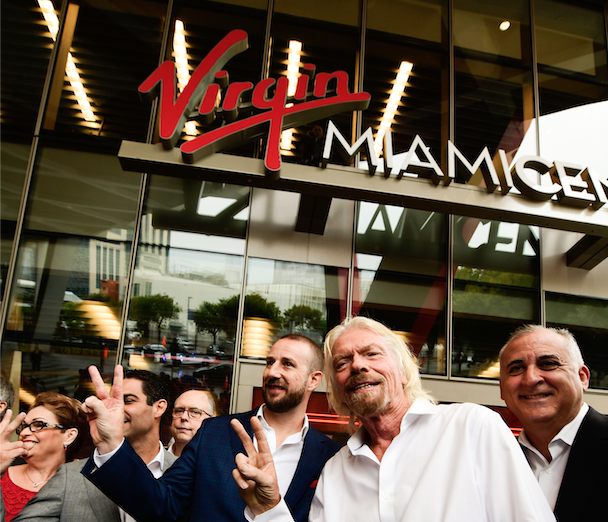 "By modernizing infrastructure, we will strengthen Florida's economy for decades."
Construction on the Virgin Trains high speed rail connection that will ultimately connect to West Palm Beach and Cocoa Beach is already underway. The company broke ground at the end of May on an Orlando International Airport station and a train maintenance facility.
Virgin Trains, formerly Brightline, doesn't have a date yet for beginning work on a Tampa connection, but progress in Central Florida is encouraging.
The company is still in negotiations with the Florida Department of Transportation and the Central Florida Expressway Authority (CFX) over using the right of way along Interstate 4 between Tampa and Orlando for a high-speed route corridor, but the eventual project is still in the company's plans.
Financial reports previously released estimated 6.5 million passengers along that corridor annually.
While plans continue to crawl along for Tampa, Virgin Trains is moving rapidly through its other Florida projects. The company already has regular service between Miami and West Palm Beach and they've reached a settlement with the Treasure Coast amid challenges to the company's plans. That undisclosed settlement allows Virgin to begin considering additional stops along Florida's Treasure Coast. The is currently considering the cities of Stuart or Fort Pierce.
The Orlando connection is expected to begin service in 2022.
It will connect routes from West Palm Beach to Orlando International Airport. The company said construction on the Cocoa Beach connection is "imminent." The completed project is also expected to include a stop near an Orlando theme park.
"Connecting Central and South Florida will bring thousands of jobs today and by modernizing infrastructure, we will strengthen Florida's economy for decades," said Virgin Trains USA President Patrick Goddard in a press release last month. "For a project of this scope and magnitude, a world class construction team has been assembled to undertake this tremendous assignment."
In all, the company will add an additional 170-miles of track to its Florida network, not including the connection to Tampa.
Virgin expects its phase 2 construction to create more than 10,000 jobs and create more than $650 million in federal, state and local tax revenue.
As for Tampa, Virgin won its unsolicited bid to use the I-4 corridor, which gave the company the ability to begin negotiations. The company hasn't said how long those negotiations will take or when a route might be up and running between Tampa and Orlando.
Once complete though, the project could be game changing for both regions. A trip on one of Virgin's trains from Tampa to Orlando could take less than an hour. The same drive by car takes at least 90-minutes and can take much longer in traffic, which is problematic along I-4.
Supporters hope the route could create a "super region" by allowing people to conduct business in either city without worrying about a lengthy commute. The Virgin trains are built with luxury in mind and the ride lends itself well to working along the ride.
Virgin's Vice President of Public Affairs, Bob O'Malley, previously told Florida Politics the company was considering offering commuter passes that would make regular travel more feasible. Right now the company charges about $20 a trip between Miami and West Palm Beach.
Virgin identified five possible sites for a Tampa station. All of those are in downtown or Ybor City or somewhere in between.
Virgin is also considering a possible station in the Lakeland area.
The Tampa service could also get riders to Miami slightly faster than driving. Even though riders would have to backtrack through Orlando to get there, the total ride would take about four hours, a little less than what it takes to get to Miami by car in perfect traffic conditions.