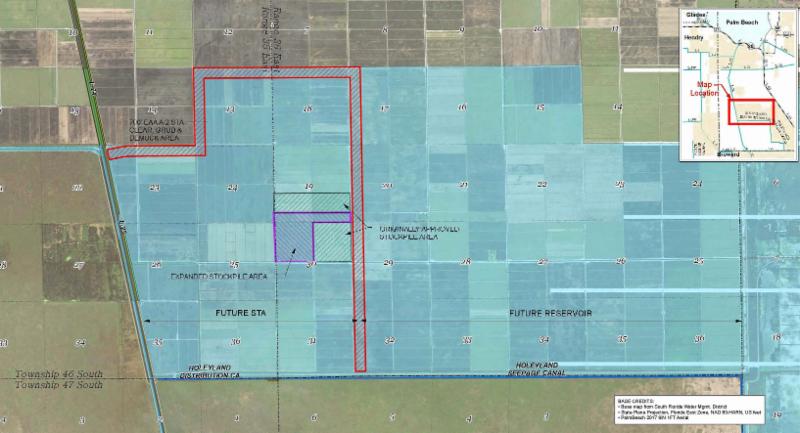 Permits have been sent to Army Corps and DEP.
The South Florida Water Management District submitted permit applications to start building a reservoir south of Lake Okeechobee.
Applying for permits now should accelerate construction of the Everglades Agricultural Area Reservoir Project by 18 months.
"We are moving forward on this reservoir project at full speed under the direction of Gov. Ron DeSantis because it is a crucial component of the overall plan to restoring America's Everglades," said SFWMD Executive Director Drew Bartlett.
"The permit applications are the latest major milestone that will get this project built and its benefits realized in the foreseeable future."
Applications were submitted Tuesday to the U.S. Army Corps of Engineers and state Department of Environmental Protection.
If approved, that will allow the district to clear a 700-foot strip of land encompassing 690 acres where the reservoir will stand.
The property today is leased to Florida Crystals. The sugar company wrote in a letter to the district the land would be made available as needed for the reservoir construction.
"Florida Crystals is fully committed to ensuring the same timely and cooperative transition of the 16,158 acres of leased land for the EAA reservoir as was achieved with the A-1 FEB and the STA-1W expansion," wrote Florida Crystals CEO Alfonso Fanjul and President Pepe Fanjul.
"To this end, we have cooperated with every request by the SFWMD and U.S. Army Corps of Engineers to access and use land we are currently farming to perform geological investigations as part of the EAA reservoir's design work, including allowing the excavation of multiple test pits within our active farming operations."
The land clearing paves the way for a perimeter levee and canal to ultimately feed a 240,000-acre-foot reservoir. The district also plans to create a stormwater treatment area to cleanse water before it flows to the Southern Everglades.
Environmentalists applauded the move forward. The reservoir has been a top priority because it will divert water now being released into the Caloosahatchee and St. Lucie rivers.
Those releases in turn trigger blue-green algal blooms in the rivers, which devastated the economy in Southwest Florida last year.
"Today's announcement is a step forward toward completing the long-overdue Everglades Reservoir," said Eric Eikenberg, CEO of The Everglades Foundation.
"The new leadership of the South Florida Water Management District should be congratulated for making this project a priority. This is a necessary initial component of the larger project that is critical to our waterways and must be implemented expeditiously. Only by the reservoir becoming fully operational can we address our continuing water challenges, and Florida cannot afford to wait."
DeSantis after taking office called for the resignation of all sitting members of the water management district. Since then, all those members left or their terms ended.
Bartlett was named the new executive director for the district in March.
"The residents of South Florida need and deserve the environmental benefits of this project. We are here to deliver this project as soon as possible," Bartlett said. "Every component of the EAA Reservoir Project is being expedited to restore and protect our natural water resources, and today's announcement is good news for Floridians."