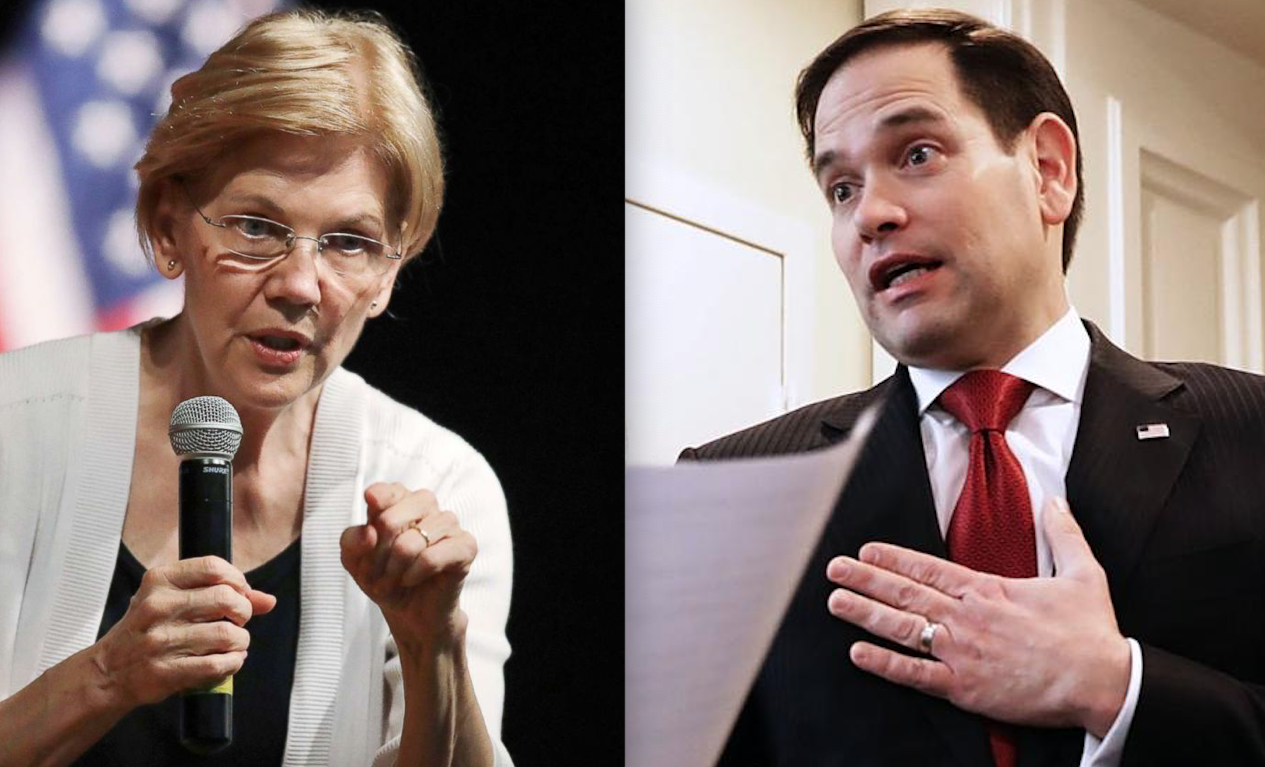 Sometimes though it can be hard
Florida's U.S. Sen. Marco Rubio has attacked the economic plan unveiled by Democratic presidential candidate U.S. Sen. Elizabeth Warren, because while the two Senators seem to agree on several significant points they disagree in basic economic philosophy.
Rubio's attack on Warren comes after she released her "A Plan For Economic Patriotism" on Tuesday.
The unapologetically-liberal Senator from Massachusetts made many of the same economic observations and reached a few similar conclusions in her plan that the unabashedly conservative Senator from Florida had in his "American Investment in the 21st Century" plan that he released last month.
Yet, while also pointing out major differences also appear between the two plans, Rubio's attack begins with distrust that a liberal Democrat could propose and succeed with a plan like Warren's.
In a commentary he provided to FOX News Thursday, Rubio repeatedly criticizes Democratic platforms in general and progressive ideas in particular, including some that have no specific connection to Warren's plan, to attack what she actually proposes.
"In the 21st century, we need a new policy that can build the competitive businesses of the future and create high-wage American jobs. With the release of her plan for 'economic patriotism,' Democratic presidential candidate Sen. Elizabeth Warren, D-Mass., appears to agree," Rubio declared in  the FOX News commentary.
"There is just one problem: America's radical progressive movement is incompatible with an agenda that truly confronts the challenges of our time, such as the rise of China and decline of working-class economic stability," Rubio countered.
Rubio said much the same thing in a tweet promoting the FOX News commentary: "Sen. Warren appears to agree we need to competitive businesses & high-wage jobs. Problem is Dem party controlled by a radical progressive movement that's incompatible with agenda that confronts rise of China & decline of working-class economic stability"
Warren's campaign did not respond to a request from Florida Politics for reaction.
The two economic manifestos clearly come from divergent points on the economic theory spectrum, while identifying some of the same concerns and proposing fundamental, often fundamentally-different reforms.
– Rubio's focuses primarily on promoting increasing business investment in physical capital. Warren's promotes that too, but through ways for the federal government to incentivize American research, development and jobs, and increase the international value of American-made products.
– Warren introduces hers by bashing the behavior of big corporations, while Rubio defends them as America's champions.
– Rubio supports President Donald Trump's weaponized-tariffs  trade war with China.  Warren also warns against China as a major economic threat, but stops well short of advocating tariff battles.
– Rubio calls for tightening of immigration of low-wage workers to reduce labor competition for low wages, thereby forcing wages upward in competition for the more limited labor pool. Warren does not address immigration diretly in her plan, but clearly opposes through her stances on immigration.
And yet they touch on many of the same concerns.
"America's decline on the economic value-chain is not inevitable. It is not due to external forces like automation or globalization, but to our own policy decisions as a nation," Rubio argues in his commentary criticizing Warren.
Warren's report declares, "If Washington wants to put a stop to this, it can. If we want faster growth, stronger American industry, and more good American jobs, then our government should do what other leading nations do and act aggressively to achieve those goals."
– Both Rubio and Warren decry the 21st-century trend of "shareholder primacy", which has corporations making strategic decisions based on returning dividends to investors, rather than investing toward long-term growth.
– Warren's name for her plan, "Economic Patriotism," resonated with Rubio; they just want to define it differently. "The idea of real 'economic patriotism' does indeed provide the best framework for America to confront these challenges," Rubio declared in his FOX News commentary.
– Warren calls for the abolition of the U.S. Department of Commerce and the consolidation of economic programs into a new U.S. Department of Economic Opportunity, which plays into Rubio's proposals.
– Rubio accuses Warren of not supporting "alternate paths to higher education for working-class students" but in fact she does. She proposed a 10-fold increase in investments in apprenticeship programs, and an emphasis on new training programs geared toward local and regional economies.
– Both Warren and Rubio, in his earlier economic report produced in February by the Senate Committee on Small Business and Entrepreneurship that he chairs, advocate that the United States make long-term economic plans much the way China does. Both also hold up Germany's economic planning as a model.
– Rubio's earlier report, and Warren's new plan, both call for the U.S. government to use carrots and sticks to promote American manufacturing. Rubio's calls for those to be trade tools; Warren calls for domestic federal investments.
"It's becoming easier and easier to shift capital and jobs from one country to another. That's why our government has to care more about defending and creating American jobs than ever before — not less," Warren concludes. "We can navigate the changes ahead if we embrace economic patriotism and make American workers our highest priority, rather than continuing to cater to the interests of companies and people with no allegiance to America."
For whatever ideas of Warren's he might like Rubio dismisses her plan largely as a Democratic plan.
"Warren's 'economic prosperity' plan marks the first attempt by 2020 Democratic presidential candidates to confront the challenges America faces," he declared in his FOX News commentary. "But her plan is destined to fail. It will never find a home in the modern Democratic Party because American capitalism has produced more prosperity for more people than any economic system in the history of the world."