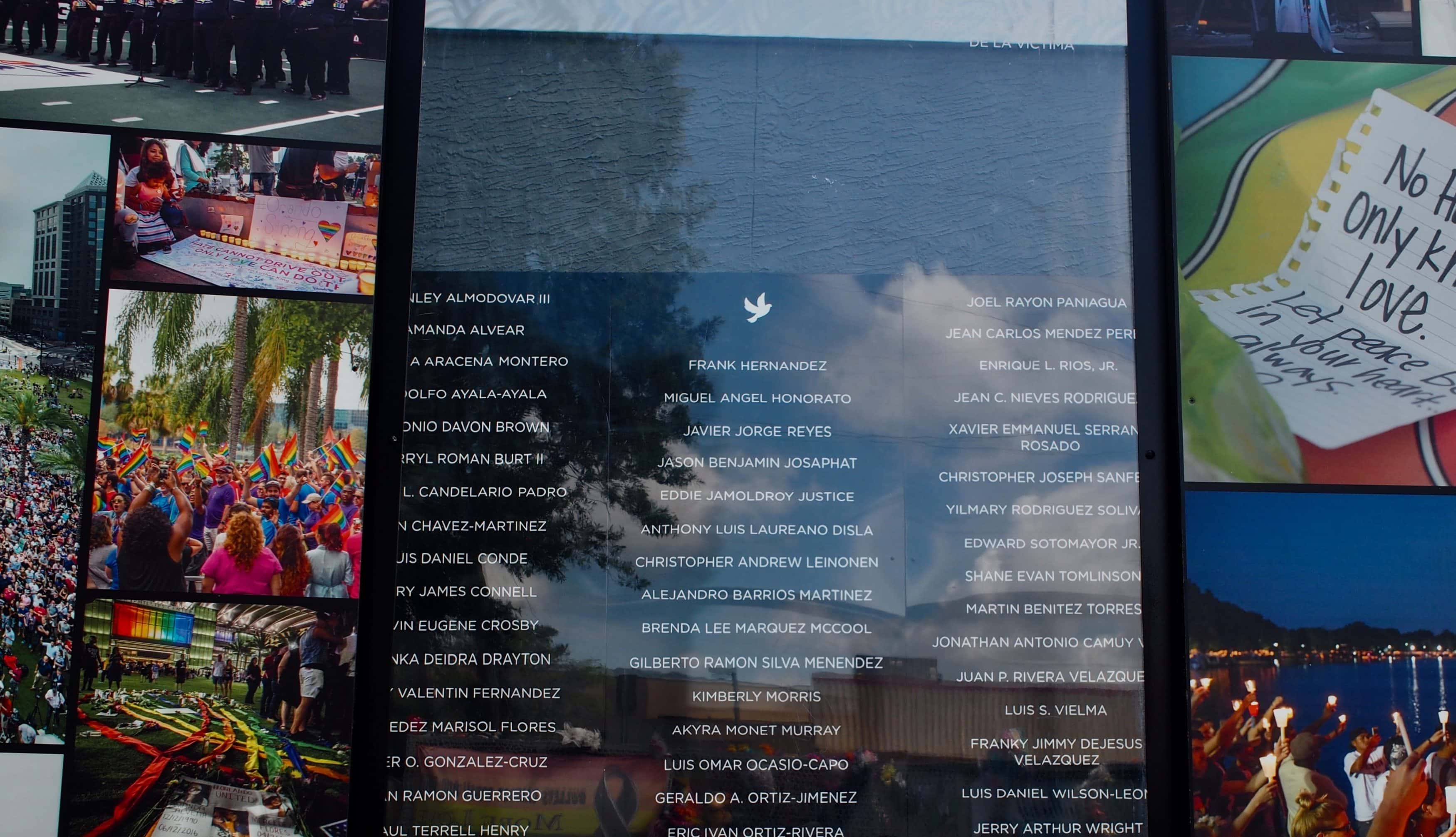 Orlando continues to pursue healing and unity.
Nearly three years have passed since a gunman attacked the Pulse nightclub and transformed Orlando from the home of theme parks to the city pulling together in pain, shock, recovery, and ultimately into a city known for a spirit of compassion, inclusion, and unity.
On Wednesday, "The City Beautiful" will mark the tragedy in which 49 mostly Hispanic people were murdered and 53 others wounded at the popular gay nightspot on Orlando's south side.
"Three years later we're still healing, and I still think that the community is showing a great amount of resiliency, through love and compassion and everything that has come out of this horrible tragedy," said George Wallace, executive director of LGBT+ Center Orlando.
"When I say community, it's all of Orlando. It wasn't just the LGBTQ community. It wasn't just the LatinX community. It's all of the Orlando community."
The primary remembrance, organized by the onePULSE Foundation, will take place 7 p.m. Wednesday at the Pulse Interim Memorial, 1912 S. Orange Ave., where a collage of photographs, covering a wall wrapping the nightclub building, tells the story of a community battered, anguished, and then rising.
Orlando Mayor Buddy Dyer and Orange County Mayor Jerry Demings will be among those participating in ceremonies in memory of those killed, in support of the survivors, with sympathy to the families, and offering gratitude to the community.
Those involved in Orlando's post-Pulse healing and unity talk of the city having a soul, and how the tragedy affected that soul.
Earl Crittenden, chairman of the onePULSE Foundation's board, said one of the reasons Pulse drew the community together so tightly is because, before the terrorist attack on the LGBTQ community and on the Hispanic community, Orlando already was a place that prided itself on diversity and inclusion.
And then Pulse caused the community to prove that to the world.
"I think it was here long before," he said. "And I think it was important for everyone in the community."
"We were all grieving. That grief turned into we will never let this happen again. I think that's what still touches the soul," Crittenden added.
Also, the First United Methodist Church of Orlando will lead downtown Orlando churches with the tolling of bells 49 times at noon Wednesday.
Prayer ribbons were hung at Orlando City Hall last Friday, with a forum for people to add names of people to be remembered.
The Orange County Regional History Center is offering free admission to visitors through June 16 to experience "Love Speaks: Artistic Responses to the Pulse Nightclub Tragedy."
The Orlando City Council, led by Dyer, and the Orange County Commission, led by Demings, proclaimed Wednesday to be Orlando United Day. Gov. Ron DeSantis also plans to commemorate Pulse.
Over the past few days, there were other events, including a 4.9-kilometer "commUNITY Rainbow Run" in Orlando to honor the victims.
On Sunday there was a community picnic of sorts, the "Love and Kindness on the Lawn" celebration at the Dr. Phillips Center's outdoor Seneff Arts Plaza.
A coalition of mostly LGBTQ-supporting community groups, businesses and leaders formed the Orlando United Alliance, organizing many of the events. People wishing to take part in some way are being encouraged to give blood, wear rainbow ribbons, and to go to the Orlando United Alliance's "Acts of Love and Kindness" website to pursue other opportunities.
The community's response to Pulse was particularly profound in its embrace of Central Florida's LGBTQ community.
"A community does not simply move on after something so devastating happens," Orlando City Commissioner Patty Sheehan, who is openly gay, said. "I am proud at how we all came together after such a hateful act and expressed our love and support for one another.
"I will never forget looking across Lake Eola at the vigil the following Friday and seeing lit candles five people deep, 50,000 in all, ringing the entire lake. I will never forget the rainbows that seemed to follow us whenever we had an event to honor the 49 lost and many injured," she continued. "But most of all I will never forget their beautiful faces, of people who went to dance and were senselessly murdered.
"Most of all, I will never forget people who embraced me who used to shun me. People who took the time to pray with me. People whose hearts and minds were changed by the stories of these wonderful people who had their lives taken from them," she said.
There have been many mass shootings in the subsequent three years, including Las Vegas, Parkland, and — just last week — Virginia Beach. Orlando has reached out to all of the other communities in shared grief.
And Orlando might also be the role model for recovery, reflection and unity. The politics and social views of the City Beautiful were dramatically altered.
"Year after year, we come together as a stronger, caring, and compassionate community as we continue to heal from the pain caused by this tragic incident," Demings said in a statement to county employees.
The Pulse Interim Memorial, which will be replaced by permanent memorial and museum, already is a major tourism landmark, daily drawing a steady procession of visitors strolling in contemplation among the photographs, notes, flowers, and victims' tributes.
In June 2022, the sixth anniversary, planners hope to open the permanent Pulse Memorial and Museum.
The onePULSE Foundation, established by Pulse owner Barbara Poma and community leaders, is raising $45 million and planning for a memorial and museum that would have international appeal as a place for reflection on victims and survivors, on hatred and violence, and love, hope, and unity.
This spring, at the urging of state Sen. Linda Stewart and state Reps. Carlos Guillermo Smith and Anna Eskamani, all Orlando Democrats, the Florida Legislature included $500,000 of state money toward the onePULSE Foundation. Orange County largely kicked it off with a pledge of $10 million through the county's tourism tax.
On Monday, Orlando's congressional delegation, Democratic U.S. Reps. Stephanie Murphy, Val Demings, and Darren Soto, intend to introduce a bill to have the Pulse Memorial and Museum declared a National Memorial.
The onePULSE Foundation just completed an international design contest that drew 68 submissions. They were narrowed to six semifinalists, including three American architects, and three European architects.
Crittenden said fundraising is going "very, very well," showing that interest in Pulse and a memorial and museum to victims and survivors is drawing international attention.