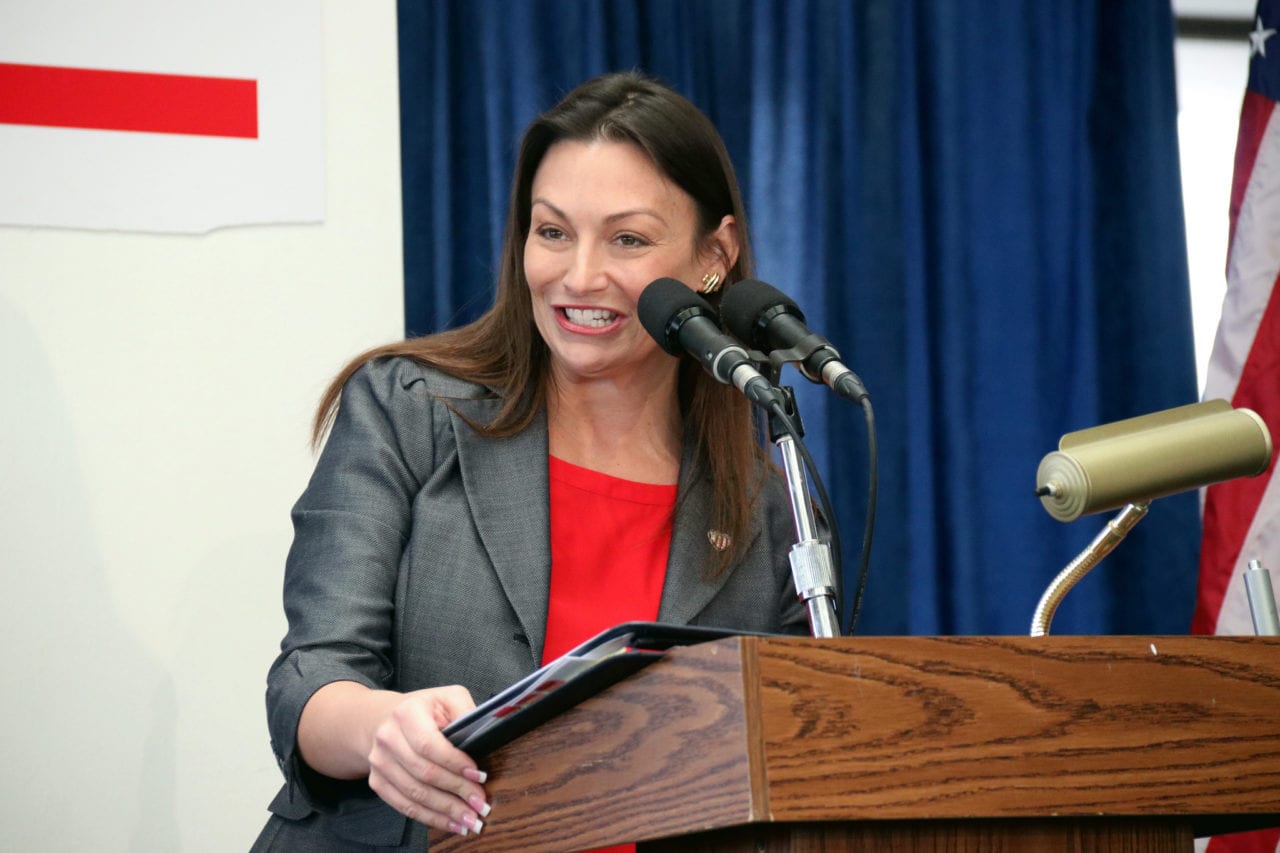 "We have a moral obligation to act."
Agriculture Commissioner Nikki Fried has released the names on her newly created Medical Marijuana Advisory Committee, which will "help improve the state's medical marijuana policies," she said in a statement.
"I'm proud to establish the advisory committee to help expand patient access and to advance and modernize policies to move Florida into the future of medical marijuana," Fried said. Some names had leaked out recently on social media.
Her new Cannabis Director, Holly Bell, will be in charge of overseeing the committee's work.
"This is a plant that not only improves people's quality of life, it's an alternative to sometimes-dangerous pharmaceuticals and addictive opioids," said Fried, a former medical marijuana lobbyist. "It's a medicine that an overwhelming majority of Floridians came together for, calling for constitutionally guaranteed access."
The new 18-member committee "will convene telephonically and in-person bimonthly to work through ways to expand patient access, increase innovation and technology in the industry, and make recommendations to the Legislature and the Department of Health's Office of Medical Marijuana Use to improve Florida's medical marijuana policies and programs," the commissioner added.
"From affordability to accessibility and safety, we have a moral obligation to act in the best interest of Florida's patients, and to improve and build progress on our state's current medical marijuana policies to best deliver this important medicine — and the medical marijuana advisory committee will help us deliver," Fried said.
"I'm thankful to all of our committee members for their commitment and look forward to working with them on behalf of Florida's patients."
The members of the committee, with some descriptions provided by the department, are:
— Kim Rivers. The CEO of the Trulieve medical marijuana provider "has 12 years of experience running successful businesses from real estate to finance as well as years in private practice as a lawyer, specializing in mergers, acquisitions, and securities for multimillion dollar companies."
— Dr. Barry Gordon. The owner and Chief Medical Officer of Compassionate Cannabis Clinic in Venice "is one of Florida's most experienced medical cannabis providers." He's the doctor who recommended that Tampa strip club mogul Joe Redner make juice of live marijuana plants to keep his cancer in remission. Redner sued the state and lost in an effort to grow his own cannabis.
— David Kotler. He's a partner in the Cohen Kotler law firm in Boca Raton and is "of counsel" to the Hoban Law Group in Denver, "where he's worked on legal issues pertaining to cannabis and hemp." That firm describes itself as "the nation's premier "cannabusiness" law firm." Colorado has legalized both medicinal cannabis and general adult use of marijuana.
— Dr. Michelle Weiner. She's certified in "Interventional Pain Management, and Physical Medicine and Rehabilitation." She "researches substituting cannabis for opioids in chronic pain management at Nova Southeastern University and Florida International University." She also bills herself as "South Florida's medical cannabis and CBD expert and educator."
— Zachary Kobrin. The special counsel at the Akerman law firm in Fort Lauderdale has served as general counsel and chief compliance officer for a "multinational cannabis company and Florida medical marijuana treatment center" and "currently advises cannabis and hemp industry clients on legal, regulatory, and business development issues."
— Dan Russell. Now a regulated industries lawyer with Dean, Mead & Dunbar in Tallahassee, Russell — a former general counsel of the Florida Lottery — "represented one of the initial cannabis dispensing organizations in Florida and continues to represent clients involved in all aspects of legal cannabis."
— Dr. David B. Corn. He "specializes in podiatry and founded Western Massachusetts Podiatry Associates. He was one of the first medical professionals certified to participate in the Massachusetts medical marijuana program."
— Cameron Vance. The Doctor of Pharmacy is "co-founder and chief information officer at Medical Marijuana Treatment Clinics of Florida, where he works with physicians and patients to improve quality of care and patient outcomes."
— Sally Kent Peebles. She's a partner at Vicente Sederberg, a "national firm specializing in cannabis law and policy. She practiced with the firm in Denver before returning to Florida to open the firm's Jacksonville office."
— Jacel Delgadillo. Her son "suffers from Dravet syndrome, a catastrophic form of epilepsy." She "co-founded the nonprofit CannaMoms to help other children like hers and raise awareness on the benefits of medical cannabis." She's from Miami.
— Eric Stevens. He "worked to legalize medical marijuana in Massachusetts before helping to lead the 2014 and 2016 efforts (Florida for Care) to legalize medical marijuana in Florida." He's now Director of Business Development at Kaycha Group, "which owns and operates EVIO Labs Florida, ISO accredited cannabis testing labs, and the MJ Buddy App." The Miami Beach resident also applied for Bell's cannabis director job earlier this year.
— Mike Smuts. The "cannabis industry professional (has) operations leadership experience across all divisions of several vertically integrated businesses in Colorado and Florida."
— Ron Watson. The Tallahassee lobbyist focuses "on health care and medical cannabis." He's also Director of Governmental Relations for MüV, a Florida-based medical cannabis provider. He also was Executive Director of the Florida Society of Cannabis Physicians, "which closed after losing its bank."
— Antoinette Duncan. The president and CEO of Jacksonville's Duncan Life Sciences "has 13 years of experience working with top pharmaceutical, medical device, and cannabis companies, and is currently a member of the ASTM D37 Technical Committee for Cannabis and Minorities for Medical Marijuana."
— Peter Barsoom. "Prior to founding 1906, a (Colorado) edibles company, Barsoom had an extensive career in finance and business strategy, holding senior management positions at leading institutions including American Express, Merrill Lynch, Morgan Stanley, BlueMountain Capital and Intercontinental Exchange. He serves on the board of numerous leading cannabis industry associations including the Marijuana Industry Group, Colorado Leads, and the New Jersey Cannabis Industry Association." (A Florida Politics story on Barsoom from April is here.)
— Paul Messer. He is a "Parkinson's patient who retired from the contract furniture industry and holds a master's degree in social work."
— Karen Seeb Goldstein. The West Park resident is a director of NORML of Florida, vice chair of Regulate Florida, and a medical marijuana patient.
— Elaine Geller. The vice president of legislative affairs at Denver-based Amercanex, a "marketplace for institutional cannabis industry participants," is also a member of the Congressional Cannabis Coalition, and of CanLab. Her "work focuses on cannabis policy development at the state and federal levels."