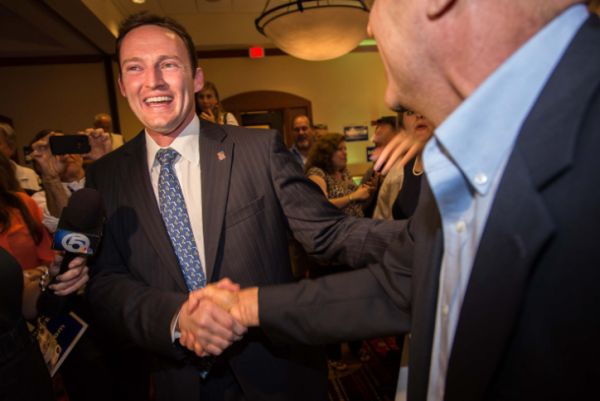 After unsuccessful Senate run, former Congressman stays active in the political game.
Patrick Murphy netted just 44 percent of the statewide vote in 2016 when he tried to unseat incumbent Sen. Marco Rubio. But Murphy didn't leave the race empty-handed: he had a small cache of cash leftover that he was able to leverage into two years' worth of support for fellow Democrats.
Unlike other congressional "zombies" who have kept campaign accounts open for years, using leftover cash in questionable ways to supplement their social lives or lobbying careers, Murphy converted his campaign account to a political action committee, PEM PAC.
Converting campaign funds to a PAC is a legal mechanism for candidates who don't wish to refund leftover donations or donate them to nonprofits. However, Washington watchdogs point out the practice has been abused by some former Congress members, who appear to have profited from the cash — one of the only prohibitions the FEC actually puts on campaign donations.
Outside of a few small travel expenditures around Florida and the cost of keeping his PAC running, most of Murphy's leftover money was disbursed in the form of $500 and $1,000 checks to Democrats running for office in 2018.
"Since leaving office, I have been proud to help dozens of Democratic candidates for office in key races for Senate, U.S. House, Governor and state legislature," Murphy said in an emailed statement. "I plan to continue these efforts throughout the 2020 cycle, as it is paramount that we elect Democrats up and down the ballot when President Trump is defeated next November."

Murphy had just $13,798 left in his campaign account after the first quarter of 2017; his most recent filing indicated PEM PAC's cash-on-hand was down to $777 at the end of 2018.
The FEC does not yet have any record on its website of PEM PAC filing its first-quarter 2019 report.
Murphy, a 36-year-old South Florida native, is one of the few Florida Democrats with name recognition statewide. He's traveled across Florida extensively since 2016, but mostly on his own dime.
"I don't know what the future holds for me personally, but I plan to stay active in politics here in Florida and across the country," Murphy said.
Beneficiaries of Murphy's PAC money include Florida Agriculture Commissioner Nikki Fried; Congressmembers Stephanie Murphy, Donna Shalala, Darren Soto and Charlie Crist; New Mexico Gov. Michelle Lujan Grisham; and U.S. Sens. Bob Menendez and Kyrsten Sinema.
___
This is the fourth in a series. If you have tips or requests to investigate former candidates with zombie campaigns still open, email [email protected].