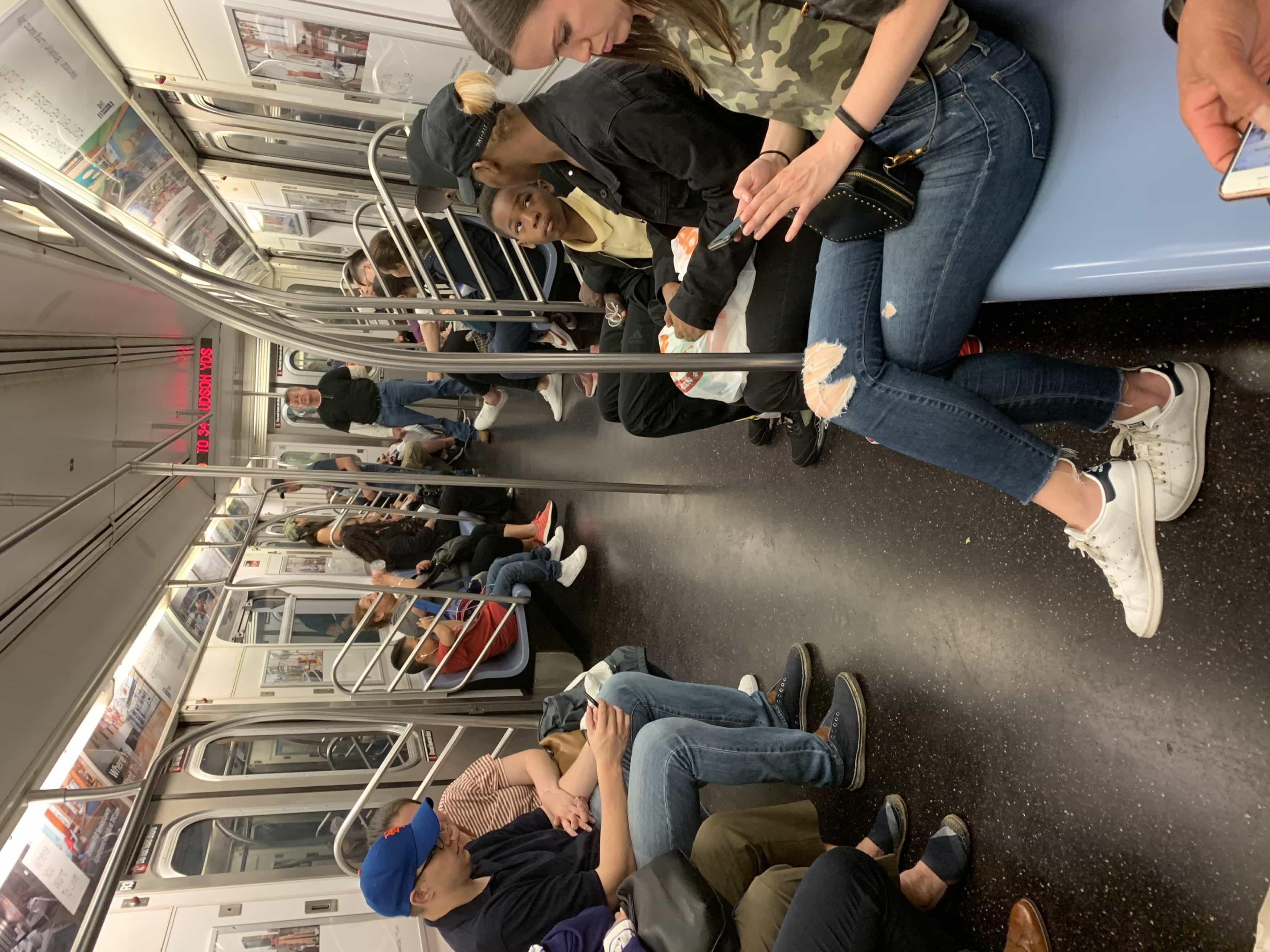 My mission was simple: use only public transportation and report back.
Some of our loyal Tampa Bay-area Florida Politics followers might have noticed our local coverage was a bit slower than usual the past few days.
That's because I was visiting the Big Apple. But rest assured, even when I'm on vacation, I'm always thinking about our region — what's happening, what needs to happen and what, in this case, isn't happening.
With that in mind I made my trip something of a mission: To experience public transportation at its finest in a city that has the nation's largest transit network.
The rules were simple. I would use only public transportation. No Uber or Lyft, no taxis. Not even the shuttle transportation offered by my hotel to get visitors to and from the airport.
So for the uninitiated, here's how that went down.
My experiment didn't start until I got to New York City and it ended as soon as I left. I drove myself to Tampa International Airport. To have used local public transportation to make the 22-mile trip from my home to the airport would have taken nearly two hours and I would have had to have arrived at the airport hours before my scheduled departure. Buses connecting to Pinellas County from Tampa are even more limited.
Public transportation connecting Pinellas and Hillsborough County is hard to come by. It requires a local bus connection to a station on Ulmerton Boulevard where riders can transfer to the 300X route to the airport. That service runs about every hour weekday mornings, with a lag in service during late morning hours and then again during rush hour. There is no service on weekends or holidays.
That is not the case in New York City where there are any number of ways to get to and from La Guardia or JFK airports using exclusively public transportation.
I arrived at La Guardia at nearly 11pm at night — a time when transit is all but gone in the Tampa Bay region. From the airport, I was able to purchase a Metro Card from an automated kiosk. I purchased a one-week unlimited pass for $34.
From there I used the Metro Card to get a bus pass to take a bus directly from my terminal to a train station where I boarded a subway that took me to Grand Central Station in Manhattan. The trip took about 45 minutes and delivered me only about five blocks from my hotel, which made for a quick walk.
Taken as a single-pay trip, the public transportation would have cost just $5. A traveling companion who used Uber to get from the same airport to the same hotel paid nearly $60 for the trip and only saved about 10-minutes on the commute.
My initial experience using late night transit in the nation's largest city was positive. Even as an outsider, the information directing visitors to the buses, trains and subways needed to get around are easy to follow. And contrary to stereotypes, there were about a dozen airport workers leaving shifts who were offering unsolicited advice on which buses to take.
MTA, the transit agency that runs the New York region's $16 billion a year transit network, offers an app that shows all transit routes and their connections. Further, Google Maps has a transit option in its directions function that gives step-by-step walking directions to stops, tells you which train to take and in which direction and offers real-time transit arrival information including alternative routes if there are delays.
Transportation within Manhattan is even easier. Subway stops are available on almost every block of the busiest spots around Times Square, midtown, downtown, Central Park and the financial district. They're more sparse in the more residential areas of the upper east and upper west sides, but where subway stations lack, the bus service more than compensates.
While the main benefit of New York's vast subway system is ease of travel, it offers an alternative benefit. For a tourist, the subway is an attraction in and of itself. There were musicians and various street artists performing at almost every subway station. They were there on weekdays and at all times, creating a party-like vibe as you bounced from one place to another.
There were even impromptu performers on the trains themselves. It was also not uncommon to board a train with someone who used the trip to announce loudly some various hardship or another while asking for money. While that might make some uncomfortable, it certainly was a cultural experience highlighting the darker side of urban living. Despite the panhandlers, not once did I ever feel unsafe on the subway, even traveling alone with my teenage daughter.
During the nearly four days I spent in the city, I never experienced a transit delay or had to reroute a trip because of a route closure. Though, a trip a few years ago did yield some of those hardships.
It's no wonder the Tampa Bay region lacks the kind of service New York offers its residents and visitors. The greater New York area is home to more than 8.6 million people. Another 60 million tourists visit the city annually.
Even as a larger mid-sized city, Tampa lacks the density to support the kind of transit network New York offers. But experiencing that level of service offers hints into how Hillsborough and Pinellas counties could capitalize on quality transit.
Four-fifths of New York City's rush hour commuters use transit. Meanwhile, 85 percent of commuters nationwide use private passenger vehicles. New York City alone accounts for a third of the entire nation's transit ridership, according to MTA.
So while it might not be feasible to provide across the board service like New York City, the Tampa Bay region could offer transit in its densest urban areas with less frequent connections to the suburbs.  
The most difficult part about using public transportation in New York City was not access, it was logistics. For those unfamiliar with the vast subway network, figuring out whether to hop on, for example, the six train uptown or downtown, is challenging at first.
At least twice on my first day in the city I hopped on a train going in the wrong direction. But, even with the blunder, you hop off at the next station and then climb right back on the right train. The mistake cost about five minutes. And once you've got your directional bearings, it's a lot easier to avoid the same mistake again.
Perhaps the most challenging transit commute came on my final day of travel when I was leaving the city to head for my departing flight at JFK International Airport.
For that commute I took the 7 train out of Grand Central Station toward Queens. I had to transfer to a Long Island Rail Road (LIRR) train at Jamaica Station in Queens. That leg was about 15 minutes. Thanks to Google Maps transit planning feature, I was able to time my trip so that I got off the subway and was able to get on the new train in less than ten minutes.
It's important not to time the trip too close because riders have to purchase a separate LIRR ticket from a booth. In my case, one of the two kiosks was out of order and there was a long line. I got my ticket and boarded the train with literally not a second to spare. If I had even been 30 seconds later on my arrival to Jamaica Station I would have missed my connection.
The LIRR then connected to an AirTrain station where I boarded a train similar to Tampa International Airport's new Sky Connect. Ordinarily that train takes riders directly to JFK. However, the final connection was closed for repairs so I had to add another transfer to a bus that took me directly to my gate.
In all, the trip took about an hour and twenty minutes, including walking time to and from stations.
Driving from my hotel to JFK would have taken about 40 minutes. Obviously if a hotel offers shuttle service to the airport, that's the way to go. But if your hotel doesn't, and most don't, the ride is a costly Uber, Lyft or taxi. The total cost for my trip (assuming a single-pay ride and not using an unlimited Metro Card) is $17 using the LIRR or just $7.50 using the subway's A train. Both routes take about the same amount of time, but the LIRR ride is much more comfortable and has more room for luggage.
In all, my public transportation experience was one of the most positive highlights of my trip. It allowed me to see more of the city and save money on alternative transportation options.
It also gave me an up close experience with the locals. I heard at least five languages spoken, met people who worked in industries ranging from hospitality and construction to finance and administrative work and witnessed both gut wrenching hostility and heart warming hospitality. For every nasty New Yorker who made mean comments, there were at least five who offered varying degrees of help to other commuters.
Coming home was bittersweet. While public transportation is abundant, walking is a necessary way of life in New York. On my busiest day of sightseeing, I clocked more than 22,000 steps and climbed the equivalent of 25 stories getting on and off subways. My feet were glad to be home. But as I hopped into a car and battled traffic, I suddenly longed for the option to ditch the congestion and board a train.
As I get back to normal life after my short vacation, I find myself rooting for Hillsborough County as it prepares to get a windfall of new funding for transit through the voter-approved All For Transportation sales tax. The region's transit network will never be what New York City offers, but it's long overdue for transit options that could appeal to the everyday commuter and not just the transportation disadvantaged who have no other option.
And even more importantly, it's high time those who rely on public transportation in the Tampa Bay region get the service they deserve.