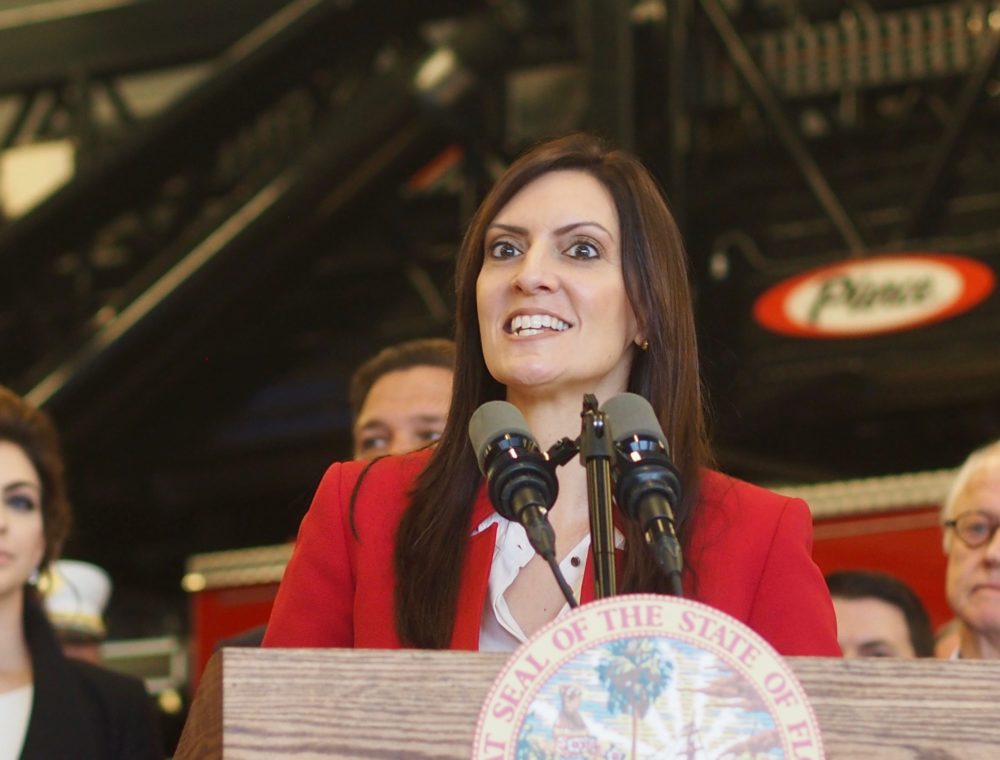 Jeanette Núñez getting hands dirty on hepatitis A crisis ... but making sure to wash them thoroughly
With reported cases of hepatitis A in Florida growing exponentially this year, the state's second-in-command official is getting involved in the day-to-day management of the crisis.
Lt. Gov. Jeanette Nuñez is helping to coordinate efforts between local, state, and federal health officials to increase education and vaccination rates to stop the spread of the virus', which typically happens when infected fecal matter is ingested orally.
Nuñez said Monday morning the state is extending hours and the number of days that each county health department provides free hepatitis A vaccines, and it has significantly increased its outreach to populations most at risk of contracting the virus, including the homeless, elderly, county jail inmates and homosexual men.
A spokesperson for Gov. Ron DeSantis and the Lt. Governor reached out to Florida Politics Monday morning after a report last week revealed at least one case at a major local grocery store went unannounced, with a DOH spokesperson indicating it was not uncommon, as to avoid creating unnecessary scares if no public health risk was determined.
The spokesperson said public perception was not a part of the decision of whether to alert customers of a food establishment, with the state instead relying entirely on Centers for Disease Control and Prevention protocol. The state could not provide those specific guidelines as of 11:30 a.m. Monday.
Florida has reported more hepatitis A cases in the first five months of 2019 than the previous five years combined. Tampa Bay has been the epicenter of the problems.
And while alerts to the public about food workers who have contracted the virus have become a frequent sight around the state, the governor's office says the DOH has yet to link a single case of hepatitis A to foodborne transmission from a food preparation worker. It reports 5 percent of the state's 1,466 hepatitis A cases this year have been in the foodservice industry.
"We've been working very closely with the Centers for Disease Control and Prevention on this and other health issues," Núñez said. "We follow their guidelines on notifications … we want to make sure we are protecting the public."
The spokesperson for DeSantis' office said the risk of a food service worker spreading the virus to a customer is low, and it can be virtually eliminated entirely with good hand hygiene practices.
Núñez added the disease is "completely preventable" and "vaccination is the No. 1 way" to prevent its spread. She has visited more than a dozen county health departments this year to learn about the issue and the challenges officials face locally.
"It's an all-hands-on-deck approach," she said.
The state believes Florida's transient population helps to drive the spread of preventable diseases, which also includes measles, and the high number of commuters and drivers who cross county lines in Tampa Bay may explain why hepatitis A has spread so rapidly in Pinellas, Hillsborough, Pasco and Hernando counties.
Experts recommend all food service workers get vaccines for the hepatitis A virus, which infects the liver and causes inflammation. All individuals should also alert their doctors if they experience flu-like symptoms, which could be signs of hepatitis A infection.