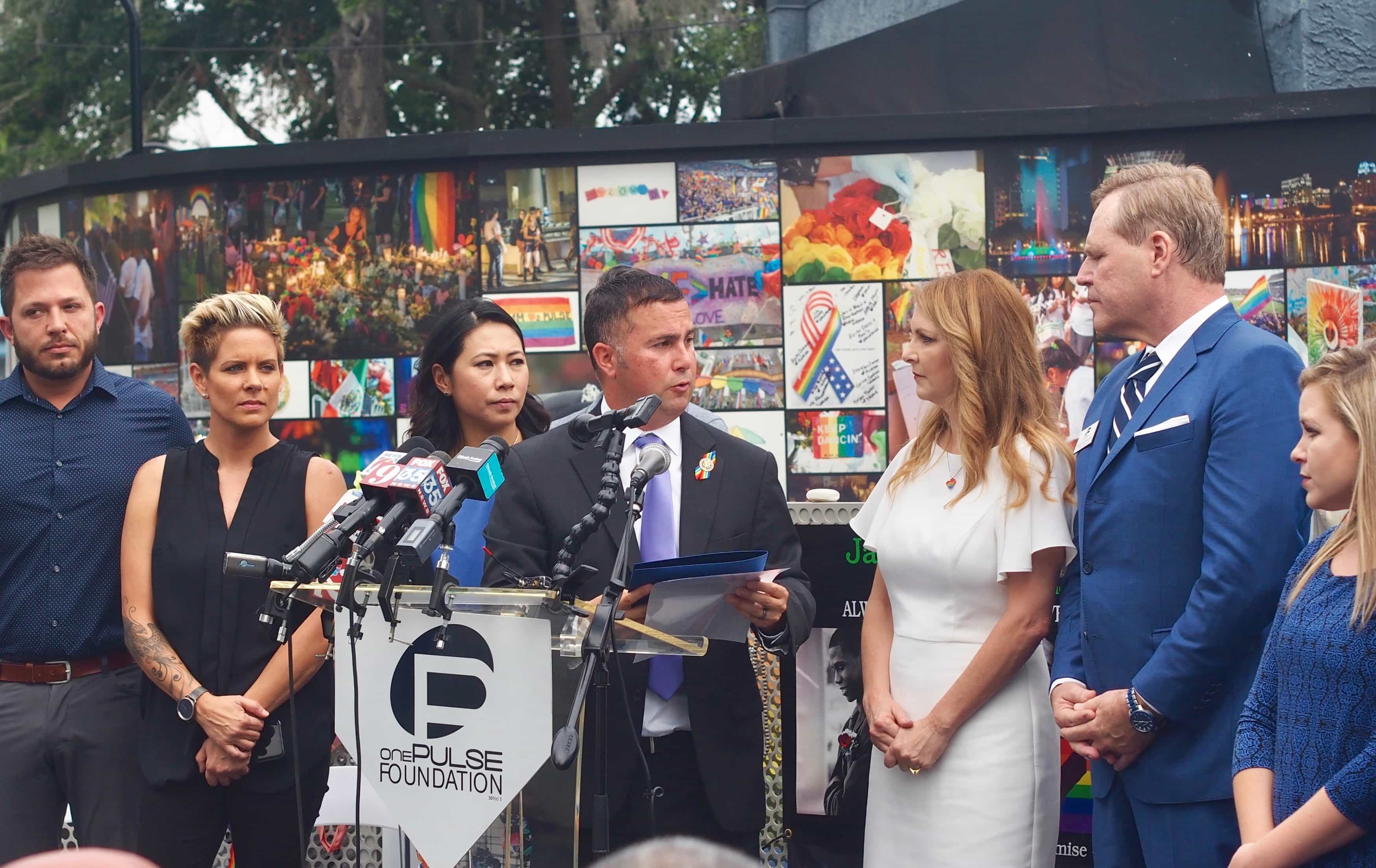 'This wasn't just a local tragedy; this was a world tragedy,' Soto said.
Saying that the shrine to those fallen and to the rise of the community spirit of compassion, unity and love have made Pulse an international symbol, Central Florida Democratic U.S. Reps. Darren Soto and Stephanie Murphy laid out their new bill to have Pulse declared an independent National Memorial.
Soto of Kissimmee and Murphy of Winter Park joined Pulse owner Barbara Poma, onePULSE Foundation Chair Earl Crittenden and others to announce the formal introduction of House Resolution 3094. It would create a formal, federal, National Memorial designation for the future Pulse Memorial and Museum to be built on the site of the horrific June 12, 2016, mass murder in Orlando that left 49 dead and 53 wounded.
Fellow Central Florida Democratic U.S. Rep. Val Demings of Orlando also is an introducer of HR 3094. But she was in Washington D.C. Monday preparing for a U.S. House Judiciary Committee hearing.
As Soto, Murphy, Poma, Crittenden and Pulse survivors presented their cases for a National Memorial designation, a media event at the Pulse Interim Memorial naturally turned to a solemn remembrance ceremony.
Wednesday is three years since a gunman entered the popular gay nightclub during LatinX night and fired more than 200 bullets from a semi-automatic AR-style rifle and a 9mm handgun, creating what was then the worst mass murder in recent American history.
"We have tremendous support as you see here today in this community; people who remember not only the terrible tragedy that happened but our how our community came together for the families, for the victims and to overcome hate. This wasn't just a local tragedy. This was a world tragedy," said Soto, the bill's primary sponsor.
He, Murphy, and Demings intend to build a list of co-sponsors for the bill, including members of the Congressional Equality Caucus. That should get it through the House of Representatives.  Soto said Florida's two Republican U.S. Sens. Marco Rubio and Rick Scott support certain Pulse nightclub memorial aspects, and he's hopeful they could help usher it through the Senate.
The bill has been referred to the House Committee on Natural Resources. Soto is a member.
"This is the site of the largest act of violence against the LGBTQ community, and it is also the deadliest terrorist attack since 9/11. I believe this community, in the aftermath of that tragedy, demonstrated to our country and to the world how to come together against hate," Murphy said. "I think a National Memorial at this site would be important to keep in people's minds the tragedy and the importance of working hard to prevent future tragedies such as this."
Most National Memorials are owned and run by the U.S. National Park Service, but some are not. HR 3094 would make Pulse a non-National Park Service-affiliated National Memorial, allowing it to raise money through public or private grants, and to be independently operated.
Such non-National Parks memorials include the Astronauts Memorial at the Kennedy Space Center Visitors Complex, the National AIDS Memorial Grove in San Francisco, the National Fallen Firefighters Memorial in Maryland, and the National Law Enforcement Officers Memorial in Washington, D.C.
The onePULSE Foundation is raising money, with a goal of $45 million, and planning a permanent Pulse Memorial and Museum to be built at the site, targeting June 2022 for an opening. The onePULSE Foundation just completed an international design contest that drew 68 submissions. They were narrowed to six semifinalists, including three American architects, and three European architects.