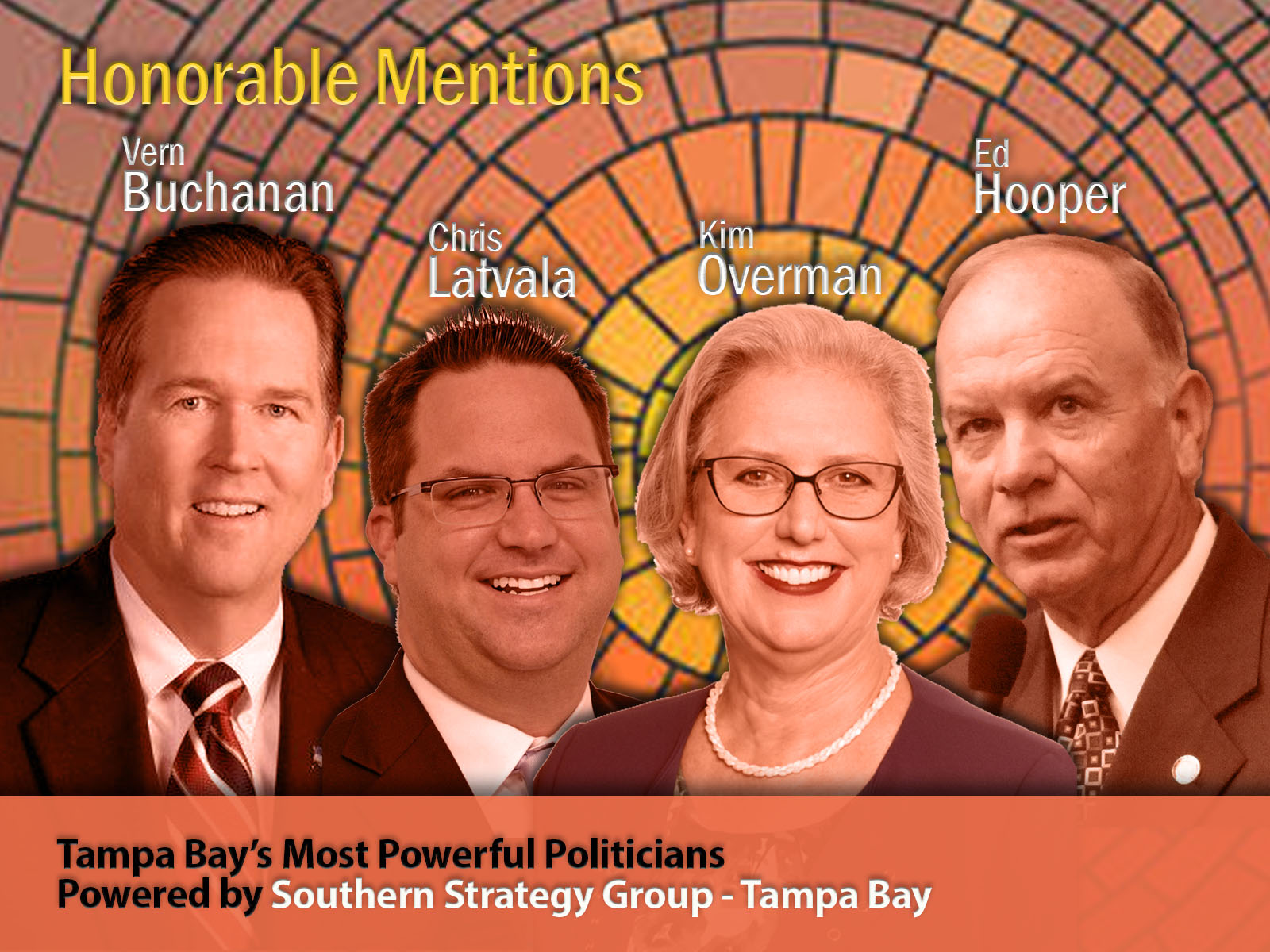 Two elected officials who made the list last year just missed it this year.
Not everyone can make the list, but this year several local elected officials just missed the cut.
U.S. Rep. Vern Buchanan and Florida State. Rep. Chris Latvala dropped off the list of Tampa Bay's most powerful politicians this year. Buchanan had been at No. 20 last year while Latvala came in 24th.
Hillsborough County Commissioner Kimberly Overman and Florida Sen. Ed Hooper also narrowly missed a spot, but neither made last year's list either.
Overman's near miss will likely get remedied in the years to come. She's a rookie Commissioner elected last year and hasn't had a lot of time to prove herself. But Overman is on her way up. The first-time elected official has been a vocal proponent for public transportation improvements and has shown to be a quick study on how to navigate her responsibilities as an elected official.
Most recently Overman was on the winning side of a vote to move forward with plans to bring ferry service to South Hillsborough County and MacDill Air Force Base despite concerns from some other colleagues that the plan would be dead on arrival because a necessary land deal with Mosaic to create a ferry terminal wasn't supported.
Like Overman, Hooper's position is new. Elected last year, this is Hooper's first stint as a State Senator. That freshman status doesn't lend well to the type of influence typically seen on the list.
Still, Hooper isn't exactly a freshman lawmaker. He formerly served in the Florida House of Representatives. His first Legislative Session as a Senator came with some wins that make him worthy of an honorable mention including earning the Florida League of Cities Legislative Appreciation Award.
Buchanan's miss from this year's list is a mystery. The senior Republican Congressman sits on the powerful House Ways and Means committee. There, Buchanan has a lead role in controlling U.S. House spending priorities.
However, Buchanan's miss might be less of an issue of power and more one of location. Buchanan's Congressional District 16 includes Sarasota, which sometimes winds up being left out of more mainstream Tampa Bay area political discourse.
Latvala's placing just outside the top 25 is also a bit of a surprise. Love the outcome or hate it, Latvala's 2019 Legislative committee assignments were all on education-related boards. He played an integral role in some of this year's most prominent conservative wins on public education including increasing per-pupil spending, revamping the state's Guardian Program to allow participating school districts to let certain staff members carry guns on campus and allowing general funds to help pay for school vouchers.
But Latvala might have lost points on his failure to usher in one of his biggest priorities. The Republican-controlled Legislature failed to take up Latvala's "Jordan's Law" that would have reformed the state's child welfare system to avoid cracks in the system that led to the death of a Largo boy at the hands of his mother after the state failed to remove him from her custody despite signs of trouble.
All four of this year's honorable mentions are worth watching into 2020. Follow the entire list here, on Facebook, and on Twitter with #Top25InTB.