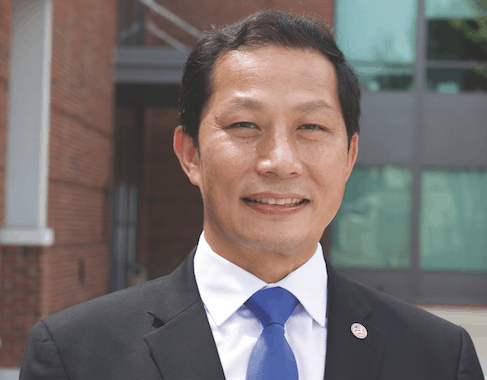 Joins fellow Democrat Alex Barrio in seeking open seat
Democrat Andrew Jeng has become the second candidate to file to run for House District 43 opening in 2020 in Osceola County now that incumbent Democratic state Rep. John Cortes has filed to run for Osceola County Clerk of Courts instead of for re-election.
Jeng, of Kissimmee, runs a tech company and is a former police lieutenant. A native of Taiwan, Jeng last year ran for the Kissimmee City Commission, losing in a runoff election.
He joins fellow Democrat Alex Barrio of Kissimmee as candidates for the HD 43 seat in the 2020 election.
A Central Florida resident for 25 years and an Osceola County resident for 15, Jeng has been active in a variety of ways in the community, including as president of the Chinese Chamber of Commerce of Central Florida; president of the Florida Educational Alliance; through work with numerous organizations including the Asian American Heritage Council in Orlando, the Orlando Martin Luther King Jr. Day Parade, and the Boys & Girls Club; and by participating in political campaigns, including those for Cortes and Democratic U.S. Rep. Darren Soto.
His business, UPTECH/PCW, which he founded 25 years ago, has 30 franchises and more than 100 employees nationally.
"It's my mission is to bring good business to HD 43. It's filled with economic promise, and with my extensive business experience, I believe I can skyrocket the district's economic development," Jeng said in a written statement on his candidacy. "I also strongly believe in creating a better quality of life for HD 43 seniors and improving the district's public safety."
Jeng has a bachelor of laws degree from Taiwan's Central Police University and a master's degree in computer information from the New York Institute of Technology.
"Through powerful business connections I've fostered over the years with Asian and Pacific Island nations in technology and education sectors, I've created an international pipeline between the state of Florida and Asia," Jeng said.
"I've coordinated trips for elected officials in Orlando and St. Cloud to visit China and Taiwan to create new investor relations, including Orlando Commissioner Sam Ings, St. Cloud Mayor Nathan Blackwell; and I connected Orange County Commissioner Emily Bonilla to the Taipei Economic and Cultural Office in Miami to coordinate her trip to Taiwan," he continued. "I've also brought Asian investors here who started new businesses in Kissimmee in partnership with [the University of Central Florida] to create new jobs and a college-to-work pipeline for UCF students and alumni."
His commitment to quality of life for senior citizens comes from his work with Seniors First, with whom he's worked for more than 15 years.
"It's important to give seniors the best life we can and provide even greater independence for them and their families," he said.
He is a member of the International Association of Chiefs of Police.
"Public safety is as important to me as it is for state Rep. John Cortes, who was also in law enforcement. For the last 15 years, I've coordinated training trips for Asian law enforcement officers to learn from the Orlando Police Department, Orange County Sheriff's Office and FDLE," he said. "I'll also work to create a safer place for HD 43 residents to live, work and commute."