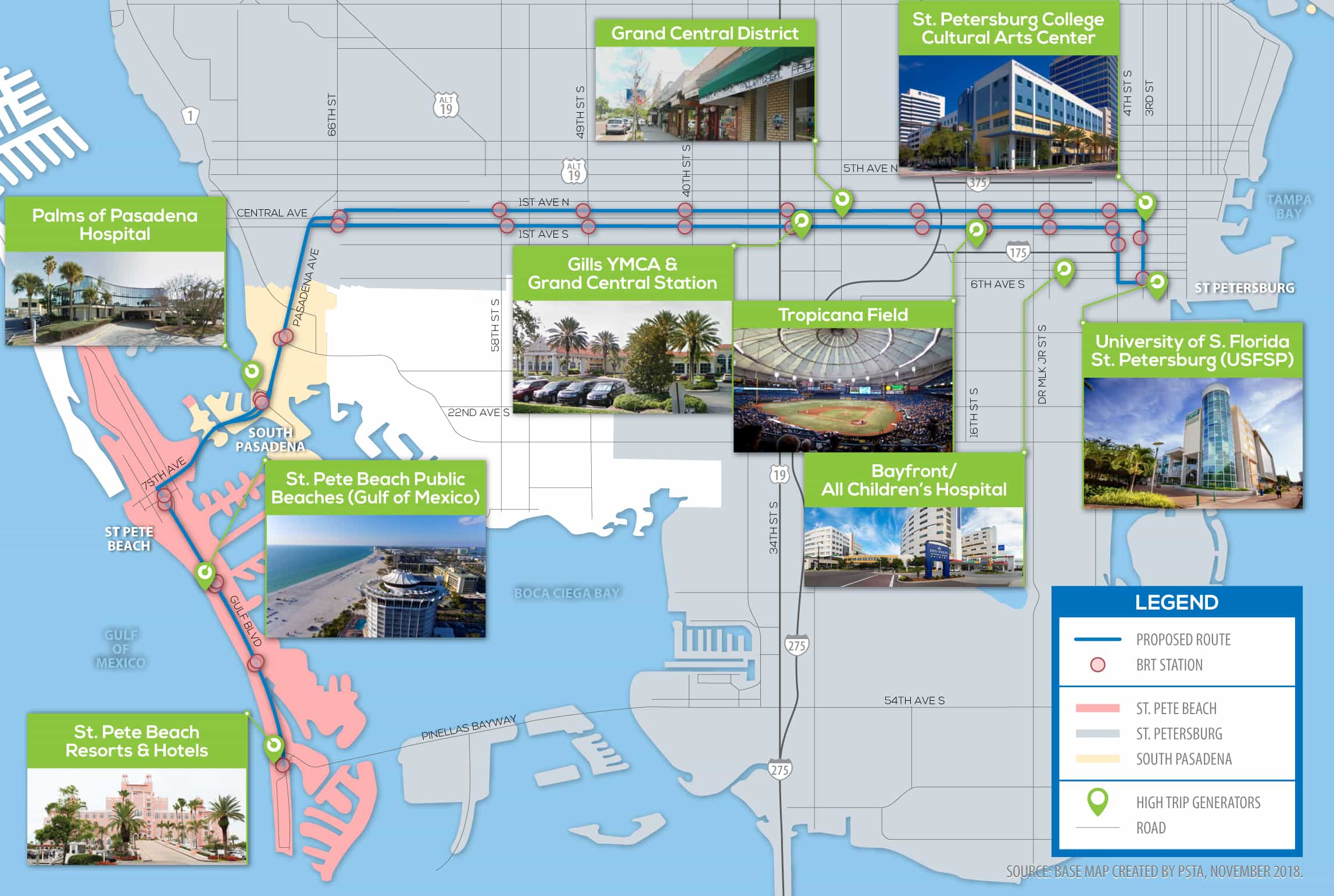 The city "supports mass transit in general," but opposes BRT south of 75th Avenue.
The city of St. Pete Beach this week approved a resolution opposing the Pinellas Suncoast Transit Authority's current iteration of a bus rapid transit (BRT) route that would connect residents and visitors to the small town.
The resolution, approved Thursday, came as St. Petersburg Mayor Rick Kriseman penned a letter to St. Pete Beach Mayor Al Johnson urging him to support the transit project and cautioning him that standing in the way could result in changes to the plan that would further upset the town's officials and some of its residents.
The St. Pete Beach City Commission ignored that request.
The city's resolution opposes the grant application to the Federal Transit Administration for the Central Avenue BRT project "as currently designed."
In its resolution, the city claims "PSTA did not consult the City prior to submitting its application" and that the transit agency "misrepresented the City's support."
PSTA had included a $1.5 million line item for anticipated funding from St. Pete Beach despite the city's objections to being a funding partner.
PSTA has since verbally agreed to not require funds from St. Pete Beach, but that ask is still reflected in some FTA documents.
The resolution also argues St. Pete Beach is "geographically a narrow barrier island" that, with Gulf Boulevard as its main thoroughfare, does not support the BRT proposal because it is not appropriate "for the city's scale and vision."
The city also contends the project is not consistent with the city's plans to improve pedestrian use, enhance aesthetic and begin placing utility infrastructure like power lines underground along Gulf Boulevard.
The resolution claims the city "supports mass transit in general," but opposes BRT south of 75th Avenue.
The resolution asks the FTA not to take further action on PSTA's application for funding for the BRT project. It invites PSTA to "continue negotiating a reasonable interlocal agreement" for the project and its related facilities.
The approved St. Pete Beach resolution came the same day St. Pete City Council unanimously approved providing $4 million for the approximately $41 million project. PSTA is currently seeking about half of that funding from the federal government and is currently poised well to earn that grant.
However, St. Pete Beach's opposition could put a kink in plans. As of right now, the opposition is symbolic. Gulf Boulevard is a state road operated by the Florida Department of Transportation so there's not much the city can do to block the BRT buses from operating there.
However, if state lawmakers get involved, it could potentially impact state support for that project. So far, lawmakers have not gotten involved, but critics of the project are hoping that will soon change.