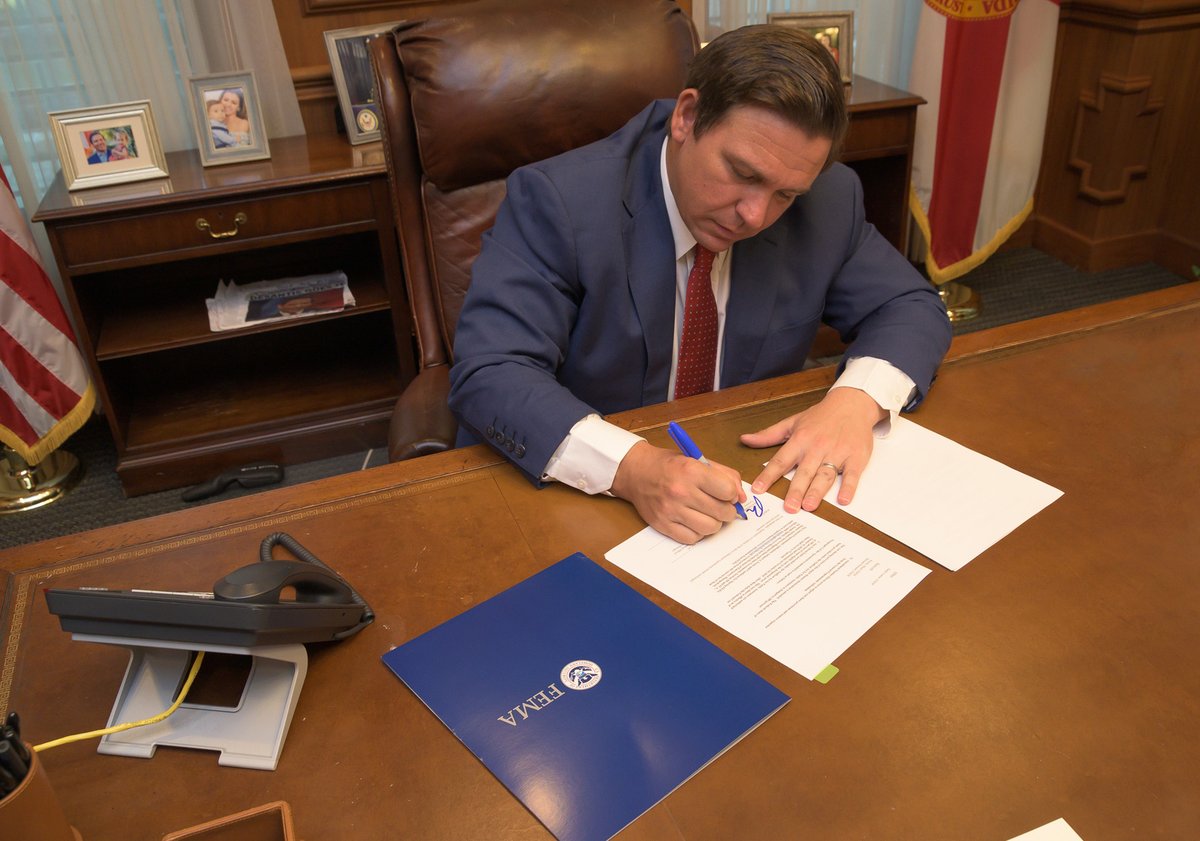 But the Governor also said he'd consider restoring even more rights "to non-violent offenders."
Ed. Note — Within hours of DeSantis signing the bill, the Florida NAACP, League of Women Voters of Florida and other plaintiffs sued over the new law in federal court, naming as defendants a group of county elections supervisors and Secretary of State Laurel Lee, the state's chief elections officer. The suit is at the bottom of this post.
___
Gov. Ron DeSantis on Friday signed a bill that critics say thwarts the will of voters who passed a 2018 state constitutional amendment restoring voting rights to certain felons.
But the Governor went a step further, saying he will next consider executive restoration of other rights – such as to hold public office and serve as a juror – to "those convicted of non-violent offenses."
Lawmakers this past Session approved an Amendment 4 implementing bill (SB 7066). 
The amendment's summary reads, "This amendment restores the voting rights of Floridians with felony convictions after they complete all terms of their sentence including parole or probation.
"The amendment would not apply to those convicted of murder or sexual offenses, who would continue to be permanently barred from voting unless the Governor and Cabinet vote to restore their voting rights on a case by case basis."
It passed with 64.5 percent of the vote last November.
The bill, however, requires felons seeking to register to vote to have first fulfilled all financial obligations associated with their criminal record, including court fees, fines and "full payment of restitution."
In his transmittal letter Friday to Secretary of State Laurel Lee, DeSantis wrote, "Curiously, the amendment did not address the restoration of other civil rights, such as the right to hold public office and to serve on a jury. I am considering whether to seek restoration of all civil rights to some of those whose rights were restored by Amendment 4.
"However, I would only consider restoring rights to those convicted of non-violent offenses," he added. "Amendment 4 restores – without regard to the wishes of the victims – voting rights to violent felons, including felons convicted of attempted murder, armed robbery and kidnapping, so long as those felons completed all terms of their sentences.
"I think this was a mistake and would not want to compound that mistake by bestowing blanket benefits on violent offenders. As I consider option for restoration of civil rights to non-violent offenders, my administration will execute this legislation…."
Desmond Meade, president of the Florida Rights Restoration Coalition (FRRC), the group that pushed for the amendment, said he and fellow supporters were "excited to build on the success of Amendment 4, the largest expansion of democracy in 50 years, by registering eligible Florida voters and helping those who have not yet completed their sentences move forward with their lives."
He did not address DeSantis' criticisms, however.
"The intent and historical impact of Amendment 4 remains firmly intact; the 150-year-old practice of imposing a lifetime ban on voting for people with past felony convictions is history," Meade continued.
"We are committed to operating under the law to register every one of the estimated 840,000 immediately eligible returning citizens in Florida. For the remaining 500,000, we will utilize the provisions of the legislation and generosity of our allies and extended FRRC family to provide relief for those facing financial barriers in completing their sentences.
"We're going to make voting exciting again by doing our part to create a more robust and inclusive democracy."
To be sure, DeSantis had said he would sign the bill: "The (constitutional) amendment says, if you read it, you have to complete your sentence.
"And I think most people understand you can be sentenced to jail, probation, restoration if you harm someone. You can be sentenced with a fine.
"People that bilk people out of money, sometimes that is an appropriate sentence. That's what the constitutional provision said. I think the Legislature just implemented that as it's written."
Democrats and other Amendment 4 supporters say the legislation is too restrictive and would block people from being able to vote, with some comparing the need to fully pay restitution to a poll tax, "begun in the 1890s as a legal way to keep African Americans from voting in southern states."
"SB 7066 was never intended to follow the people's mandate under Amendment 4," said Senate Democratic Leader Audrey Gibson of Jacksonville in a statement. "It was an unnecessary bill designed for the sole purpose of permanently disenfranchising as many ex-felons as possible. 
"… The vast majority of Floridians who supported Amendment 4 never intended to pass a reincarnated poll tax. Their intent was to approve a second chance for returning citizens to participate in the democratic process."
The measure's House backer, Republican state Rep. Jamie Grant of Hillsborough County, has previously countered: "To suggest that this is a poll tax inherently diminishes the atrocity of what a poll tax actually was."
___
Orlando correspondent Scott Powers and Senior Editor Jim Rosica in Tallahassee contributed to this post. Background provided by The News Service of Florida, republished with permission.
___
Updated 8:15 p.m. — The first lawsuit has been filed in federal court against the new law. Read the 74-page complaint below without downloading.