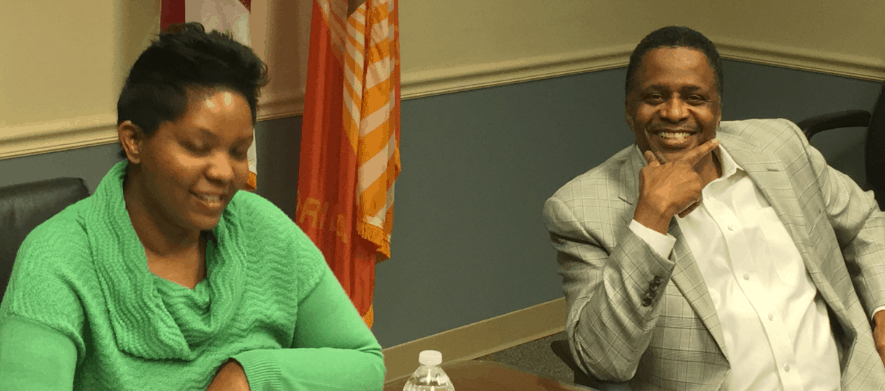 Two-week trial expected.
In Jacksonville, it's all about the number two.
A two-for-one trial involving two Council members named Brown is expected to last two weeks, starting in two months.
Suspended Jacksonville City Council members Katrina Brown and Reggie Brown were back in federal court Monday afternoon for a status conference ahead of an August trial date.
Central to the hearing: jury selection deadlines, ahead of the trial where the two will be tried together.
A status conference is set for July 22. Jury selection follows on Aug. 15 and 16th, ahead of an Aug. 19 trial date.
The government expects to wrap its case within five days, and Judge James Klindt expects a two-week trial for the "high-profile" case, with special precautions because this is a case of public interest.
Klindt noted jury selection can have a lot of churn, with 95 jurors needed for the initial pool in the Corrine Brown trial.
"We'll do everything we can to [get done] in two days, but if it takes a little longer, it takes a little longer," Klindt said.
Klindt expects an individual voir dire.
Reggie Brown also submitted voir dire questions recently that the judge dismissed. 
The 18-page document probes juror attitudes about the government, "victims' rights," and law enforcement generally. Prospective jurors also are asked about psychological problems in their families and how many times they have been married.
Judge Klindt said the questionnaire was too much of a burden for prospective jurors.
"It would be a mess … a logistical nightmare," Klindt predicted, if they were given the questionnaire the day of selection.
Mailing the questionnaires would create other logistical burdens, including public and media scrutiny that could impact the case.
An attorney for Mr. Brown strenuously protested, saying that data could be "exempted." Klindt disagreed with the read, then started picking at questions.
"What kind of bumper sticker do you have on your car" and other such questions struck Klindt as an attempt to play "hide the ball from the press."
Mr. Brown's attorney floated a change of venue because of "media coverage."
Klindt said a question about coverage of the case would drive prospective jurors to Google, further tainting the jury pool.
Though this motion (objected to by federal attorneys) has all but formally failed, two motions from Mr. Brown are still pending.
One motion, a bill of particulars, seeks to find out ahead of trial who Mr. Brown is a co-conspirator with, per the government's case. 
Another, an in limine motion, sought to exclude a vote he cast in 2010 benefiting the barbecue sauce company of Katrina Brown's family, by securing economic development funds that led to fraud charges. Prosecutors contended that was part of an arrangement between the two, and Mr. Brown says that's not the case.
The two Browns, who are unrelated, are accused of a 38-count conspiracy to defraud, say federal prosecutors. The pair is accused of extracting hundreds of thousands of dollars for personal use from a Small Business Administration-backed loan provided for Katrina Brown's family's barbecue sauce plant.
The total list of charges: 13 counts of wire fraud, another 13 of mail fraud, five counts of money laundering, as well as charges of attempted bank fraud for Ms. Brown and failure to file a 1040 from Mr. Brown.
By the beginning of the trial, both suspended members of the Council (each removed last year by then-Gov. Rick Scott) will be officially termed out.
Earlier this year, the two requested separate trials, saying their defenses could be "mutually antagonistic." But that request was denied.