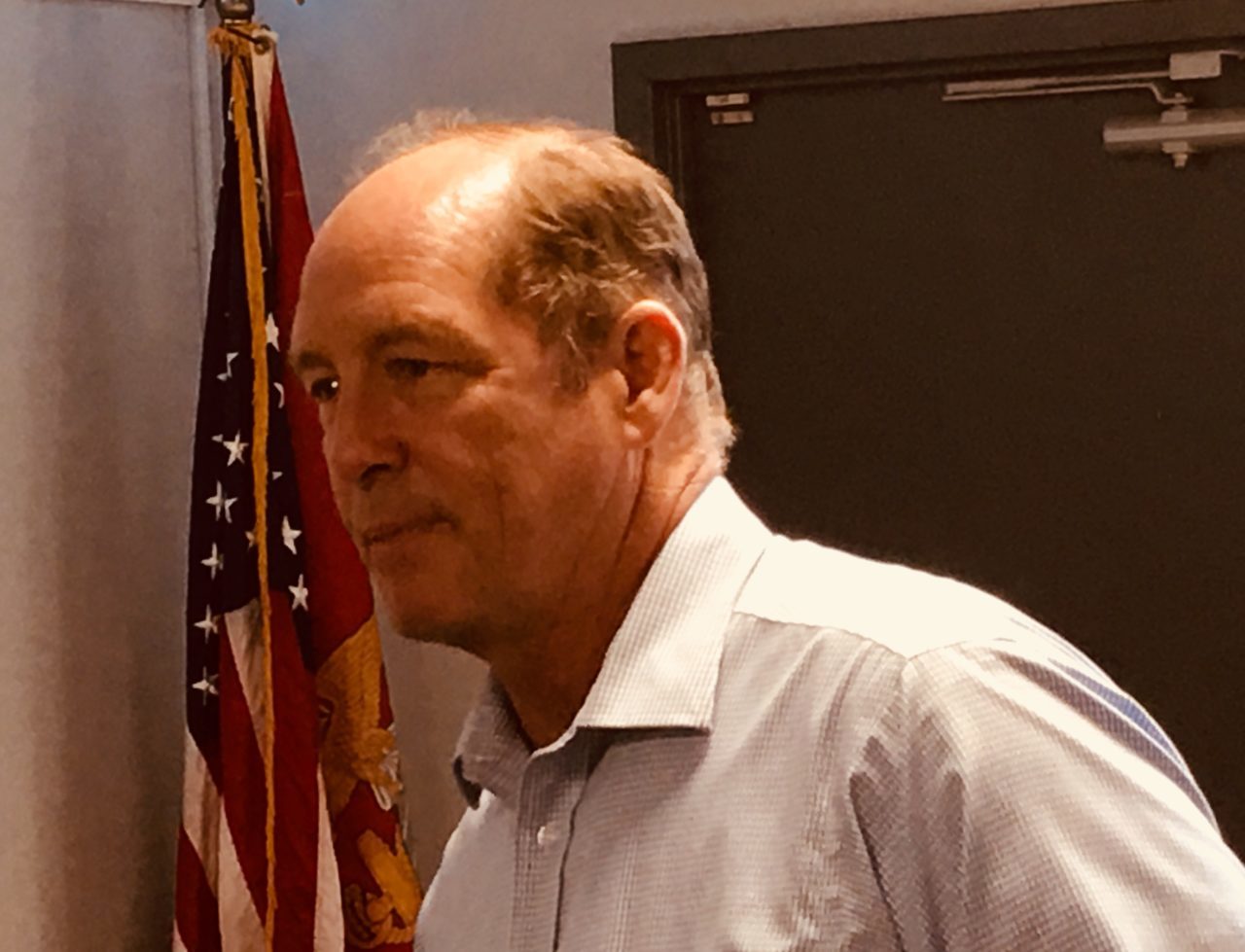 Trump and Yoho have previously endorsed each other.
U.S. Rep. Ted Yoho, a strong backer of candidate Donald Trump in 2016, enthusiastically endorsed the President's re-election Thursday.
However, Yoho (as the Gainesville Sun first reported) also quietly filed his own statement of candidacy before Christmas, contradicting what he told us earlier last year, when he said we could "bank" on him not running for a fifth term.
Having noted the contradiction between his statement that he was not running and his statement of candidacy, we changed our headline.
On Friday, the Congressman clarified on Facebook.
Maybe he'll run for re-election. Or maybe he won't.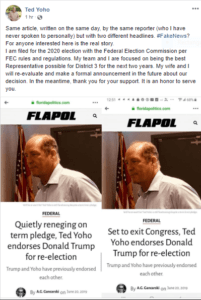 "I am filed for the 2020 election with the Federal Election Commission per FEC rules and regulations. My team and I are focused on being the best Representative possible for District 3 for the next two years. My wife and I will re-evaluate and make a formal announcement in the future about our decision," Yoho asserted.
Yoho suggested the writeup was #FakeNews, and did not remember our interview with him last year after an event at an Orange Park restaurant.
Yoho represents North-Central Florida's 3rd Congressional District.
Though he said he'd only serve four terms, it's a guessing game (especially in the Clay County part of the district) what the Congressman will do next.
Yoho is still fundraising (barely), with over $10,000 raised in the most recent quarter, giving him just under a quarter million dollars on hand. To put that in perspective, however, he raised roughly $930,000 in the 2018 cycle, when he faced a primary from Judson Sapp.
There is some thought that Yoho's statement of candidacy is placeholding for deputy Chief of Staff Kat Cammack, giving her a cleaner shot at winning a primary crowded with Clay County hopefuls.
There are some stirrings in what likely will be an expensive, crowded and brutal race to replace/challenge Yoho, even as opponents have yet to show campaign finance activity.
Amy Pope Wells, a Green Cove Springs "anti-politician" and "conservative businesswoman," has begun a campaign, and has fended off her first bout of bad press: POLITICO reported she lost her nursing license after "tampering" with the certificate.
Pope Wells' camp asserts that "it's not accurate to say she lost her license because it was inactive at the time and she wasn't seeking to use it."
Despite being an "anti-politician," Pope Wells has been in prominent positions: as POLITICO notes, she "was appointed by President Donald Trump in 2017 to serve on a panel supporting a U.S.-Canada business council.
"That same year, then-Gov. Rick Scott named her to the Clay County Development Authority."
She also co-chaired Gov. Ron DeSantis' Women's Coalition during his 2018 campaign.
Some are floating the name of another Clay County candidate: Commissioner Gavin Rollins, a military veteran who likely would get support from veterans' PACs as U.S. Rep. Mike Waltz did in 2018.
However, the district sprawls over much of north central Florida. Alachua, Clay, Putnam, Bradford and Union, and parts of Marion are included.
Gainesville is fully-included in the district, but Jacksonville money will have its say also. Whatever Yoho's doing, expect challengers to gear up for a brutal 14-month slog.