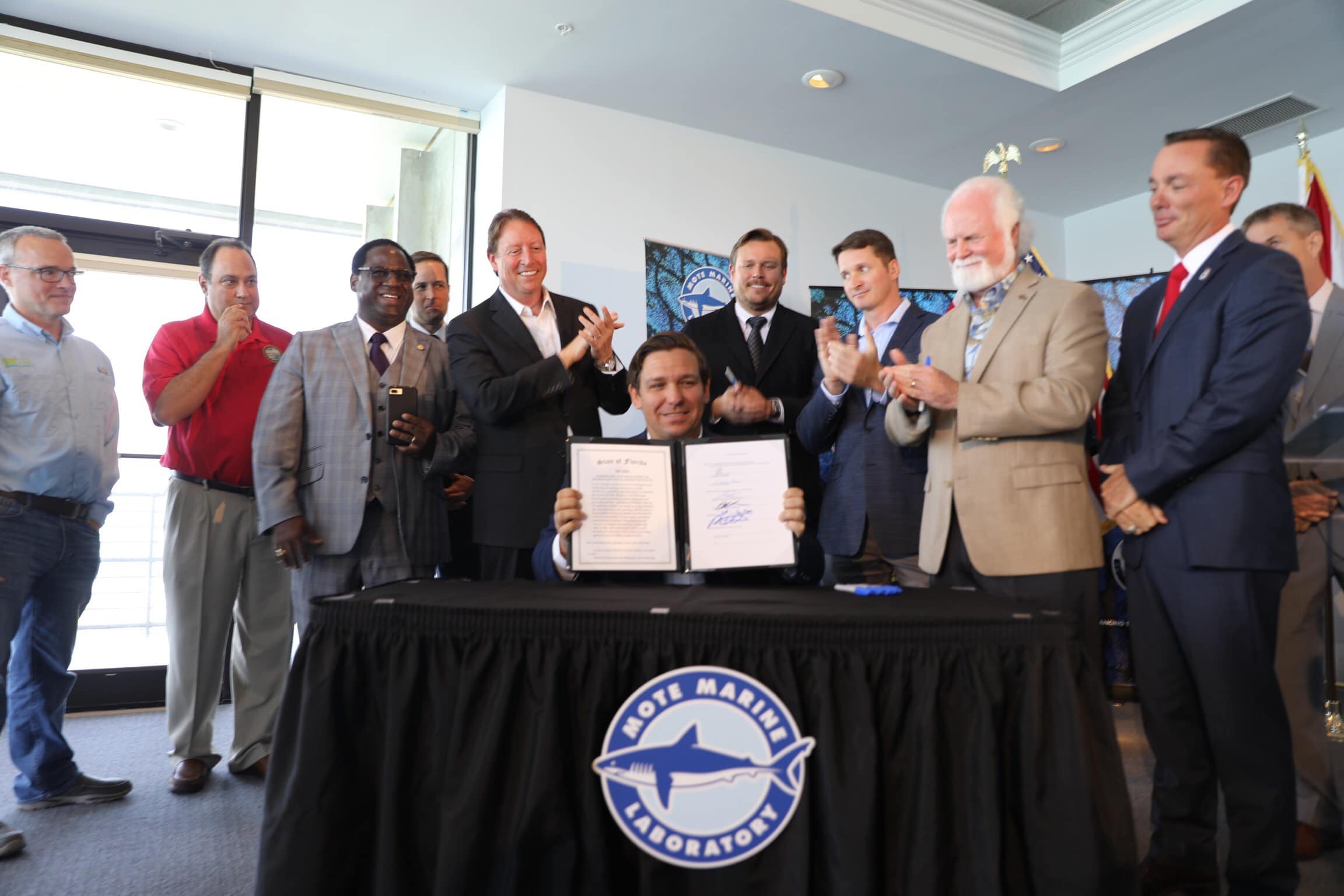 The initiative will pump $18 million into red tide research over the next six years.
Gov. Ron DeSantis on Thursday signed a bill that will pump $18 million into red tide research over the next six years.
The legislation, SB 1552, establishes the Florida Red Tide Mitigation and Technology Development Initiative that will serve as a partnership between the Florida Fish and Wildlife Conservation Commission's (FWC) Fish and Wildlife Research Institute and Mote Marine Laboratory in Sarasota.
The initiative will be funded at $3 million in state money a year for the next six years.
"Innovative technologies will play a vital role in our continued efforts to address water quality issues facing our state and I'm confident this partnership between FWC and Mote Marine will advance our knowledge in this area," DeSantis said.
"I thank the Florida Legislature for their support in addressing these environmental challenges that increasingly threaten our fragile ecosystems and the way of life for so many Floridians."
The law also creates an Initiative Technology Advisory Council that will be chaired by the head of Mote Marine Laboratory, currently Michael Crosby.
"We are grateful for a historic level of support demonstrated by this year's state Legislature and Governor DeSantis for addressing significant environmental challenges to our coastal marine environment," Crosby said.
Crosby, who has led Mote since 2013, on Thursday said the initiative was a "game-changer" and that it would "utilize applied science and innovation not only to fight Florida red tide, but also stimulating Florida's economy through technology transfer that helps transform ecological challenge to economic opportunity."
The other five council seats will be filled by experts from academia, business and the state Department of Environmental Protection as well as a gubernatorial appointee.
Red tide research was a priority for lawmakers when they convened in Tallahassee following the substantial and economically disastrous bloom that hit both coasts last year.
Tourism marketing group Visit Sarasota County said the bloom effected travel on the same level as the 9/11 terrorist attacks.
Additionally, the Florida Fish and Wildlife Conservation Commission shelled out $17.3 million in emergency funding during the bloom, which cooccurred with a blue-green algae bloom. FWC spent $14.6 million of that money cleaning up fish kills caused by red tide.
The red tide and blue-green algae blooms fueled the intensity of the 2018 election cycle as much as health care, education or guns.
When the bloom subsided, it wasn't treated as an "out of sight, out of mind" situation by lawmakers.
Ahead of the 2019 Legislative Session, the 25-member Tampa Bay legislative delegation went to Mote and pledged long-term funding for red tide research. And that pledge had serious weight behind it considering the delegation is led by Senate President Bill Galvano.
"Our economy, health and quality of life are tied to the well-being of our environment," Galvano said. "The Florida Red Tide Mitigation and Technology Development Initiative will help our state develop technologies and approaches needed to address the control and mitigation of red tide and its impacts.
"I appreciate Governor DeSantis' support for this important legislation and for his ongoing advocacy for innovative, science-based solutions that will help Florida address ongoing environmental concerns that impact communities across our state."
SB 1552 was carried by Sarasota Republican Sen. Joe Gruters and passed with near unanimous support in the closing days of session.
"The bold environmental agenda set forth by Governor DeSantis and the passing of this legislation are turning points in the State of Florida's approach to our challenging water quality issues," Gruters said.
"I am proud to have sponsored this legislation to help better protect our natural resources by mitigating the harmful effects of red tide."
Reps. Michael Grant and Tommy Gregory shepherded the companion bill through the House.
"I was grateful to carry this good legislation in the House and I thank my colleagues and Governor DeSantis for helping us get it over the finish line," Grant said.
"I commend the Governor's steadfast commitment to finding innovative solutions to our water quality challenges and I look forward to the contributions that will come from the collaboration between FWC and Mote Marine."
All three sponsors earned kudos from Crosby, as did DeSantis.
"Today it is clear that when it comes to our environment and the impacts of red tide, Governor DeSantis doesn't just talk the talk, he follows through with decisive action," Crosby said.
The efforts of Mote Marine's lobbyists, including lead advocate Dave Shepp of Southern Strategy Group, were also vital to the bill's passage.
"We are honored to represent Mote Marine and are so grateful to our bill sponsors Sen. Gruters and Rep. Grant and we so appreciate President Galvano and Governor DeSantis for their leadership on this critical issue," Shepp said after the bill was signed.
It goes into effect July 1.