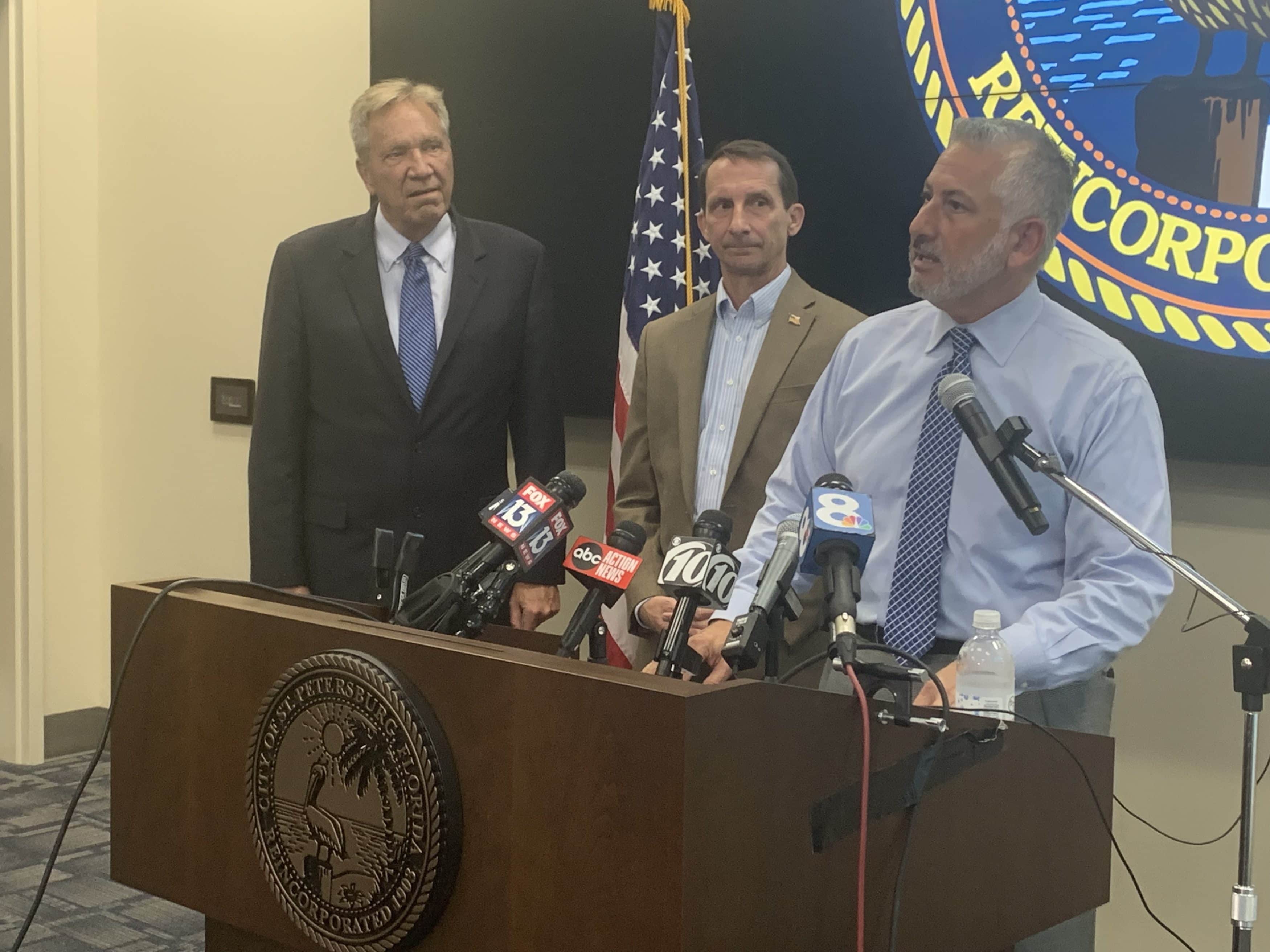 "I have no intention of bringing this ... to our City Council."
St. Petersburg Mayor Rick Kriseman has no intention of negotiating with the Tampa Bay Rays to let them explore options to play half of their home games in Montreal.
"The Rays cannot explore playing any Major League Baseball games in Montreal or anywhere else for that matter prior to 2028, without reaching a formal memorandum of understanding [MOU] with the City of St. Petersburg," Kriseman said during a Thursday press conference.
"Ultimately, such a decision is up to me. And I have no intention of bringing this latest idea to our City Council to consider. In fact, I believe this is getting a bit silly."
Kriseman met with reporters after news surfaced that Major League Baseball had agreed to allow the Tampa Bay Rays to begin exploring the idea of splitting their season between the team's existing home at Tropicana Field in St. Petersburg and in Montreal.
Kriseman said the news did not come as a complete surprise. A Montreal news organization speculated it was a potential a little more than a year ago.
"The Rays didn't seem to talk about it as meriting any further discussion," Kriseman said.
But earlier this year after the Tampa Bay Rays negotiations with Hillsborough County failed to yield any funding partnership strategies the team could swallow, Kriseman said Rays Principal Owner Stu Sternberg "broached the subject" with him.
Kriseman again told him it was an idea he wasn't willing to entertain.
Typically measured and optimistic that the Rays would eventually realize staying in St. Pete was the best bet for the future, Kriseman's comments took on a notably different tone.
He sounded angry with the team.
"It's time for us to get serious. Let's talk about is the long term future of the team here in St. Petersburg and if so, let's sit down and talk about what a new stadium looks like and how it gets paid for," Kriseman said.
"We are prepared to be partners and there are some funds that are available currently that aren't going to be there forever … but the ability to finance could become significantly more difficult."
Kriseman cautioned that the team's plans to explore a Montreal split paired with the timing of the announcement only further degrades fan commitment to attend games and – if necessary – fund a new stadium.
"It's hard to ask fans, it's hard to ask businesses to be all in and fully commit to the team when the team hasn't fully committed to us," he said. "I think it's hard to ask the taxpayers of this community and this county to pay basically the same amount of money or some amount of money for a franchise that isn't here full time whatever the amount is."
Prior to Kriseman's public comments, St. Pete City Council Chair Charlie Gerdes sounded more optimistic. He told Florida Politics conversations among other City Council members could begin within the next three months. He even went so far as to suggest the team's strategy might be worth considering.
"If the choice is we lose the Rays all together or we get to have them remain here for half the games instead of losing them for all the games, I would prefer the latter," Gerdes said. "I don't want to lose them."
Asked whether City Council could go over his head if they wanted to consider the Rays' plan, Kriseman delivered a resounding "no."
"Typically what happens is, under our charter, the Mayor negotiates agreements. Those agreements have to be approved by City Council. The Mayor has to sign that agreement. So it doesn't happen if there's no signature," he said.
The Rays are withholding comment other than a brief statement from Sternberg on Twitter until a press conference next week. In that Twitter statement, Sternberg wrote that he remains "committed to keeping baseball in Tampa Bay for generations to come" and that he believes "this concept is worthy of serious exploration."
As for Kriseman, his message was clear. The time has come for the Rays to make a decision about whether they are going to stay or not.
Until then, he said he remains ready to move forward with plans to redevelop Tropicana Field whether it includes Rays baseball or not.
"The gamesmanship has to end," he said.