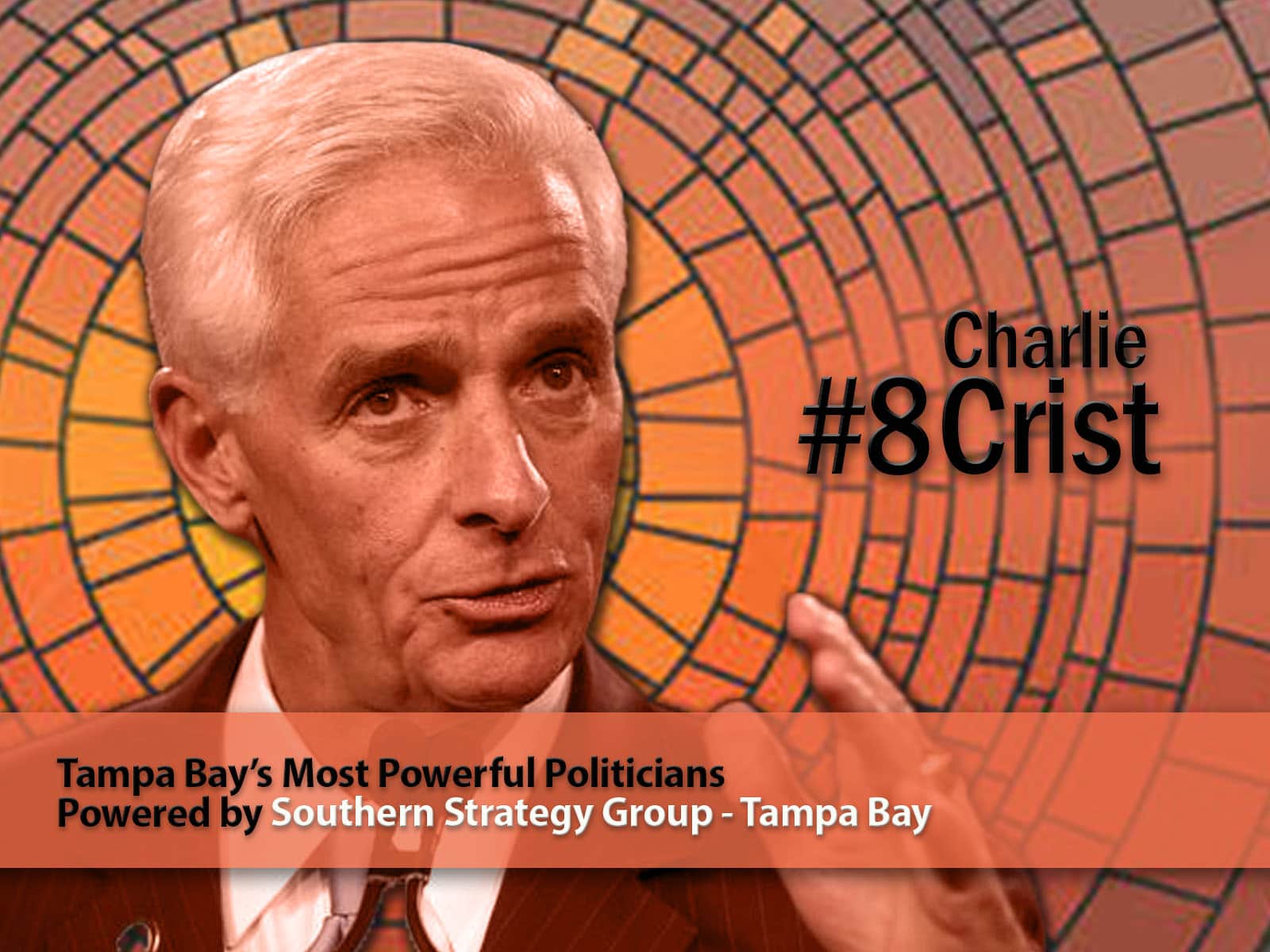 He's had several wins on the environment.
U.S. Rep. Charlie Crist has scored a lot of wins for the Tampa Bay region and Florida this year, catapulting him from No. 16 on last year's list to his top 10 placement this year.
Since his election in 2016, Crist has been a staunch advocate for preserving the environment and mitigating climate change. His efforts were less well-received during his first year in office. As a Democrat in the minority, there was little hope of progressive policies making it through the conservative U.S. House of Representatives.
"Congressman Crist has been a vocal advocate for his district. He continuously seeks input on issues important to Pinellas County and has been instrumental in helping to secure federal funding for our beaches," said Southern Strategy Group lobbyist Laura Boehmer.
But the 2018 midterm election flipped the House, and Democrats are now in charge. Crist's efforts are now breezing through.
Crist, of St. Petersburg, most recently was able to add an amendment to an appropriations bill that would block offshore drilling off Florida's coast. Crist also successfully co-sponsored a bill reauthorizing the National Flood Insurance Program for another five years, a win for Floridians in flood-prone areas.
Crist also fought locally for state and federal funding to combat red tide as Florida's Gulf Coast had its worst outbreak in years including working with local stakeholders and securing $10 million in federal funds. 
Crist also secured $7 million for Tampa International Airport for reimbursements for security upgrades.
He also took on a new battle this year — medical marijuana access. Earlier this year, Crist helped secure provisions in a funding bill that would preserve opportunities for United States veterans and others to hold federal jobs even if they were medical marijuana users.
Crist secured a fairly powerful committee post this year, serving on the Financial Services and General Government Appropriations subcommittee where he's able to secure priorities into funding bills.
Once criticized for flip-flopping parties, Crist has emerged as a venerable Congressman. After defeating then-Republican David Jolly in 2016, Crist went on to win easy re-election against Republican George Buck last year. Buck plans to challenge Crist again, but Crist's position in the U.S. House looks safe.
"How many political lives can one man have? Ask Charlie Crist," said Republican political strategist Anthony Pedicini. "The Commissioner turned Attorney General turned Governor turned Congressman has had more political lives than the proverbial cat.  For decades, Crist has been a fixture in Tampa Bay on both sides of the political aisle. He is affable, clever and politically astute and has one of the best-known names of any Tampa Bay pol. 
Joe Henderson's take: His national profile rose after his questioning of Attorney General William Barr during a hearing later led to proof Barr had lied to Congress. Crist also was tapped by House Speaker Nancy Pelosi to a key strategic position in Democrats' upcoming election campaign.
Follow the entire list here, on Facebook, and on Twitter with #Top25InTB.