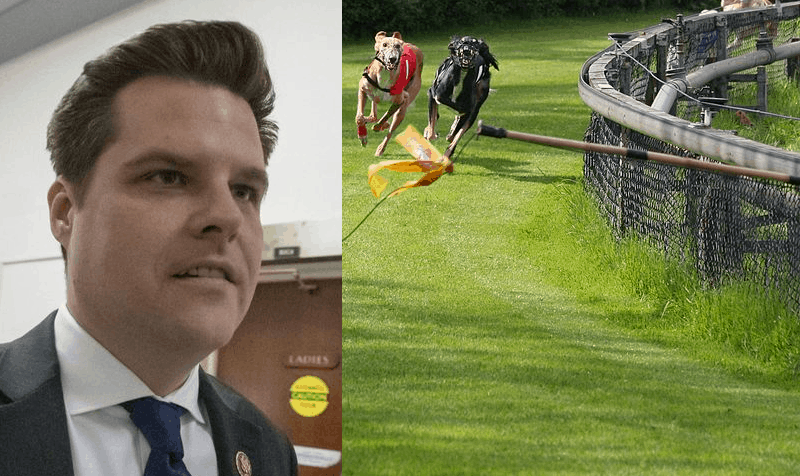 "I assume it may have to do with my advocacy for the greyhound amendment."
The Palm Beach Kennel Club has become a favored speaking venue for those close to President Donald Trump.
Roger Stone. Sean Spicer. Corey Lewandowski. All come to speak to Trump Club 45 PBC, a group of supporters enthusiastic for the President — and part-time Palm Beacher.
But there's one Trump ally you won't find there, despite his calling Florida home — U.S. Rep. Matt Gaetz.
The Panhandle Republican and frequent Fox News guest certainly has a following in the halls of Mar-a-Lago and beyond. But he's apparently persona non grata within the clubhouse thanks to his stance on certain "legislative issues."
"I don't know what those issues are but I assume it may have to do with my advocacy for the greyhound amendment overwhelmingly passed by Florida voters," Gaetz said.
The Congressman last year threw his support behind the Protect Dogs-Yes on 13 campaign. Florida voters ultimately passed Amendment 13 with 69 percent of the vote statewide.
In Palm Beach County, the measure passed with closer to 74 percent.
Gaetz for years followed the line-up of Trump allies visiting Palm Beach. Earlier this month, he jumped at a chance to join the ranks.
Larry Snowden, vice president of Trump Club 45 PBC, last week bumped into Gaetz while both attended Trump's re-election kickoff in Orlando. Snowden suggested Gaetz visit the club. The Congressman was thrilled.
"I am impressed by the tremendous organization they have," Gaetz said. "It's a somewhat famous place for key members of the Trump coalition to come and share their views."
Since Gaetz has served at times as a surrogate for Trump policy, it seemed a natural fit.
But as Gaetz's schedulers worked with the Club, it soon became clear — as they say — that that dog wouldn't run. The Club itself objected. Which surprised Gaetz.
The Palm Beach Kennel Club remains under the control of Pat Rooney Sr. and Pat Rooney Jr. The younger acts as kennel club president, and also served alongside Gaetz in the Florida House.
And Gaetz has served in the U.S. House with former U.S. Rep. Tom Rooney, another of Pat Rooney Sr.'s children.
"I consider myself close with the Rooney family," Gaetz said. "Certainly, I don't blame the Rooneys for the construct of dog racing."
Representatives of the Palm Beach Kennel Club declined to comment for this story.
The last communication Gaetz's office had with anyone regarding an appearance came last Thursday. That was with Trump Club 45 PBC, not the dog track.
"We began discussion of an alternate location," Gaetz said, "but I don't want to be a burden or imposition. I hope it's just a miscommunication."
The impacts of Amendment 13 continue to unfold. The constitutional amendment requires an end to dog racing in Florida by the start of 2021. The measure does allow other gambling at tracks, such as card games, to continue even after dog racing ends.
Most tracks, including the Palm Beach Kennel Club, will end racing sooner than the end of 2020. Indeed, this time next year, the track may be a venue more for pols than for racing dogs.

Whatever office Gaetz may seek in the future, he's not 'running' at the Palm Beach Kennel Club.