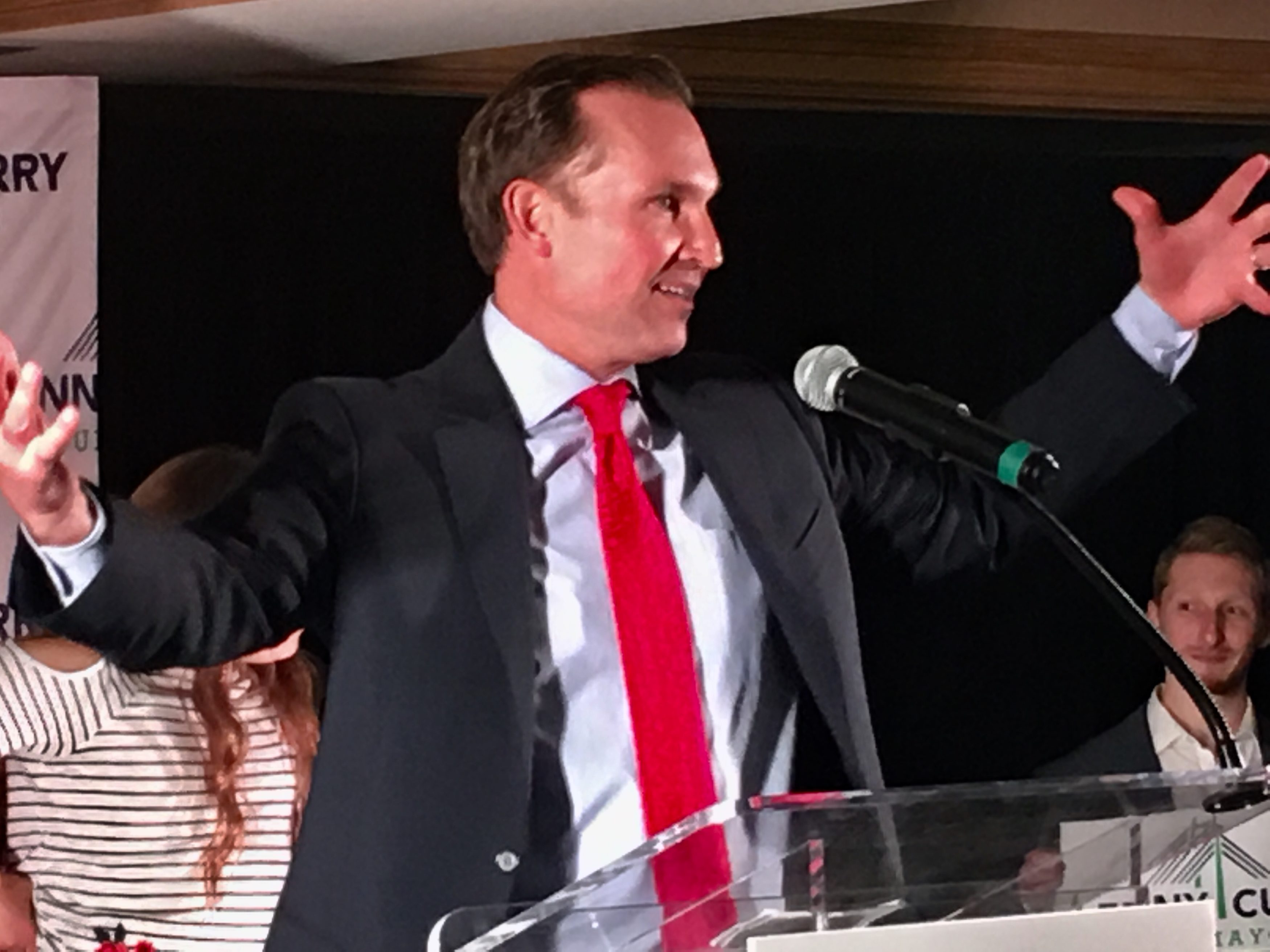 Strategic move by the Mayor.
Ahead of Tuesday evening's Jacksonville City Council meeting, Mayor Lenny Curry outlined a way forward for the proposed half-cent sales tax referendum to benefit Duval County schools.
The meeting is over. There was no movement on the bill before Council that would have authorized the referendum, except to re-refer it to committees in the new Council that will be seated in July.
This six-week cycle ensures the full Council won't vote on it until August and likely kills chances for a 2019 vote.
And their vote will be framed in Curry's words, issued ahead of the meeting Tuesday afternoon.
"The opportunity for us to work together – the Mayor's office, the City Council, the School Board, teachers and parents – is available in the weeks ahead. Together we owe it to Jacksonville's taxpayers and families to lay out a plan that is financially prudent and well thought out," he added.
"To date, such a detailed plan has not been presented to me or to this community. The problem is real and easy to see, but for a solution to be effective, we must come together and ensure a plan that makes all our public schools better."
The School Board, Superintendent, and many who want the tax vote now contend the plan has been laid out.
On Wednesday, Curry added that "a cost analysis per location including transparent accounting" and other financial planning "will ensure we are asking taxpayers for the exact amount necessary and not hurting the credit rating of city and county government."
Curry also wants charter schools to be part of the "common sense elements" of the plan, "to expand the choices available to families."
The charter comment is of interest, as charter-school operators in the donor class have lined up on both sides. Ambassador John Rood, earlier this week backed a November 2019 referendum that likely is impossible now given a vote no earlier than mid-August. Gary Chartrand, meanwhile, lines up with Curry, wanting more detail and more explicit charter carveouts, along with cheaper buildings.
Curry and others have said November 2020 is the more prudent move; that likely will be what prevails.
Jacksonville's general counsel has ruled the School Board needs City Hall approval to get the measure on the ballot, which has proven complicated.
The Duval County School Board and superintendent pushed for this, but the measure stalled out in a City Council committee, with Mayor Curry saying the case hasn't been fleshed out with specifics yet, advising a November 2020 vote.
One trusted insider urged advocates for a tax to get a "real plan" together with something for charters. If that were the case, Curry may lead the charge for a 2020 tax referendum.
This is the first real conversation on our schools in decades and we have to get this right, goes the thinking in Curry world.
Two committees stand to hear the bill. The Finance Committee will reflect the Mayor's thinking well.
The Finance Committee is as favorable a draw as the Mayor's Office could want during the budget process this summer.
Chairman Aaron Bowman, the current Council President, has been efficient over the last year, and will serve as chair.
Many members of the committee employed Curry's chief consultant, Tim Baker:Council newcomers LeAnna Cumber, Randy DeFoor, and Ron Salem did, as well as Terrance Freeman. Democrat and Council VP Tommy Hazouri endorsed Curry for re-election.
Democrat Ju'Coby Pittman, though not part of the Curry machine, was appointed originally (as was Freeman) to the Council by Gov. Rick Scott.
The whole Finance Committee can be trusted by Suite 400.
Rules, on the other hand, will be a more compelling committee in terms of debate.
Democrat Joyce Morgan will chair the committee, which includes Council newcomer Republicans Michael Boylan and Matt Carlucci as well as Democrat Brenda Priestly-Jackson.
Also empaneled: Republicans Sam Newby, a second-termer who will be mulling his political future soon enough, along with first-termers Randy DeFoor and Rory Diamond.
Polling is all over the map on the issue.
A University of North Florida poll says 75 percent of people support the school tax (though appetite is for a 2020 vote).
An internal donor class poll shows a 48/48 split among likely voters. That poll by a consultant of Curry's showed the tax as a non-starter for local voters.
Though it's derided in some quarters as merely an internal poll, the track record of Tim Baker is beyond reproach in other quarters. Curry has credited Baker with precise prognostication on every political issue since he launched his first mayoral campaign.
The reality is this: It is better that stakeholders work together than cannibalize each other on this issue.
It is time for the quiet, results-oriented conversations to happen.
However, if comments from Duval County School Board chair Lori Hershey to the Florida Times-Union are any indication, there are still questions about the process thus far.
"I recognize that [City Council] also [has] the authority to change the date. The question is 'when will they put it on the ballot?'"
"While I recognize that we're a consolidated government," Hershey added, "it does not negate the role of the School Board as an elected body. State statute does dictate the role to let the community decide."